"I was just another in a sea of black faces on the other side of a police line," said Christian Gooden, a St. Louis Post-Dispatch photographer who was hit by pepper spray while covering a protest on September 29, last year. Gooden said that he turned his head when police sprayed indiscriminately, then resumed photographing the protesters and officers. Gooden said that when an officer approached and sprayed him moments later, he had to keep moving his head to avoid being hit directly in the face.
Gooden said that he believes the officers assumed he was a protester because so many activists were carrying cameras, and because of his race. "If I were white, I would probably be distinguishable from the crowd," he said, adding that he believes "my color made the cop less concerned about who he was spraying."
The U.S. Press Freedom Tracker found that protests were the most dangerous beat in the U.S., accounting for the 29 arrests, 12 equipment searches or seizures, and 31 assaults of journalists that it documented in 2017. Journalists of color told CPJ they believe protests carry an additional risk for them.
Gooden said he was not wearing his press pass on September 29, but was carrying two large cameras and a camera bag. He had also reported for several nights on the protests over the acquittal of a former white police officer who shot and killed a black man. Other photographers for the Post-Dispatch said that their gear and constant presence means they are noticeable and recognizable. One of the photographers, David Carson, told CPJ the officer "pretty intentionally targeted [Gooden]."
Gooden said he called the police to report the incident, but did not file a formal complaint.
A spokesperson for St. Louis police told CPJ via email that the department takes any allegation of officer misconduct seriously, and recommended Gooden contact them to discuss the incident further.
Freelancer Jenni Monet said that the police in North Dakota, where she was covering the Dakota Access Pipeline protests in 2016 and early 2017, knew her well. "I was talking with the police about doing potential ride alongs with them, about following up on some leads that had been building, and in terms of their investigations with some of the Water Protectors," Monet said, referring to those opposing the pipeline and supporting the Standing Rock Sioux tribe.
But, Monet said, a copy of her arrest report from when police detained her on February 1, 2017, confirmed what she suspected. "[Arresting officers] said I 'looked like all the other protesters,' whatever that means," she said, adding that the report also acknowledged she was a journalist. Monet, who wrote about her detention and interviews with fellow detainees in Morton County jail, said she and other women of color were subjected to invasive and humiliating strip-searches while white detainees were not.
Maxine Herr, public information officer of Morton County, told CPJ via email, "Each person arrested and brought to the correctional center is subject to a pat down search and visual assessment by trained staff before being admitted." Herr added, "Searches were no more invasive for one person to another. Inmates are admitted by staff who follow the same procedures no matter who is brought in and there is policy ensuring equal treatment."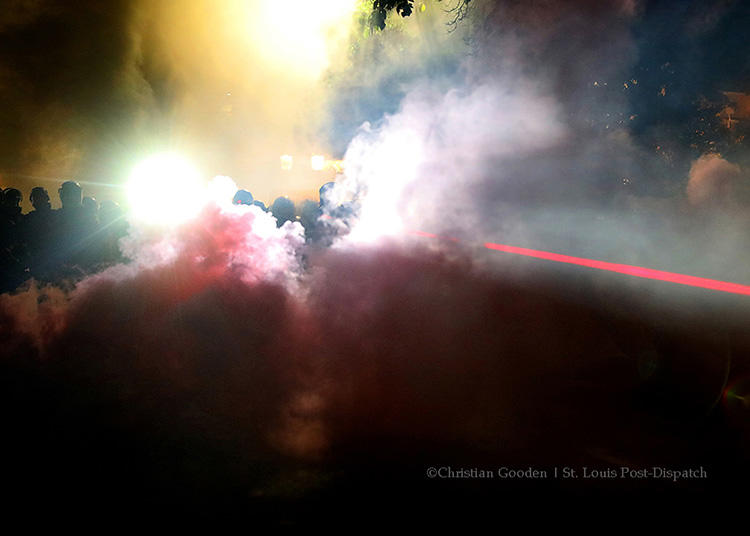 Monet said her experience left her with, "a low opinion of police in America … and that's problematic." Gooden echoed her view, adding that when he was pepper-sprayed, "I was not an unbiased reporter at that moment, I was angry."
Protesters also pose a safety risk. Independent journalist Cedric O'Bannon said that while filming a white supremacist rally in Sacramento with a GoPro in June 2016 he felt a sharp pain. "My reaction was to keep shooting," he said, adding that he then realized he had been stabbed. The photographer said that the California Highway Patrol officer investigating his assault seemed less interested in the attack than the anti-fascists and their supporters. O'Bannon said that the officer submitted a report referencing photos of O'Bannon raising a black power fist and his history of activism to support the officer's recommendations that the journalist be charged with conspiracy, rioting, assault, and unlawful assembly. O'Bannon was not charged.
A spokesperson for the California Highway Patrol's capitol protection division, which is handling O'Bannon's case told CPJ no one has been charged with the attack on O'Bannon. The spokesperson declined to comment on O'Bannon's specific allegations, but said the division investigated everything fully.
Brandon Benavides, the president of the National Association of Hispanic Journalists, said media outlets and police need better training to ensure journalists can cover protests safely. "It seems there is a lack of training or procedure in identifying an activist/protester versus a journalist during protests," he said. "The chaos during a protest doesn't neutralize the First Amendment and press freedom, therefore our government officials, including police, need to do a better job protecting our journalists."
Journalists who are not U.S. citizens say they fear being singled out or arrested due to racial profiling, because it could impact their legal status or, in extreme cases, lead to deportation.
In April, police dropped charges against exiled El Salvadoran journalist Manuel Duran after he was arrested while covering a protest over immigration detentions in Memphis, Tennessee. However, Immigration and Customs Enforcement officers issued a "detainer" for the journalist, who has an outstanding deportation order from 2007. Kristi Graunke, from the Southern Poverty Law Center, told CPJ that the legal rights group believes the arrest and subsequent detention were retaliatory for his critical reporting. Duran who founded the Spanish-language news site Memphis Noticias, won a stay of deportation in May, but remains in ICE detention in Louisiana, according to reports. He has been living in the U.S. since fleeing his home country in 2006, after receiving death threats for his work as a television reporter, according to the law center's habeas corpus filing on his behalf.
Graunke said that while ICE detainers–orders to transfer a person into immigration detention– were used under the Obama administration, the organization is "seeing more cases of people who have no criminal record having detainers issued for them after arrests on minor charges."
Carlos Bernate, a Colombian documentary photographer with the NurPhoto Agency and SOPA Images, said even though he has permanent residency he is concerned about being taken by ICE, because he is unsure of his rights and the extent of their authority.
Bernate was taken into custody by what he said he believes were ICE officers in January, while documenting a protest over immigration detentions, in Richmond, Virginia. He said the first question the officers, who did not identify themselves, asked was, "What is your immigration status?" Now, at the first sign of escalation he leaves. But Bernate said he has no intention of stopping reporting on the activism and lives of the immigrant community in Richmond: they are his family and he said feels he has a responsibility to them and to the work. "I know I have that privilege, to speak up a little bit louder."