CPJ announces 2018 International Press Freedom Award winners
In a 2014 interview with CPJ, Vietnamese blogger Nguyen Ngoc Nhu Quynh said, "I have a right to write. … If they want to arrest me, they can."
Three years later, they did. Vietnamese authorities convicted Quynh–known best by her penname, "Mother Mushroom"–on charges of "propagandizing against the state" and sentenced her to 10 years in prison. This past month, CPJ announced it was honoring her with its 2018 International Press Freedom Award.
CPJ's other 2018 award winners are Amal Khalifa Idris Habbani, a freelance journalist and contributor to the Sudanese news outlet Al-Taghyeer; Luz Mely Reyes, an investigative reporter and co-founder of the Venezuelan news website Efecto Cocuyo; and Anastasiya Stanko, a broadcast journalist and member of Ukraine's "Stop censorship" movement.
Maria Ressa, the founder, CEO, and executive editor of the Philippine news website Rappler, will receive CPJ's Gwen Ifill Press Freedom Award, which is given to individuals who show extraordinary and sustained achievement in the cause of press freedom.
CPJ's 2018 International Press Freedom Awards dinner will be held at the Grand Hyatt New York in New York City, on Tuesday, November 20, 2018. The event will be hosted by Bill Whitaker, CBS journalist and "60 Minutes" correspondent, and chaired by Meher Tatna, president of the Hollywood Foreign Press Association.
For more information, please call Buckley Hall Events at (914) 579-1000 or CPJ's Development Office at (212) 300-9021, or email [email protected].
CPJ's 2018 #IPFA winners have put their lives and liberty on the line every day just to do their job: https://cpj.org/awards/
---
With safety advisories, CPJ prepares journalists for dangerous assignments
"Consider your position. Try to find an elevated position that may offer greater safety," says one safety advisory CPJ's Emergencies Response Team published in April in response to a string of demonstrations in Nicaragua. The advisories, caches of practical advice, provide basic safety information to journalists covering crises or working in conflict areas.
CPJ has published other safety advisories for journalists reporting on high-risk situations, including those covering unrest in Kenya and protests in Venezuela. Read more of them here.
CPJ Insider spoke to CPJ Emergencies Director María Salazar-Ferro to learn more about how CPJ determines the need for an advisory and where the information comes from.
How does the Emergencies Response Team determine when a Safety Advisory is needed?
We put out an advisory either when CPJ has documented a series of aggressions or violations in one place or when our intelligence or reporting leads us to believe that repeated aggressions are going to happen–when we anticipate reporters will be at risk. We did this for both the 2018 World Cup in Russia and the U.S. presidential inauguration.
Who–and what–informs Safety Advisories? Where does the information come from?
We rely on information provided to us by people on the ground–our regional programs' networks–and CPJ Journalist Safety Specialist Colin Pereira. Colin has his own security networks and intelligence materials that help inform our decision-making, while CPJ's regional programs provide the details, including information specific to the conflict area. So the advisories link our local or regional expertise with our security expertise in one document.
In multiple instances, we've commissioned very specific information for the advisories. This year, we did it for Gaza and for Russia. For Gaza, we acquired very specific reporting on where protests were most likely to happen, where journalists were most likely to be hit with a bullet, where medics and ambulances were, and more.
Where else can journalists operating in conflict areas turn for support?
Our advisories always invite journalists to visit CPJ's Resource Center and read our Security Guide.
The Resource Center provides tangible tools for preparedness and protection and directs people to where they can rent personal protective equipment or where they can find insurance. Our Security Guide outlines safe journalistic practices in various situations. It's available in a number of languages and can be downloaded as a PDF from CPJ's website.
#CPJEmergencies issues advisories to journalists covering crises or reporting from high-risk environments. See them here: https://cpj.org/safety-advisories/
---
Share your birthday with CPJ!
Invite your Facebook friends to celebrate your birthday with a donation to CPJ!
Facebook allows its users to create fundraisers for charitable organizations. To fundraise for CPJ, select CPJ as your fundraiser's beneficiary on your Facebook page. If you do this for your birthday, your friends will receive a notification that you've "donated" your birthday to CPJ and will be asked to contribute.
You can also show your support for CPJ by donating online, or signing up to become a recurring monthly donor. We are on Amazon Smile as well, which gives you an easy–and free!–way to support press freedom while you shop.
Thank you so much for helping us defend journalists across the globe!
For more than three decades, CPJ has fought for the right of journalists everywhere to do their job. Stand with CPJ today: cpj.org/donate
---
Egypt must free photojournalist Shawkan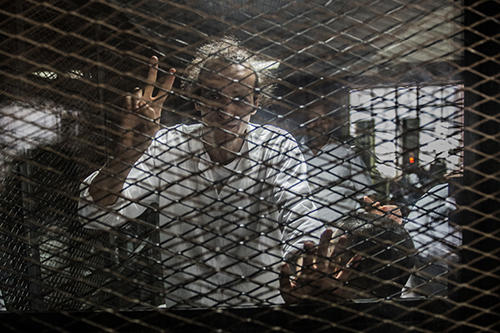 Mahmoud Abou Zeid, the Egyptian photojournalist best known as "Shawkan," has been behind bars for nearly five years. He was arrested at a Cairo protest in 2013 and is on trial for weapons possession, illegal assembly, murder, and attempted murder, charges that were brought against him two years after his arrest. His trial has been postponed dozens of times, but a verdict is expected in late June.
The stakes could not be higher. In March, Egyptian officials announced that they intend to seek the death penalty for Shawkan.
Since his arrest, Shawkan has been a focus of CPJ's efforts to free imprisoned journalists. In early 2015 we met with high-level officials in Egypt and called on them to ensure his release. We featured the journalist in our Press Uncuffed campaign and highlighted his case in "Under Threat," a documentary on press freedom in Egypt. In 2016, we honored him with our International Press Freedom Award.
We continue to advocate for Shawkan's release. We are working with partners to publicize his case and continue to call on Egyptian authorities to release him. Join us and tweet your support! Tell President Abdel Fattah el-Sisi that journalists don't belong behind bars and that he should free Shawkan immediately.
Egypt was the third worst jailer of journalists in 2017, and the nation's press freedom record continues to deteriorate. In March, CPJ published a blog post detailing efforts by President el-Sisi to tighten censorship ahead of his bid for re-election that month.
In #Egypt, Shawkan has spent too long behind bars simply for doing his job. We call on @AlsisiOfficial to #FreeShawkan immediately. #JusticeDelayed
---
Somaliland journalist Mohamed Adan Dirir freed by presidential pardon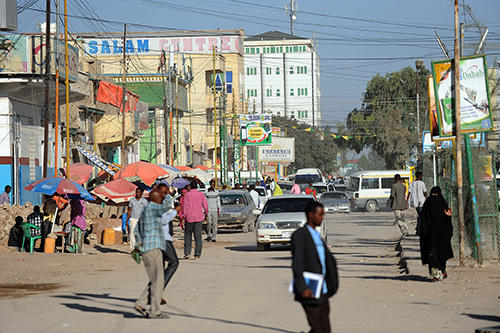 In June, Somaliland journalist Mohamed Adan Dirir was pardoned after spending nine months in prison. The journalist was convicted on charges of criminal defamation and publishing false news in a one-day trial that took place without his lawyer present. Neither his lawyer nor his family had been told about the hearing.
Mohamed's pardon followed months of advocacy and reporting by CPJ and other organizations. In February, CPJ sent a letter to Somaliland President Muse Bihi Abdi, urging him to release Mohamed and other journalists in detention. We also launched a social media campaign, calling for his freedom. At a press conference held shortly after his release, Mohamed thanked CPJ and other groups for their efforts to win his release.
"Although we welcome Mohamed's early release from prison, he should never have been jailed for his journalism in the first place," said CPJ Africa Program Coordinator Angela Quintal. "Instead of jailing journalists, Somaliland should create an environment that supports a free press and the public's right to know."
Mohamed was arrested in connection with articles he allegedly wrote in which he criticized a group of private schools for mismanagement and misconduct. Months earlier, he was detained without charge for asking a question that allegedly was critical of Somaliland's health minister.
#Somaliland should support a #freepress and the public's right to know. Journalists should not be jailed for their work.
---
Must-reads
CPJ published an alert in June calling on Indian authorities to thoroughly investigate the murder of Shujaat Bukhari, founder and editor of the English-language daily Rising Kashmir. Bukhari was shot and killed by three assailants as he left his office one evening. The gunmen remain unidentified.
HuffPost reporter Luke O'Brien and others were harassed and threatened in late May and early June for their part in identifying the person behind a Twitter account that shares and tweets anti-immigrant and Islamophobic content. CPJ spoke to O'Brien and documented the threats.
In a blog post in June, Özgür Öğret, CPJ's Turkey representative, detailed recent efforts by Turkish authorities to silence journalists in the country. The post is the latest in a series called the "Crackdown Chronicle," which is dedicated to tracking deteriorating conditions for press freedom in Turkey.
Vietnam's National Assembly passed a new cybersecurity law in mid-June that will take effect in January 2019. The law will allow Vietnamese authorities to surveil and censor internet content, particularly that of international providers. CPJ condemned the law as it would restrict the free flow of information in the country.
---
CPJ in the news
"Trump scorns US media, but just try being a journalist in North Korea or Mexico," International Business Times
"Will freedom of the press endure regular Trump attacks?" Salon
"Doxxing, assault, death threats: The new dangers facing US journalists covering extremism," The Guardian
"In pre-election Pakistan, a military crackdown is the real issue," The New York Times
"Watchdog calls on India to probe Kashmir reporter's death," The Washington Post
"Not just Shujaat Bukhari: Journalists who were killed in Kashmir," The Quint
"What Arkady Babchenko's staged murder means for journalism," Al Jazeera
"CPJ blasts Belarus's 'veiled attempts at tightening censorship'," Radio Free Europe/Radio Liberty
"Tanzania's repressive online laws have forced 'Swahili Wikileaks' to close," Quartz