Landmark conviction in 2000 attack on Colombian journalist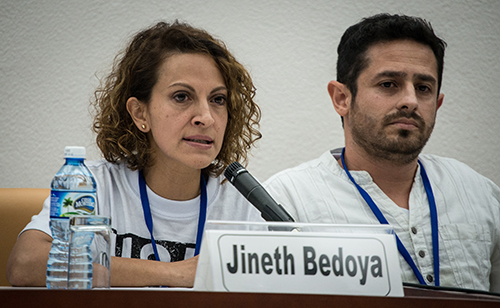 A Colombian court on February 26 convicted a former paramilitary fighter in the kidnapping and torture of Colombian journalist Jineth Bedoya and sentenced him to 11 years in prison. The fighter, Alejandro Cárdenas Orozco, was also ordered to pay a fine of around US$17,500.
Bedoya was kidnapped, raped, and beaten in May 2000, after she reported on far-right paramilitaries for the Bogotá daily El Espectador. "Floating in and out of consciousness, Bedoya was taken to a house across the street from the prison," CPJ's Frank Smyth wrote in 2000. "The kidnappers bound her hands and feet, taped her mouth, and blindfolded her eyes. Then they drove her to Villavicencio, where she was savagely beaten and raped. During the assault, the men told her in graphic detail about all the other journalists who they planned to kill."
Cárdenas did not accept a charge of rape. The attorney general's statement said it would continue to investigate his alleged role in the sexual assault on Bedoya.
In 2011, Cárdenas confessed to being involved in the attack against Bedoya and asked her for her forgiveness. That year, Bedoya identified him as one of her attackers. He was charged with aggravated kidnapping, rape, and torture, but later retracted his confession. In June 2015, the Colombian attorney general's office announced that charges had been dropped against Cárdenas. Bogotá's Caracol Radio reported that government investigators were unable to link Cárdenas to the scene of the crime. He was released.
For more than a decade, CPJ has called on authorities to hold the perpetrators accountable. We protested the attack on Bedoya in a letter to then-President Andrés Pastrana Arango and followed up with another letter expressing concern about the lack of progress in the investigation. We covered the case in alerts, blogs, and a 2011 special report, "The Silencing Crime: Sexual violence and journalists."
"My last 15 years and six months have been a mixture of pain, anger, infinite love for my work, obstinacy and, yes, hopelessness," Bedoya wrote in "The Sadness of May the 25," an article included in the 2016 edition of CPJ's Attacks on the Press, which will be published on April 27. "I still do not know where I found the strength to return to the newsroom, to my notes and to my tape recorder. What I do see clearly is what motivated me. I understand now that my love for this profession and for my work as a reporter was greater than the pain of my body and my soul."
Progress in criminal defamation laws…
…in Zimbabwe
In a welcome step, Zimbabwe's Constitutional Court in early February ruled that the country's criminal defamation laws were unconstitutional.
The court's panel of nine judges ruled that criminal penalties for defamation violate guarantees of press freedom enshrined in Zimbabwe's constitution, according to news reports. The ruling was in response to a lawsuit brought by the Zimbabwean branch of the Media Institute of Southern Africa and four journalists who were arrested on charges of defaming politicians in 2011, the reports said.
CPJ has long challenged the constitutionality of defamation laws in African countries, calling for remedy to be sought in the civil courts. "Criminalizing speech when it does not incite hatred or violence restricts critical debate, which is essential for accountability," we have said.
…in the Dominican Republic
The Constitutional Court of the Dominican Republic on February 21 struck down laws providing for criminal penalties for libel and defamation. The ruling came in response to a 2013 complaint filed by the Fundacón Prensa y Derecho (Foundation for Press and Law) and the directors of the dailies Listín Diario, El Caribe, and El Día. The court found that seven articles of the 1962 press law were invalid on the grounds they contravened free expression guarantees in the constitution and the American Convention on Human Rights, which the Dominican Republic ratified in 1978.
CPJ has documented the dangers that criminal defamation laws pose to free expression, and has campaigned, alongside partner organizations, to eliminate these laws throughout the Americas. While Jamaica is the only country in the hemisphere to have entirely repealed criminal defamation provisions, Mexico has decriminalized defamation laws at the federal level, and Argentina eliminated libel and slander laws in matters of public interest.
CPJ is releasing a report next week that provides a comparative look at criminal defamation laws in the Americas. The report–prepared for CPJ by Debevoise & Plimpton LLP in collaboration with the Thomson Reuters Foundation, a media development and training organization–found that despite a growing consensus that criminal defamation laws should be abolished, there has been an alarming resurgence of their use in the Americas. The existence of these laws has a significant impact on the willingness and ability of the press to discuss key issues and poses a very tangible threat to freedom of expression.
DRC court convicts suspect in 2015 journalist murder
A court in Équateur province convicted a suspect in the April 2015 murder of Soleil Balanga, according to news reports. The High Court of Boende found Moussa Tendenle guilty of having slit the journalist's throat and sentenced him to death.
"This conviction for the murder of Soleil Balanga sends an important message that journalists cannot be killed with impunity," said Kerry Paterson, CPJ's Africa research associate, adding that CPJ, as a member of the international human rights community, does not support the use of the death penalty.
Balanga's radio station was off the air because of broken equipment, so the journalist would walk through the town every morning and announce the local news using a megaphone, reports said. He was killed after he reported on the replacement of the supervisor of the Monkoto General Hospital. The convicted killer is the son of the former hospital supervisor. Four other defendants in the case were acquitted, news reports said.
In a 2014 special report on impunity, "The Road to Justice," CPJ found that the lack of justice in hundreds of murders of journalists around the world is one of the greatest threats to press freedom today. Our research shows that about 90 percent of journalist murders are unsolved.
Journalists released…
…in Bahrain
Freelance journalist Anna Therese Day was one of four journalists arrested in Bahrain and held for two days, according to news reports. The journalists were taken into custody while reporting on the anniversary of the launch of mass opposition protests on February 14, 2011.
In a statement, Bahrain's Ministry of Interior accused the four journalists of entering the country under the false pretense of tourism and failing to register with the appropriate authorities. The ministry said that the four would be referred to the prosecutor general's office. News reports said the four were charged with illegal assembly before being released on February 16.
In a Facebook post on February 21, Day thanked CPJ and other press freedom and freedom of expression groups for advocating for her release. "We are humbled by and grateful for your tireless work on these issues," she wrote.
…in Bangladesh
Rimon Rahman, a reporter at the Bangladeshi daily Amader Rajshahi, was arrested in September 2015 following a complaint that was filed against him by members of the local border paramilitary.
The journalist was accused of possessing drugs, an allegation the family said was fabricated. Rahman's family told CPJ that the journalist was arrested in retaliation for his critical reporting on the border guards and drug lords who operate on the India-Bangladesh border. A few days before his arrest, Rahman published a report alleging that members of the border guards were collecting excessive money from cattle traders at the border with India before the Eid holiday,
CPJ included Rahman in our annual prison census, which found that nearly 200 journalists were imprisoned in relation to their work on December 1. At least four other journalists were behind bars in Bangladesh at the time.
Following the publication of CPJ's prison census, Rahman was given bail and allowed to return to his work, a local journalist familiar with the case told CPJ. The journalist said local dailies had republished CPJ's coverage and that Rahman showed the reports to the judge, who released him on bail.
…in Turkey
At least three journalists were released from prison in Turkey in February. Two Turkish journalists–Can Dündar and Erdem Gül, of the daily newspaper Cumhuriyet–were freed on February 26 after spending 92 days in pre-trial detention and face charges of exposing state secrets, espionage, and aiding a terrorist group in relation to their journalism.
A third journalist, Rami Jarrah, a Syrian who is based in Turkey, was arrested on February 17 and held for three days by immigration officials. The reasons for Jarrah's detention were unclear, but he was questioned about his work in the press, a journalist familiar with the case told CPJ.
Jarrah fled Syria with his wife and child in 2011, fearing that his role in reporting on the conflict for international outlets had put him in danger, according to The New York Times. While he was in Syria, he reported for international outlets including CNN, Al-Jazeera, and NPR. After leaving Syria, he co-founded the independent citizen journalist group ANA Press which provides footage and reports to international outlets including The New York Times, Huffington Post, and others.
In a post on Facebook on February 20, Jarrah wrote that he had been released by Turkish authorities without charge. He said he was not given an explanation for his arrest, but that it might be related to his crossing into Syria.
In the weeks before his arrest, Jarrah reported on the fallout of Russian military strikes in Syria and atrocities committed by the militant group Islamic State, and had traveled to Syria from Turkey several times, local journalists working with Jarrah told CPJ. Crossing into Syria is a challenge for journalists, some of whom say they have been forced to do so illegally because of restrictions imposed by Turkish officials, according to news reports.
European Parliament adopts resolution condemning abuses in Crimea
In early February, the European Parliament adopted a resolution that condemned human rights abuses, including attacks on journalists, in Crimea, and urged EU institutions not to drop sanctions against Russia until Crimea is reintegrated back into Ukraine. The resolution also calls on international groups to visit Crimea to document abuses in the region.
Following Russia's annexation of Crimea in March 2014, press freedom conditions in the region deteriorated significantly, CPJ research shows. CPJ documented harassment and attacks against local and international journalists; blocking and removal of Ukrainian television channels from regional airwaves and cable networks by pro-Russia authorities; and shut-down orders against independent regional broadcasters.
In July 2015, CPJ conducted a mission to Kiev where we spoke to local journalists and heard about conditions for the press in Crimea. We published our findings as a blog and a StoryMap showing anti-press attacks in the region. While some journalists have remained in Crimea and continue working under the radar or for pro-Russian outlets, many have fled. Rights groups in Crimea continue to face threats, attacks, harassment, and vilification by pro-government media. "When critical journalists are silenced to the last one, it will mark the end of independent journalism in the region," one journalist told us.
Media Hits
Mexican journalist's naked, bound body found beside highway
CPJ concerned over media restrictions ahead of Uganda's elections
Lawyer: 4 US journalists charged in Bahrain leave country
Committee welcomes striking out of criminal defamation laws in Zimbabwe
Committee to Protect Journalists condemns murder of Filipino radio reporter
Guinea media blackout in memory of slain journalist
CPJ concerned about detention of Kazakh journalist
Join us in defending brave journalists worldwide!