The Durango state governor was on his way to meet with reporters. Before he arrived, the reporters huddled to decide the question of the moment. It seemed obvious: Why had a former mayor been arrested the day before in what clearly seemed to be a political move? "That was the only question," a reporter said later. "Did the governor have the ex-mayor arrested? Because, behind that move, you can feel a crackdown coming against the opposition." Yet, this reporter added, "It was too dangerous to ask. No one was brave enough."
"What was dangerous?" I asked. "Did you think the state would pull advertising contracts with your paper and you'd be fired?"
"Maybe. But maybe more dangerous than that," the reporter answered. "It could be physically dangerous."
"You think the governor will have you killed just for asking?" I wondered.
"No, not the governor. But you don't know these days who is around. There are always people listening, even around the governor. Maybe they work for organized crime and they don't like reporters who ask difficult questions. I don't know what is dangerous anymore."
That's how conditions are for reporters in the twin cities of Torreón and Gómez Palacio, in the center of northern Mexico. After years of being killed, kidnapped, and beaten; after seeing a major newspaper repeatedly attacked; after living under a low, black cloud of constant threat, journalists don't know what is dangerous anymore. Even the most obvious political question can seem too risky. They told CPJ they don't ask the questions, they don't cover the stories that might, possibly, somehow be dangerous, because who knows which one could be the wrong one?
"Right now, you hear about all these young girls disappearing," said a reporter, one of several who met with CPJ recently. "There is one case we know of, but there are so many reports and stories," another reporter added. The first reporter said: "If it's true, it must be the organized crime groups. I am not able to go any further on that topic. You can't ask about it."
In either one of the two cities, and the agricultural and manufacturing regions around them, life seems pretty lawless. You won't read that in the news. The cities are in two states. Gómez Palacio is in Durango, which journalists say is under the thumb of the Sinaloa Cartel or its local branches. Gómez Palacio, whose mayor was the one arrested on May 1, has not had city police since January, when the army came in and took away the whole department, along with all the police in the town next door, Lerdo. It was 158 officers altogether. Many of them are being prosecuted for ties to the cartel; most were released but were not considered trustworthy enough to be taken back as officers. (The state was having a hard time coming up with the exact number of officers being prosecuted, but it looks like about 30 or so.) Now, state and federal officers patrol the area, along with the army. Journalists say patrolling is not the same as investigating crimes, so there isn't much investigation. A journalist working on the Durango side of the state line is essentially working with no protection from a murderous cartel that wants to control what he or she covers.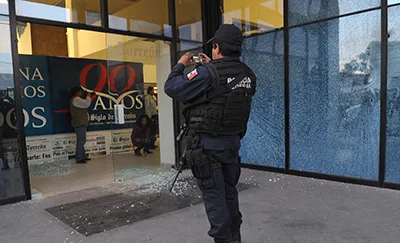 On the Coahuila side of the state line is the city of Torreón. A lot of the recent violence against journalists is public and involved journalists working for news organizations in Torreón: Reporter Eliseo Barron was murdered, and the front wall of the region's major paper, El Siglo de Torreón, was shot up in 2009. The next year, four journalists were abducted–one for two days and the others for five. In 2011, a TV transmission engineer was murdered on the job, and the outside of El Siglo was shot up again. Last year, an administrative worker at the Milenio newspaper was briefly abducted. Three months ago, five administrative workers at El Siglo were abducted for several hours. It's a pattern that journalists say is effective in crushing news coverage of what the cartels do.
Aside from what has been made public, reporters say there are the repeated threats that are not reported. For instance, the abduction and beating for hours of two reporters in October in connection with something that someone else had reported. Or, three weeks ago, according to a TV reporter, when she and her cameraman were shooting a general street scene and two men came out of nowhere and stuck a pistol in the cameraman's back and ordered them to get going. The street turned out to be a cartel drug market, she said. Then, all the other threats that journalists just swallow. "If you report it to the police, you are not reporting it to a friend," a reporter said. "Probably, you are talking to your enemy."
Unlike its twin city, Torreón does have a police department, coming back a few officers at a time after nearly every cop was let go in 2010 for being untrustworthy or working directly for the organized crime cartel. But then two years ago, 150 of the city's 900 new officers were fired for failing "confidence tests" that involve blood tests for narcotics, lie detector exams, and personal finance reviews. The attacks on El Siglo and the abduction of its staff have been solved, according to a senior editor, who said the crimes had been ascribed to a local cell of the dominant cartel. But it wasn't police who solved the case, he said. It was the army, through a military intelligence network.
The corruption among local authorities is reflected across a state that is dominated by the Zetas, reporters said. That's a problem for journalists who face danger if the cartel even thinks they are considering reporting on the wider picture of crime and corruption.
There doesn't seem to be a backup for journalists elsewhere, either. The cartel's rule is broad, according to reporters. Coahuila state officials told CPJ that last year 1,300 state and municipal police and prison guards were fired for failing confidence tests. So far this year, 25 state senior criminal investigators have been fired for the same reason, the officials said. National newspapers reported that last year some federal police in the state were on the Zeta payroll to help them murder rivals in the Sinaloa cartel and generally lend a hand.
Journalists also suspected the former governor of Coahuila, Humberto Moreira, of being close to the Zetas. But it remained only a suspicion, Torreón reporters told me, because the story was too dangerous to pursue. When Moreira left office in 2010, it was in a whirlwind of allegations about $3 billion in bank loans to the state that have not been completely explained or accounted for. That's an extraordinary financial load for a state with fewer than 3 million inhabitants, household pets included. Moreira has not been charged with a crime. He left to run, for a short while, the Institutional Revolutionary Party, the political party that won the presidency of Mexico last year. What's more interesting is what seems to have happened when the Zetas took control of the city of Acuña, Coahuila, where Moreira's son lived. (Of course, the press didn't cover the cartel's takeover, two journalists in Coahuila told me. That would have been fatal. )
The head of the Zetas became angry with former governor Moreira after the cartel leader's nephew was killed in a shootout with authorities. He ordered Moreira's son be killed in retaliation, according to the state attorney general. The attorney general said a deputy police chief in Acuña and three officers abducted Moreira's son, José, and turned him over to Zeta gunmen.
The son was murdered. Only then did corruption in the Acuña police force become news.