Somali journalists Hassan Ali Gesey and Abdihakim Jimale are roommates these days, living in a tiny, graffiti-ridden room in Nairobi, Kenya. Neither would have wanted to eke out an existence like this, but dire circumstances brought them together—starting with the night three years ago that Gesey saved Jimale's life.
Gesey, who was Jimale's neighbor in the Somali capital, Mogadishu, heard gunshots coming from his friend's home that August evening in 2007. He came running and found Jimale badly wounded on the floor. Gesey grabbed a wheelbarrow, loaded his injured friend, and pushed him through the bullet-scarred streets of Mogadishu to the nearest hospital, avoiding soldiers, rebels, and shelling along the way. "If we used a car they would have shot us, so I had to carry him at night through a war zone," Gesey told me.
As many as eight gunmen had entered Jimale's house while he was sleeping. "Which one is the government reporter?" demanded one assailant, flashlight in hand. Before Jimale could respond, the gunmen started firing. "I remember just spinning to the floor," said Jimale, who was shot five times in the arm.
I visited the two journalists recently in Nairobi, where they face significant economic, security, and health challenges. Working with local partners, CPJ's Journalist Assistance program is helping the two reporters with their daily needs and seeking to ensure Jimale gets sufficient medical attention.
Journalists become targets
The gunmen who shot Jimale were suspected members of the hard-line Al-Shabaab insurgency, which controls southern and central Somalia and parts of the capital, Mogadishu. Jimale was a natural target for Al-Shabaab: He had worked for government-sponsored radio stations in the capital for many years. But virtually all Somali journalists have been targeted in recent years, some by government forces, most by insurgents. Since 2005, 21 journalists have been killed in Somalia in direct connection to their work.
The day after Jimale was shot, suspected Al-Shabaab gunmen killed Capital Voice radio journalist Madad Elmi. Then, during Elmi's funeral procession, a remotely detonated bomb blew up a car carrying Ali Shamarke, founder of the independent broadcaster HornAfrik. Gesey was in a car directly behind the shattered SUV. "After Jimale was shot and then Elmi and Shamarke were killed the next day, I knew we were being targeted," Gesey said.
Jimale, though hospitalized, still had plenty of reason to fear for his life. Al-Shabaab militants are known to track down targets even in their sick beds. "Every day I lay in that place, I was afraid the Shabaab would track me down," Jimale said. He fled Mogadishu in October 2007 and traveled to Nairobi.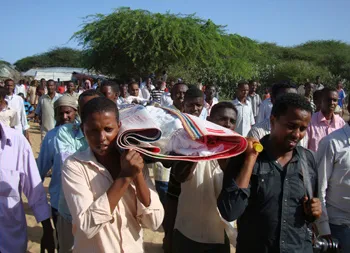 Gesey, an editor for the leading private radio station Somaliweyn, stayed in Mogadishu for nearly two more years. But in February 2009, he witnessed gunmen killing his friend and mentor, the veteran journalist Said Tahlil. A few months later, another senior journalist, Mukhtar Hirabe, was killed. "At this point about 15 editors, including me, all decided to quit our profession. It was just too dangerous," Gesey said. But quitting was not enough, Gesey found. Confronted by a relentless string of threatening text messages, the young editor fled to Nairobi in July 2009.
Jimale and Gesey re-connected in the Kenyan capital. They have their strong friendship, but the challenges they face are many.
Hardship in Nairobi
To attain legal status in Kenya, Somali refugees must first register with United Nations High Commissioner for Refugees (UNHCR). But the large flow of Somali refugees into Nairobi has resulted in months of waiting for applicants. In the meantime, Somali refugees are vulnerable. According to Somali journalists and international reports, local police target the Somali refugee community to collect bribes, forcing many to curtail their movements in the city. "Police just arrest Somali immigrants to pick up bribe money. They know we have no rights here so it's a source of income for them. I was forced to pay 1,000 [shillings] for an illegal arrest," Gesey told me.
The tattered one-room apartment shared by the two reporters comes with an astonishingly high price. The influx of Somali refugees in Nairobi has affected the housing market, and landlords have exploited the growing demand.
Jimale needs medical attention as well. After a long period of pain and frustration, he managed to have surgeons at a private hospital place metal rods in his damaged arm. A friend covered the costs. But one of the rods has snapped and the arm is now prone to infection. Sitting in the journalists' tiny Nairobi apartment, I could see Jimale wincing in pain every time he had to move his arm. It was a chilly evening, and while I was cold, trickles of sweat crossed Jimale's face.
Jimale and Gesey retain some hope of eventually returning home and resuming their profession. In the meantime, Jimale told CPJ, it is friends and colleagues that have made life bearable. Exiled Somali journalists in Nairobi, for example, organized a fund-raiser for Jimale. "It was a really wonderful but emotional event," he recalled. "It's friends who have kept me going, my former colleagues in the field and organizations like CPJ. It restores hope, just knowing there are people out there."