The Torch is a weekly newsletter from the Committee to Protect Journalists that brings you the latest press freedom and journalist safety news from around the world. Subscribe here.
Foreign journalists have been detained and beaten while covering demonstrations in China against the government's stringent COVID-19 policies, which have been blamed for interfering with firefighters' efforts to rescue victims of a deadly apartment building fire.
On November 27, Shanghai police assaulted Edward Lawrence, a journalist for British public broadcaster BBC, while he was covering a protest and detained him for several hours. After authorities later released Lawrence, officials claimed that police had taken him into custody "for his own good in case he caught COVID from the crowd."
Separately, on the same day, Shanghai police detained Michael Peuker, China correspondent for Swiss public broadcaster Radio Télévision Suisse's news platform RTS Info, and his camera operator and confiscated their video equipment. Peuker told CPJ that the police officers received a call from "their boss," who ordered their release and later returned their equipment.
Are you a journalist covering these protests in China? Read our safety advice on covering civil disorder and being arrested or detained.
Global press freedom updates
Spotlight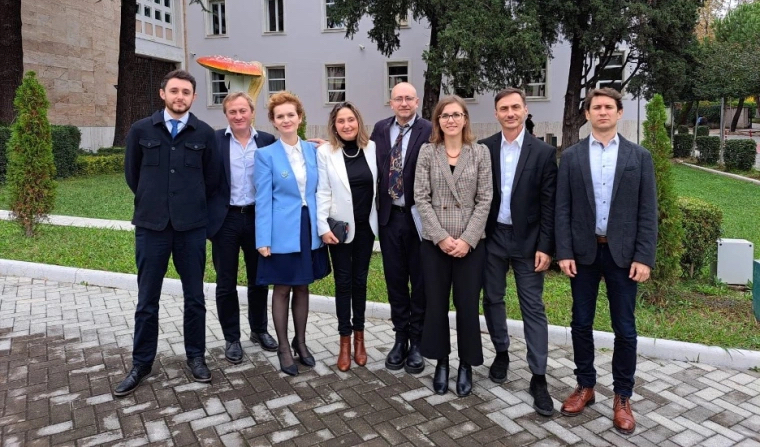 CPJ recently joined a delegation of press freedom groups on missions to Kosovo and Albania to probe the state of press freedom in both countries. In Kosovo, the delegation found that political interference in press coverage and physical safety are the main concerns for journalists, while in Albania, the delegation found a declining climate for free and independent reporting.
Read the delegation's detailed assessment of the Kosovo mission here and the Albania mission here.
---
Journalists reporting on corruption are often targeted for their work. On December 7, CPJ President Jodie Ginsberg will participate in the 2022 International Anti-Corruption Conference, held in Washington, D.C., from December 6 to 10.
On December 7, she will speak during the second plenary session, "Defending the Defenders, those who Uncover the Truth and the Victims of Corruption and the Violations of Human Rights," and a workshop on rethinking safety and security for investigative journalists on the same day.
You can register here to listen to the sessions in person or online.
What we are reading
A closer look
On November 30, represented by the Knight First Amendment Institute, journalists of the Salvadoran newspaper El Faro sued Israel-based technology company NSO Group over spyware attacks on their phones. Carlos Dada, El Faro's co-founder and director, said, "We are filing this lawsuit to defend our right to investigate and report, and to protect journalists around the world in their pursuit of the truth."
In January, CPJ spoke with El Faro journalist Julia Gavarette about her experience discovering that her phone was infected with spyware and how it affected her reporting. "It wears you out day-to-day, and you have to make an even greater effort to be able to produce journalism," she said.
CPJ reported in October about how the development of high-tech "zero-click" spyware – the kind that takes over a phone without a user's knowledge or interaction — poses an existential crisis for journalism and the future of press freedom around the world.
Until a proper regulatory framework for spyware can be put in place, CPJ has joined civil society organizations in calling for a moratorium on the trade, sale, and use of surveillance technology.
[Editors' note: This newsletter has been updated to reflect El Faro newspaper's correct location.]
Do you have an Amazon Alexa-enabled device? Enable CPJ's flash briefing skill to stay up to date with the latest press freedom news from around the world.