The Torch is a weekly newsletter from the Committee to Protect Journalists that brings you the latest press freedom and journalist safety news from around the world. Subscribe here.
In Amsterdam, an unidentified attacker fired five shots at independent investigative journalist Peter R. de Vries. The shooter fled the scene, and the journalist is hospitalized in critical condition. De Vries has covered numerous high-profile criminal investigations, and received death threats in 2019. Dutch authorities arrested two suspects in the case: a 35-year-old Polish national and a 21-year-old Dutch national. Watch what happened here.
In Myanmar, American journalist Nathan Maung spent more than three months behind bars, where he says he was interrogated, abused, and beaten, before being released and deported to the United States. His colleague, Hanthar Nyein, arrested at the same time, remains in detention.
Global press freedom updates
Spotlight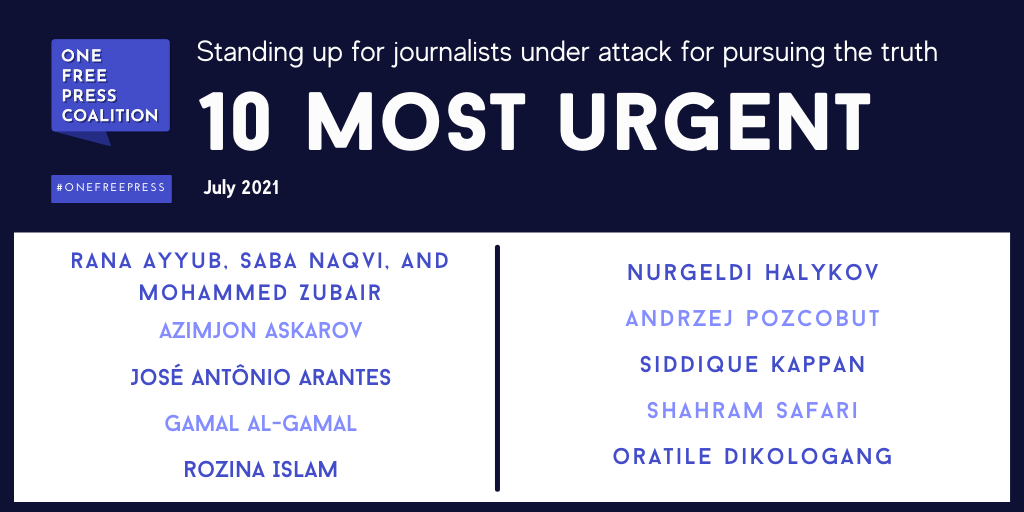 Despite the growing accessibility of COVID-19 vaccines in some countries, in much of the world the virus remains a threat, and authoritarian leaders continue to use it as an excuse to crack down on the media.
Last week, the One Free Press Coalition, a collaborative project led by CPJ, the International Women's Media Foundation (IWMF) and Forbes, highlighted urgent cases of journalists under threat in relation to COVID-19, ranging from journalists who contracted the disease while behind bars to others targeted for reporting on the pandemic. Learn more about the brave journalists featured this month here.
What we are reading
Do you have an Amazon Alexa-enabled device? Enable CPJ's flash briefing skill to stay up to date with the latest press freedom news from around the world.