The Torch is a weekly newsletter from the Committee to Protect Journalists that brings you the latest press freedom and journalist safety news from around the world. Subscribe here.
Myanmar's military seized power from the elected government February 1, obstructing news stations, temporarily shuttering phone and internet access, and later restricting access to social media platforms. "Social media and communication platforms are crucial for journalists to report the news as democracy is upended," said Shawn Crispin, CPJ's senior Southeast Asia representative, urging officials to rescind an order blocking Facebook services and lift restrictions on broadcasters at a moment when people are in desperate need of information.
In Australia, a proposed law would force Facebook and Google to pay for the news they use to improve their feeds and search results, in the hopes of redistributing some of the revenue generated by the tech giants back to the news industry. In an op-ed published by the Thomson Reuters Foundation, CPJ Advocacy Director Courtney Radsch urges regulators to level the playing field and give the media a fighting chance to reclaim a share of the advertising pie.
Global press freedom updates
Spotlight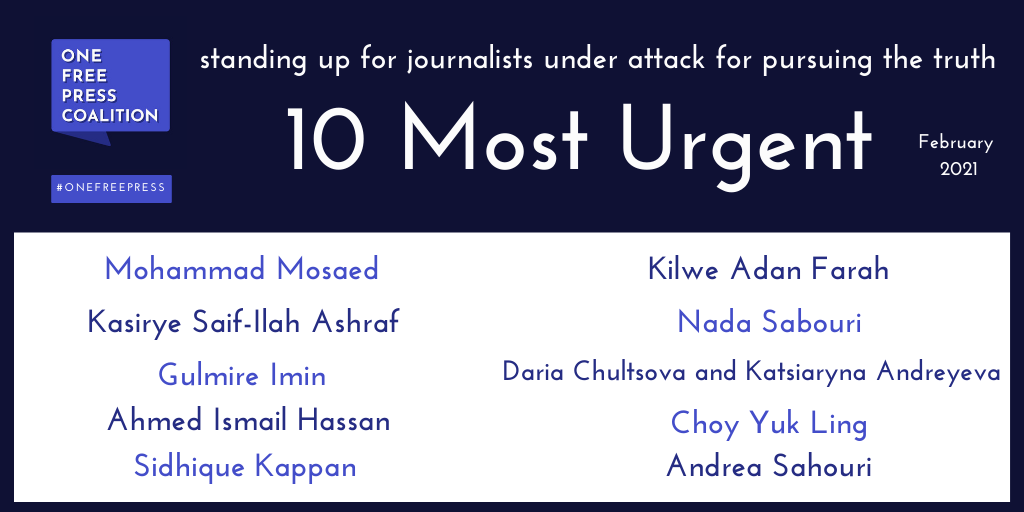 In a year already marked by waves of protests and political upheaval across the globe, it is apt that the journalists featured on the February One Free Press Coalition list have all faced serious threats in relation to their reporting on polarizing elections and protests in countries like Iran, China, and the U.S. Read the list to learn more about their stories.
Each month, CPJ and the International Women's Foundation select urgent cases for the coalition's consideration, harnessing the audiences of 30+ news outlets around the world to bring attention to these brave journalists and the threats they face. Media looking for advice should also check out our safety information on covering elections and civil disorder.
What we are reading
Do you have an Amazon Alexa-enabled device? Enable CPJ's flash briefing skill to stay up to date with the latest press freedom news from around the world.