The Torch is a weekly newsletter from the Committee to Protect Journalists that brings you the latest press freedom and journalist safety news from around the world. Subscribe here.
Eleven years after the Maguindanao massacre in the Philippines, where 32 journalists and media workers were killed, the government has prematurely declared an end to impunity in journalist murders. Meanwhile, journalist killings continue: CPJ calls on Philippine authorities to investigate the deaths of Ronnie Villamor, shot by unidentified assailants on November 10, and Virgilio Maganes, who was killed by soldiers on November 14, and bring those responsible to account. The Philippines ranked seventh on CPJ's 2020 Impunity Index, with at least 11 unsolved journalist killings.
In Sudan, the transitional government has tightened cybercrime legislation that journalists fear could be used to punish online reporting and commentary. Journalists and activists told CPJ that they fear the army is weaponizing the law to silence criticism, rather than fight disinformation.
Also this week, CPJ welcomed a call for countries to establish new emergency visa regulations to protect journalists fleeing threats, as featured in a report from the High Level Legal Panel, chaired by Lord Neuberger and Amal Clooney.
Global press freedom updates
A closer look | CPJ's most-read features in November
Spotlight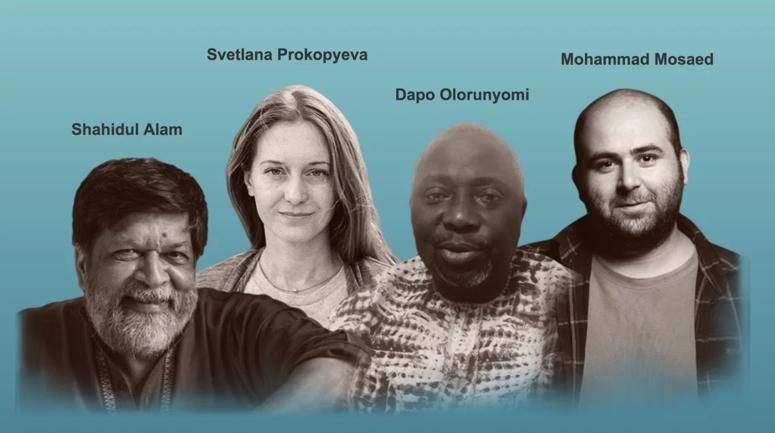 Last week, CPJ honored courageous journalists at the 30th annual International Press Freedom Awards.
In his speech, Bangladeshi photojournalist Shahidul Alam shared the harrowing story of his 2018 arrest, and the importance of solidarity among journalists. "The media is under threat worldwide, vigorously being attacked. I think it is important for the world to recognize the role of the media, the value it has, and the fact for those of us on the ground to recognize that we are not alone and that we're supported," he said.
Nigerian journalist Dapo Olorunyomi gave a powerful speech on the importance of journalism, saying, "For Africa to be able to pull through this difficult environment of the 21st century we need bold imagination, we need a space for debate, we need a context for dissent, we need more marchers on the street, but above all we need an asset of democracy that helps us interpret and mediate these processes in a way that no other institution can."
Russian journalist Svetlana Prokopyeva spoke boldly against repression in her country: "In today's Russia, journalism is often equaled to crime. It sends a clear signal that the country's democratic development has stalled. We are sliding into totalitarianism – again. Because if there is no freedom of speech, other freedoms are out of reach."
In a powerful video, CPJ Advocacy Associate Yeganeh Rezaian detailed the threats she faced while imprisoned as a journalist in Iran, and described just how much is at stake for awardee Mohammad Mosaed as he faces a prison sentence for his reporting.
The virtual event can be watched in its entirety here, and you can learn more about the awardees and watch their individual speeches at ipfa2020.org.
---
Next week, CPJ experts will be featured on virtual panels at the annual Journalism Under Fire conference, hosted by the Santa Fe Council on International Relations.
On December 2, CPJ Advocacy Director Courtney Radsch will join a conversation with Brazilian journalist and 2019 IPFA awardee Patrícia Campos Mello on "Disinformation, Trolls, and Harassment: Reflections from Brazil." The next day, CPJ Executive Director Joel Simon will join the closing ceremony conversation on the state of press freedom globally. Register for sessions here.
What we are reading
Do you have an Amazon Alexa-enabled device? Enable CPJ's flash briefing skill to stay up to date with the latest press freedom news from around the world.