The Torch is a weekly newsletter from the Committee to Protect Journalists that brings you the latest press freedom and journalist safety news from around the world. Subscribe here.
This morning, Minnesota police officers arrested a CNN crew covering protests in Minneapolis while they were live on air, as seen in a video from the broadcaster. The crew was released about an hour later. CPJ issued a statement condemning the arrests.
As protests continue in Minneapolis over the death of George Floyd, CPJ is concerned about the police department's use of rubber bullets and tear gas against protesters and the press. On Tuesday, one local journalist tweeted an image of a rubber bullet that he said police shot into his thigh. For information on how to stay safe while reporting on protests, journalists can consult CPJ Emergencies' safety advisory.
In the Mexican state of Veracruz on May 24, unidentified gunmen attacked Mexican reporter Fernanda de Luna Ferral, who escaped unharmed. Two months prior, de Luna Ferral was placed under federal and state protection after her mother, journalist Maria Elena Ferral, was shot dead in the same state.
Journalism in the time of coronavirus
Spotlight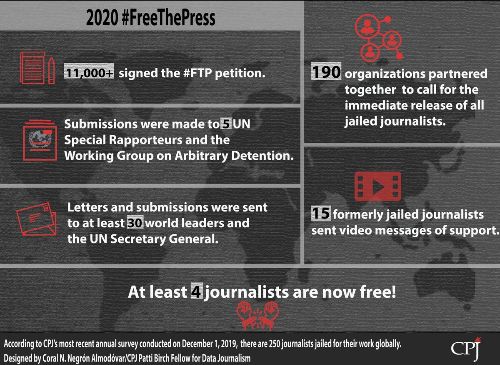 Earlier this month, CPJ's #FreeThePress campaign sent a letter and petition to U.N. Secretary-General António Guterres, calling on him to take urgent action on behalf of jailed journalists amid the pandemic. Guterres responded, emphasizing that the safety of journalists remains a key priority for the United Nations, saying, "No democracy can function without press freedom, which is the cornerstone of trust between people and their institutions, and which is most critical at a time of crisis when citizens demand accountability."
---
This week, CPJ hosted a live Instagram Q&A with South and Central Americas Program Coordinator Natalie Southwick to discuss our reporting on the military surveillance of journalists in Colombia. Catch up on the conversation here, and follow us on Instagram here.
What we are reading
Beyond the pandemic
Do you have an Amazon Alexa-enabled device? Enable CPJ's flash briefing skill to stay up to date with the latest press freedom news from around the world.