Hungary's challenge to the EU
When Viktor Orbán's center-right conservative party Fidesz won parliamentary elections in 2010, few expected that Budapest would pose one of the most crucial challenges to the EU. "Orbán's experiment is the first attempt to deconstruct the liberal system inside the EU. It is also the first time the EU has had to respond swiftly and effectively to such a legal and constitutional challenge," István Hegedűs, chairman of the Hungarian Europe Society, which promotes European common values, told CPJ. European Journalism Centre director Rütten added that Hungary "exposed the failings of the EU" when it came to dealing with member states.
More in This Report
In Print
The EU presumed that once admitted, member states would never backtrack. So the Commission, as guardian of the treaties, found itself underequipped in dealing with Hungary.
Orbán's worrying measures went beyond press freedom. Since 2010, Hungary has implemented, then amended its constitution five times, and passed more than 600 laws, a December 2014 report by Council of Europe Human Rights Commissioner Nils Muižnieks found. The so-called 2010 media package—the Media Act and the Press Freedom Act—became a major symbol of what was going wrong. It assured the ruling party dominion over the Media Council, a supposedly independent and self-regulatory body, and imposed tax and advertising regulations that led to criticism that it was rewarding friends and punishing opposition. The government was also accused of meddling in newsrooms. In a case reported by CPJ, Gergő Sáling, editor-in-chief of Origo, was replaced in June 2014 after the website published an investigation about expenses claimed by Orbán's chief of staff, Janos Lazar. Origo's publisher denied politics was behind the dismissal. The government also clamped down on international funding for independent media, and public broadcasting was turned into a party instrument. "Putin would be happy to watch Hungarian TV," Hungarian journalist and press freedom activist Attila Mong told CPJ.
Between 2010 and 2014, digital commissioner Kroes said she was doing the utmost within the confines of her mandate. The Commission initiated infringement proceedings—legal action against legislation deemed incompatible with EU law. It required Budapest to modify four provisions of the Media Act: the disproportionate application of rules on balanced information; fines for broadcasters legally established and authorized in other member states; rules on registration and authorization of media service providers; and rules against offending individuals, minorities or majorities. Kroes also denounced, in a July 2014 blog, a new advertising tax that she said unfairly targeted leading privately owned TV broadcaster RTL Klub. The tax was linked to profits, subjecting successful companies to a 40 percent tax rate, CPJ reported. It was estimated that RTL would have been forced to contribute 81 percent of the entire revenue raised by the tax in 2014, according to news reports.
In May 2015, Hungary made amendments to parts of the tax law in a move the Financial Times described as "a victory for independent broadcasters and EU regulators who had opposed the measure."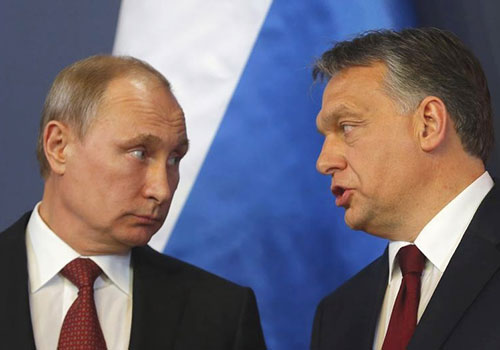 Kroes raised the scenario of applying Article 7 of the Treaty, the so-called "nuclear option" which, at its most severe, suspends a member state's voting rights. However, it would have needed quasi-unanimity at the council, a near impossible feat due to the reluctance by member states to accept more intrusion from Brussels. "It would also have hit all Hungarians irrespective of their support to Orbán," a top European Commission official who was not authorized to speak on the record and declined to be identified, told CPJ. "That is not something that you can take lightly." The official added that some member states "although critical of Orbán, also feared sanctions would provoke a nationalist backlash and increase support for the government or, even worse, for the far-right Jobbik party."
In Hungary, press freedom circles were stunned by the EU's reaction. "Viktor Orbán's growingly illiberal governance is in itself a denial of European democratic values, and not in a hidden way, but set to a loud anti-European propaganda tune," Miklós Haraszti, a Hungarian human rights activist and former OSCE Representative on Freedom of the Media, told CPJ. At a June 2015 event in Brussels, Gábor Polyák, founder of Hungarian think-tank Mertek Media Monitor, said: "Orbán learned how he could handle the EU: if he complied with details of the EU complaints he did not have to change the politics itself." Polyák claimed the Commission could have responded by using the EU telecom rules to tackle how frequencies were allocated or the Charter of Fundamental Rights to address the media package.
The EU could have also used its power over funds, critics argued. "The EU gives more than €5 billion in financial support to Budapest—some 6 percent of Hungarian GDP," according to the BBC. The Brussels-based European Foundation Centre added that the EU funds 97 percent of public investment in Hungary. In a 2014 briefing, the foundation added: "With worrying signs of state-capture, corruption, and maladministration, European institutions and the European Court of Auditors should ensure public funds are being correctly employed."
Haraszti told CPJ he found the EU reaction to how the government funded itself perplexing, adding that Hungary was "plundering the generous influx of European Commission money … [and] foreign-owned firms" through high taxes. "Both tactics defy core principles of the Union," he said.
But the funds did not stop. In September 2014, Barroso announced a €21.9 billion grant in structural funds and EU investments for Hungary for 2014-2020. "EU taxpayers are just becoming aware that they are funding oligarchs," said Hungarian Green MEP and opposition member Benedek Jávor at a European Parliament conference in June 2015.
Infringement proceedings by the Commission were not enough to bring Orbán back to the fold. A CPJ mission in October 2014 found self-censorship in government-supported media outlets, cronyism in government-friendly commercial media, and discriminating state advertising allocations and tax regulations. "The effectiveness [of EU infringement proceedings] is very much dependent on the compliance culture of the member state," European ombudsman and former Irish journalist O'Reilly warned in a May 2015 address at the annual conference of the Law Society of Ireland. Italian EU Affairs Minister Sandro Gozi made a similar point in November 2014 when, according to reports, he asked, "Why are we so demanding on the rule of law when we have a candidate country and once it becomes a member it becomes a black box, no questions are asked about the rule of law?"
The Orbán government has snubbed its EU critics. When international government spokesman Zoltán Kovács was faced with Hungarian non-governmental organizations, journalists, and MEPs at a January 2015 Civil Liberties Committee hearing on human rights, he compared the session to a "soap opera" and swept away criticism as "biased opinions, outright lies, and emotional outbursts." The committee, he suggested, "should concentrate itself on more meaningful issues like terrorism, immigration, or the euro."
In June 2015 Hungary was again the object of a European Parliament resolution—mostly triggered by plans to introduce the death penalty (a sentence outlawed in the EU) and the erection of a fence at its Serbian border to deter migrants—urging the commission "to activate the first stage of the EU framework to strengthen the rule of law." There were grumblings even inside the EPP against their member party, but Orbán has not been deterred. In July 2015, a bill restricting freedom of information requests by introducing fees and adding exceptions to the release of documents was voted in. "It is easy to view the law as part of an anti-democratic drive pursued by the right-wing Fidesz government," said Mong.
Confronted with Orbán's challenges and the EU's timidity, many in Brussels echoed Dutch Socialist MEP Kati Piri's conviction that "change in Hungary would primarily come from its own people," and their will to push back an illiberal government while deterring the more radical far-right nationalist and press-unfriendly Jobbik. "As Orbán's friends control a significant part of the media, the scenario of an electoral upset is not obvious since much of the public opinion is left in the dark," Pierre-Arnaud Perrouty, author of A Dictatorship in Europe?, a documentary on Hungary, and executive director of the European Humanist Federation, told CPJ. He added that it would be hard to dismantle the Fidesz state Orbán has been allowed to create.