The Killing of Al-Hosseiny Abou Deif
By Sherif Mansour
The fatal shooting of El-Fagr reporter Al-Hosseiny Abou Deif during clashes between anti-government protesters and Muslim Brotherhood supporters outside the presidential palace last December seemed, at first blush, to fit a sadly familiar pattern: a journalist killed covering a political demonstration, the victim of a stray bullet fired recklessly in the heat of street violence.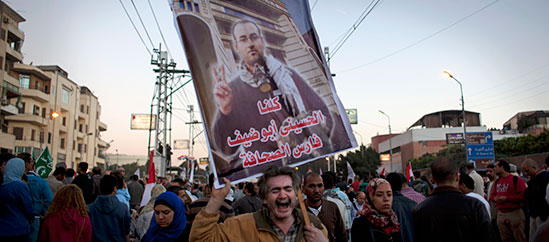 But as the case unfolded in the ensuing months, the details began to reveal much more: that Abou Deif had reported being followed and threatened in recent days; that forensic evidence pointed to a targeted killing; that a witness saw a Muslim Brotherhood supporter shine a laser penlight at Abou Deif shortly before the shooting; and that government officials, including a senior spokesman for the president, sought to obscure the nature of the shooting.
Eight months after Abou Deif's death, his family and colleagues are pressing prosecutors to conduct an investigation they say should have been done from the start.
"I left my hometown in Upper Egypt and for months I have done nothing in Cairo but try to find out who killed my brother, Al-Hosseiny," Salem Abou Deif told CPJ. "I am confident that the Muslim Brotherhood targeted him because of what he wrote against the president."
Four months before the shooting, Abou Deif had written a piece saying that President Mohamed Morsi had included a brother-in-law in a mass July 2012 presidential pardon that encompassed 572 people. Morsi's brother-in-law, Mahmoud Aly, had been serving a three-year sentence on a bribery conviction. Morsi didn't publicly respond to the report. Soon after, Abou Deif told his brother and several colleagues that he was being followed on the streets and was receiving threats on his Facebook page from people he identified as Muslim Brotherhood supporters, according to CPJ interviews with the brother and fellow journalists.
Early on the day of the shooting, December 5, 2012, Abou Deif was struck by a rubber bullet while covering the violent street clashes and sought treatment at a local hospital, a colleague, Hossam Sioufi, told CPJ. By that time, Abou Deif had shot video showing Muslim Brotherhood supporters assaulting anti-government protesters, according to Sioufi. (A number of reporters and others later published videos showing Muslim Brotherhood supporters beating, intimidating, and detaining protesters that day.)
After being treated for minor injuries, Abou Deif returned to the demonstration and began showing to other protesters the video he had taken earlier that day, according to Mahmoud Abd al-Qader, a friend who was nearby and who witnessed the fatal shooting.
A few moments later, Abou Deif was struck in the head by a single gunshot, said Abd al-Qader, who gave his account to the public prosecutor and an investigator hired by the journalist's family. "I was standing by [Abou Deif's] side directly, and I heard a humming sound like a bee, which turned out to be a bullet that settled in his head from the right side," Abd al-Qader said in his official testimony to the public prosecutor, given in May and published by Al-Watan.
Abou Deif was taken to a local hospital, Al-Zahraa, and then transferred to Kasr El Aini, a better equipped facility, but he lapsed into a coma and died a week later, on December 12. The attending physicians said the fatal shot had to have been fired from just a few feet away, according to the family and news accounts.
Journalists soon charged that Muslim Brotherhood supporters were behind the shooting. Hassan Shahin, an activist who was the scene, told Abou Deif's family that someone he knew to be a Muslim Brotherhood supporter from prior demonstrations had focused a laser penlight on Abou Deif shortly before the shooting. The laser pen tactic had been used by Muslim Brotherhood supporters and police during demonstrations to identify activists for harassment or attack, according to news accounts. Shahin later gave a statement to the prosecutor's office.
In January, a senior Morsi spokesman, Yassir Ali, disputed any Muslim Brotherhood connection to the killing and seemed to point a finger elsewhere. In a January 16 letter to the Washington Post, Ali said "forensic reports confirmed that Abu Deif was killed by the same type of bullet that killed seven pro-Morsi protesters at the same demonstrations."
Yet no such forensic report had been issued by that time. The government's Forensics Administration issued its report more than a month later, on February 22. The official report summary was obtained by CPJ through Abou Deif's family.
The report states that Abou Deif died of "brain laceration and hemorrhage associated with meningeal rupture (or cutting of the meninges) and fractures of skull bones due to gunshot." The report refers only vaguely to the distance at which the shot was fired, saying it came from "more than a meter" away. The report does not specify the type of weapon or bullet used, although it described the slug as having expanded after entering Abou Deif's skull.
The Forensics Administration said it had not received an investigative memorandum from police, a key document that would typically include witness testimony and other details from the scene. The memorandum, which investigators are normally obligated to file in such cases, would ordinarily be used by the Forensics Administration to determine the source and distance of the shot and other salient circumstances that would guide the prosecutor in pursuing charges.
The witnesses' testimony and pressure from the Egyptian Journalists' Syndicate prompted authorities in April to summon three Muslim Brotherhood youth leaders for six hours of questioning. Authorities released them, however, citing lack of evidence. The suspects were publicly identified as Ahmed Sibia, Abdel Rahman Ezz, and Ahmed al-Moghier. Sibia was also the director of Hamas-affiliated Al-Aqsa television office in Cairo. The three denied involvement in the killing and said their own lives had been threatened by opposition activists, according to news reports.
That month, Abou Dief's family hired Fakhry Saleh, former head of the Forensics Administration, to conduct its own investigation. Saleh, using the official medical report and eyewitness testimony, concluded that a gunman fired one shot at close range using a "dumdum" bullet designed to expand on impact to intensify the injury.
Faced with the family's findings, the public prosecutor's office reopened the investigation in late May—only to close the case a month later with the vague explanation that it could not identify the "original killer." The office referred al-Moghier for trial on charges of torturing and detaining opposition protesters during the same clashes in which Abou Deif was killed.
The case took another turn after Morsi's ouster in July, when the prosecutor general's office, which oversees all public prosecutors, asked a Cairo judge to examine the case independently, a step that encouraged Abou Dief's family and lawyers. Despite all of the political tumult, they say, authorities must not abandon the case.
"We believe we put forward enough evidence to show that this was not crossfire incident, but a targeted murder," Negad El Borai, Abou Deif's lawyer, told CPJ. "We are hopeful now that there is new leadership in Egypt. … They will agree to our request to conduct serious investigations."
Sherif Mansour is coordinator of CPJ's Middle East and North Africa program. CPJ consultant Shaimaa Abu Elkhir contributed reporting from Cairo.