Grace Morales lost her husband, her sister, and her sense of security. She didn't lose hope. By María Salazar-Ferro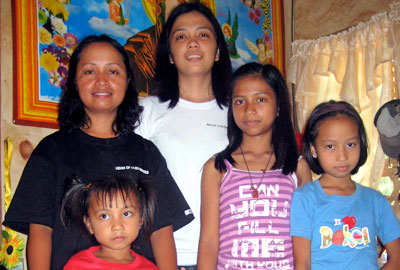 Published November 10, 2010
GENERAL SANTOS CITY, Philippines
Grace Morales drove for hours that November day in 2009, desperately hoping to see her husband, Rossel, a local newspaper reporter, and her sister, Marites Cablitas, the paper's editor. The radio reports that morning had talked about a hostage crisis, maybe something worse, involving reporters in Maguindanao province. So she drove until dusk, until she found the hillside in rural Ampatuan. "And there, I saw my husband, I saw my sister, I saw their friends," Morales recalls. "There they were, all lying dead."
Imagine your life wrenched inside out. Imagine that your partner of 11 years was suddenly gone, your best friend and sister, too, leaving you with three young children and a niece in need of emotional and financial support. What would you do?
Morales has tried to build a new life for her family and to find meaning from her grief by helping the other families who lost loved ones in the Maguindanao massacre. Her quest for justice has pushed Morales, 34, to the front of a movement representing the relatives of the Maguindanao victims. Along with three other families, Morales founded the group Heirs of the Heroes of 11/23, whose members now number in the dozens. In addition to monthly meetings to commemorate their loss and work toward recovery, the members attend each court proceeding involving the suspects and participate in public events such as vigils and press conferences, often wearing black and white t-shirts bearing the group's name.
Family members describe the group as a support system—a forum for discussions on trauma and loss—and a response mechanism in case of emergencies. Morales, the group's secretary, is also its unofficial assessor of financial and medical needs. She knows every child's age and school grade; she understands each family's financial situation. She is the point person for press freedom organizations in Manila that channel local and international aid to the Maguindanao families. Financial assistance, says Morales, is crucial to the families' sustenance. Her own children, she explains, receive scholarships and medical assistance, without which she is not sure they would be able to survive.
In all, press freedom and children's groups have channeled about 2.5 million pesos (US$58,000) in donations to the families. The Freedom Fund for Filipino Journalists, CPJ's local partner, distributed grants of 10,000 pesos (US$230) to each family in the immediate aftermath of the murders. The Freedom Fund, the National Union of Journalists of the Philippines, and the local children's foundation ABS-CBN Bantay Bata continue to provide scholarships to all affected children. The Freedom Fund also provides funds for emergency medical assistance. CPJ provides ongoing support for the families' legal costs and their travel to court hearings.
Morales and the other victims' relatives take turns traveling by air to the proceedings. She is convinced that justice is most important to the families, with whom she stays in regular contact, often by text message. She has spoken to families about the bribes that have been offered in exchange for dropping their support for the prosecution; the families, she said, have tried to stay unified by turning down the financial offers.
Focusing on the public, and her family
Sustained international attention, Morales said, will further the goal of justice. "I am thankful that outside the country people know what happened. But it is so important that all these people remember, that they continue to know what happened." So Morales takes part in as many public events as she can to ensure that the case is kept in the public eye. She also works closely with attorney Prima Quinsayas, a private prosecutor who is representing the families. Under Philippine law, private lawyers representing victims' families are allowed to assist government prosecutors in preparing cases for trial.
In the weeks after the massacre, the national government also gave 10,000 pesos to each of the 57 families of the Maguindanao massacre. Morales used the funds to pay for her husband's funeral, to which then-President Gloria Macapagal Arroyo attended. She received a second grant of 20,000 pesos (roughly US$456) from the Philippine Social Security system.
Morales has used the aid to rent a karaoke machine and set up a sari sari store, where she sells candy, soda, and snacks to neighborhood children. The business, Morales says, helps pay the bills while allowing her to stay home and care for her children, her mother, and Cablitas' youngest daughter, who is now living with her.
The sari sari store occupies the front of Morales' wood-frame home in the dusty outskirts of General Santos City. The karaoke machine and a few tables fill a small outbuilding. The family quarters are tight but impeccably clean and orderly, the living room, with its family photos, flowers, and teddy bears, now a shrine to her husband and sister.
Morales' husband, Rossel, had worked at a local radio station for years before recently joining News Focus, the small General Santos City newspaper run by her sister, Marites Cablitas. He was finally fulfilling his long-time dream of being a newspaperman, Morales remembers. Cablitas, colleagues tell CPJ, was a well-known, veteran journalist. Both knew the Ampatuan clan, whose leaders are accused of planning the massacre. "When they went to the area, they would see the Ampatuans, they would eat with them," said Morales, still astonished that a family they all knew could, by the government's account, commit such an atrocity.
The day before the massacre, Rossel Morales and Marites Cablitas had been covering a folk festival in Maguindanao. While on that assignment, local politician Esmael "Toto" Mangudadatu invited them to cover the filing of his gubernatorial candidacy papers the following day. "It was a story," Morales recalls, "like any other."
It was, in the end, a story that changed her life and those of her family and friends in ways that no one could have imagined. But, determined, Morales sees a different future now. Fanning herself in the mid-afternoon heat this recent day, Morales explains: "I know that the legal process will take time— I know that. But I believe that there has to be justice."
María Salazar-Ferro is coordinator of CPJ's Journalist Assistance program and its Global Campaign Against Impunity.
—
To help the families of the journalists killed in Maguindanao, visit CPJ's Journalists Assistance program for information. Let us know if you are interested in sponsoring the families affected. You can also donate directly to CPJ's distress fund, which gives educational and medical assistance for the families, and helps pay for some of their legal costs. For additional information, you can also contact CPJ's local partners in Manila, the Center for Media Freedom and Responsibility and the National Union of Journalists of the Philippines.