CPJ survey finds at least 68 journalists killed in 2009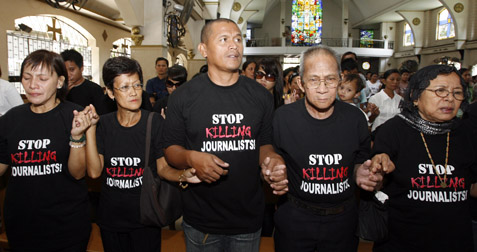 New York, December 17, 2009—At least 68 journalists worldwide were killed for their work in 2009, the highest yearly tally ever documented by the Committee to Protect Journalists, the organization said in its year-end analysis. The record toll was driven in large part by the election-related slaughter of more than 30 media workers in the Philippine province of Maguindanao, the deadliest event for the press in CPJ history.
The worldwide tally surpasses the previous record of 67 deaths, set in 2007 when violence in Iraq was pervasive and media fatalities there were common. CPJ is still investigating 20 other journalist deaths worldwide in 2009 to determine whether they were work-related.
"This has been a year of unprecedented devastation for the world's media, but the violence also confirms long-term trends," said CPJ Executive Director Joel Simon. "Most of the victims were local reporters covering news in their own communities. The perpetrators assumed, based on precedent, that they would never be punished. Whether the killings are in Iraq or the Philippines, in Russia or Mexico, changing this assumption is the key to reducing the death toll."
The enormity of the Philippine massacre is unparalleled. Twenty-nine journalists and two support workers were among the 57 people brutally murdered in a November ambush motivated by political clan rivalries. The deadliest prior event for the press came in Iraq in October 2006, when 11 employees of Al-Shaabiya television were killed in an attack on the station's Baghdad studios, CPJ research shows.
The Maguindanao killings, while extreme, reflect the deep-seated climate of impunity in the Philippines, where long-term law enforcement and political failures have led to high numbers of journalist murders and low rates of convictions over two decades. For two years running, CPJ has identified the Philippines as one of the world's worst nations in combating violence against the press.
"The killings in the Philippines are a shocking but not entirely surprising product of a long-term reality: The government has allowed unpunished violence against journalists, most of it politically motivated, to become part of the culture," said Bob Dietz, CPJ's Asia program coordinator. "The Maguindanao massacre could serve as a turning point for the Philippines if its leaders can gather the political will to see that the perpetrators are brought to justice. If it is business as usual, we will continue to see journalists killed in the years to come."
Already, CPJ and other press freedom groups are concerned about the integrity of the Maguindanao investigation. A report by four local press groups found that the crime scene had not been well preserved, that potential witnesses had been intimidated, and that the investigation was poorly coordinated. One law enforcement official told CPJ that he and his colleagues have insufficient resources and inadequate security to carry out the probe.
In its worldwide analysis, CPJ also found notable shifts in the risks in combat zones. Deaths in Iraq continued a significant downward trend: Four Iraqi journalists were killed during the year, the lowest annual tally since the war began in 2003.
But violence soared in Somalia, where nine local journalists were murdered or killed in combat situations. Throughout 2009, Al-Shabaab militants waged a terror campaign against the Somali press, murdering journalists and seizing news outlets. Among the victims was Said Tahlil Ahmed, director of the independent broadcaster HornAfrik, who was gunned down as he and other journalists were walking through Mogadishu's Bakara Market to a press conference.
"The nine deaths in Somalia are a tremendous loss for the tiny band of journalists who risk their lives every day just by stepping out into the street," said CPJ Deputy Director Robert Mahoney, who helps oversee CPJ advocacy in the region. "Their courageous reporting exposes them not just to crossfire and random violence but to targeted killing by Islamists who want to control the message."
Four journalists were killed in Pakistan during the year, among them Musa Khankhel, a local television reporter known for his critical coverage. Abducted while covering a peace march in a militant-controlled area near the town of Matta, Khankel was tortured and then shot repeatedly.
As in past years, murder was the leading cause of work-related deaths in 2009. At least 50 journalists were targeted and slain in retaliation for their work, representing about three-quarters of the deaths in 2009. Eleven journalists were killed in crossfire while in combat situations, while seven died while covering dangerous assignments such as police raids or street protests.
Many of the deadliest nations for the press in 2009 have long-term records of violence against journalists and high rates of impunity in those attacks.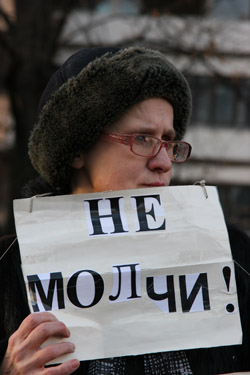 Three journalists were murdered in Russia, which has had a high media fatality rate over two decades. The 2009 victims included Abdulmalik Akhmedilov, a Dagestani editor who sharply criticized government officials for suppressing religious and political dissent. He was found shot, contract-style, in his car. In September, CPJ issued a report, Anatomy of Injustice, that examined the high number of unsolved journalist murders in Russia and prompted government pledges to re-examine several cases.
Two journalists were slain in both Mexico and Sri Lanka. In Durango state, Mexico, assailants abducted crime reporter Eliseo Barrón Hernández from his home as his wife and two young daughters watched. His body, a gunshot wound to the head, was found the next day in an irrigation ditch. Barrón had just broken a story about police corruption.
Retribution was also the suspected motive in the slaying of Lasantha Wickramatunga, a Sri Lankan editor known for his critical reporting on the government. Eight helmeted men on four motorcycles forced Wickramatunga's car to the side of a busy street outside Colombo and beat him with iron bars and wooden poles.
Here are other trends and details that emerged in CPJ's analysis:
• The 2009 toll is up more than 60 percent from the 42 deaths recorded in 2008.
• All but two of the 2009 victims were local journalists. While local reporters have long been more vulnerable to deadly violence than their foreign counterparts, the divide has never been wider in CPJ's annual assessment.
• Print journalists constituted 56 percent of the toll, indicating that print media continue to play a front-line role in reporting the news in dangerous situations. Although CPJ research has found a notable decline in the number of print journalists in jail, it has charted no comparable drop in fatalities among print reporters, editors, and photographers.
• In addition to the murders in Maguindanao, CPJ recorded three other work-related deaths in the Philippines in 2009. In all, 32 journalists and two support workers were killed in the country during the year.
• Two journalists died of neglect or mistreatment while imprisoned on work-related charges. Novruzali Mamedov died in an Azerbaijani prison after being denied adequate medical care, while Iranian blogger Omidreza Mirsayafi died in Evin Prison under circumstances that were never fully explained.
• At least two journalists were reported missing during the year, one in Mexico and the other in Yemen.
• Nine freelance journalists were among the 2009 victims. The proportion of freelancers was consistent with past years.
• Other places with media fatalities were: Afghanistan, Colombia, El Salvador, Indonesia, Kenya, Madagascar, Nepal, Nigeria, the Occupied Palestinian Territory, and Venezuela.
CPJ began compiling detailed records on all journalist deaths in 1992. CPJ staff members apply strict criteria for each entry; researchers independently investigate and verify the circumstances behind each death. CPJ considers a case work-related only when its staff is reasonably certain that a journalist was killed in direct reprisal for his or her work; in crossfire; or while carrying out a dangerous assignment.
If the motives in a killing are unclear, but it is possible that a journalist died in relation to his or her work, CPJ classifies the case as "unconfirmed" and continues to investigate. CPJ's list does not include journalists who died in accidents—such as car or plane crashes—unless the crash was caused by hostile action. Other press organizations using different criteria cite higher numbers of deaths than CPJ.
CPJ's database of journalists killed for their work in 2009 includes capsule reports on each victim and a statistical analysis. CPJ also maintains a database of all journalists killed since 1992. A final list of journalists killed in 2009 will be released in early January.