To request a printed copy of this report, e-mail [email protected].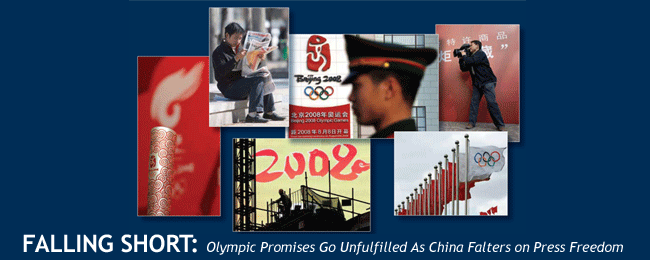 Updated edition posted June 5, 2008
* Download the full report as a PDF document
ii) Preface
1. Summary
2. Words and Deeds: Confronting the Contradictions
3. Commerce and Control: The Media's Evolution
4. Inwardly Restricted: Domestic Repression Remains
5. Censorship at Work: The Newsroom in China
6. Local Threats: The Bureaucrat's Tyranny
7. The Libel Card: Suits That Inhibit
8. 'Secrets' and Subversion: The Limits of Expression
9. Online Rules: A Study in Paradox
10. Opportunity Dissolves: Foreign Media Still Obstructed
11. Recommendations
Appendices:
Appendix I: Constitutional and International Guarantees
Appendix II: Media Law in China
Appendix III: Journalists Imprisoned in China
Download the full report here, or e-mail CPJ to request a print copy.