Mission journal: Journalists in Iraqi Kurdistan are under pressure from authorities in the autonomous northern Iraqi region, with news outlets shuttered and critical reporters arrested. With government formation talks underway, CPJ's Middle East and North Africa representative Ignacio Miguel Delgado travels to Erbil, Sulaymaniyah and Duhok to hear from local journalists on how the partisan divide in Iraqi Kurdistan makes them vulnerable to attacks and harassment.
It was not the first time that Rugesh Sherwani's husband, the Kurdish freelance journalist Sherwan Sherwani, had been in jail. That's perhaps why nothing in her gestures showed anxiety or fear. Quite the contrary. She was composed and determined when she received me in the living room of her house on the outskirts of Erbil in February. As she detailed her efforts to visit Sherwani in jail and bring international attention to his case, Rugesh held a sleepy child who, oblivious of our conversation, sucked his thumb and stared intently at his mother.
"Since the Red Cross saw him in jail two weeks ago, neither relatives, nor lawyers have been able to visit him. Three days ago, I went to Zirka Prison in Duhok, but the prison officials told me Sherwan wasn't there," she said, referring to a detention center in a northwestern Iraqi Kurdistan city. "He hasn't yet been taken to court to give testimony or allowed to see the evidence against him. Other journalists have been released on bail and forced to sign documents promising to cut all ties with Sherwan. I have met U.N. and U.S. embassy officials to ask them to put pressure on the Kurdish authorities to release Sherwan."
Even the journalist's young son, Shaheen, who sat next to his mother during our meeting, has joined the efforts, posting a video on social media calling passionately for his father's release.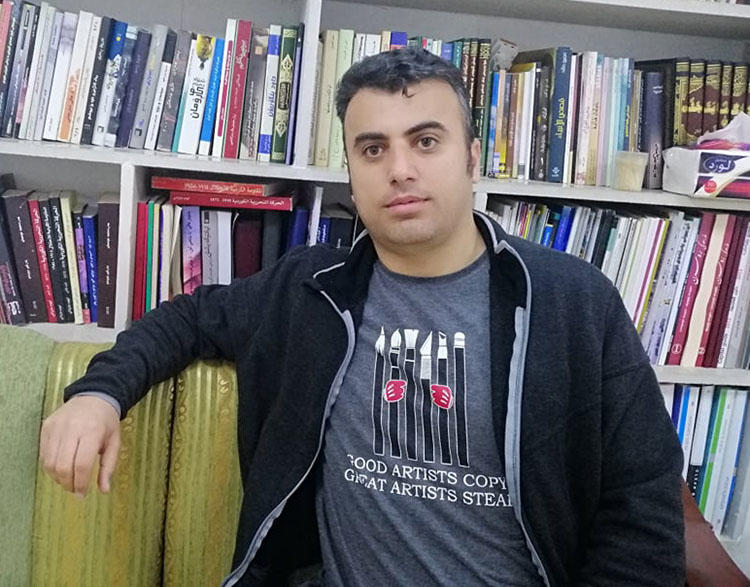 Sherwani was arrested by security forces affiliated with the ruling Kurdistan Democratic Party (KDP) on January 28, while on his way to a protest in Duhok over the Turkish presence in Iraqi Kurdistan. The journalist takes photos and live streams videos at protests, which he shares on Facebook with over 10,000 followers.
Sherwani said she was convinced that her husband's previous arrests, in 2007 and 2012, for reporting on a teacher allegedly mistreating a student and for writing critically about the brother of former Kurdish President Masoud Barzani, were linked to his arrest.
"Sherwan has written critically of the Barzani family and his live streaming videos on Facebook are one of the main problems behind his arrest. He names important people and denounces corruption. His brother has been approached by KDP members and asked to convince Sherwan to give up journalism for good," Rugesh Sherwani said.
The Kurdish authorities denied that her husband's arrest was related to his journalism or social media activity.
A few minutes before meeting Dindar Zebari, the Kurdistan Regional Government's international advocacy coordinator, on February 26, his assistant handed me an official statement. It accused Sherwani and four activists of working to create chaos and violence under the guise of supporting a protest at a Turkish military facility in Shilazdeh, following a Turkish airstrike that killed four people.
The statement said that the detainees had access to lawyers and relatives, but were not eligible for bail because they were arrested under Article 165 of the Iraqi Penal Code rather than the Kurdistan Press Law. Article 165 states that mobilizing a military force against a foreign country without the authorization of the government or joining forces with another country at time of war is punishable with life imprisonment.
"Sherwani is neither a professional journalist, nor a member of the press syndicate. He has been previously convicted for defamation. He is sick. He has been accused of inciting violence in Duhok through back channels and being a threat to national security," Zebari told me in his office, which is decorated with dozens of photos of him with heads of state and international organizations.
Zebari added, "He is sabotaging the country and is supported by non-Iraqi foreign agencies to destabilize the country. Sherwani has misused his freedom and is making up stories to become famous. Asayish told me that he has confessed to committing acts against the state."
Pressure and impunity in Kurdistan
Sherwani's attorney, Reving Yassin Nabi, not only disagreed with Zebari, but said he believed there were larger issues at stake that show the state of press freedom in Kurdistan.
"This case may be twice as political as it is legal. The protest was an excuse to arrest activists and journalists. The accusations against Sherwani are directly related to his previous work as a journalist," Nabi told me, during a meeting in a hotel lobby in Duhok on March 1. "The main goal of imprisoning him is to intimidate him and prevent him from reporting on those in power."
Nabi, an experienced human rights lawyer, didn't stop looking over his shoulder while we spoke in the near-deserted lobby. He explained that journalists with no party affiliation and who report on corruption are in trouble, just like lawyers. Those, who take on these human rights cases, himself included, see other cases they work on being delayed or are told by the lawyers' syndicate that they risk having their licenses revoked. This happened, he said, to some of the volunteer attorneys in the team defending Sherwani.
"Pressure on journalists has reached a degree that many journalists are considering quitting their jobs to stop living a life of threats and fear," Nabi added.
The Kurdistan Lawyer's Syndicate did not immediately respond to CPJ's request for comment.
His views resonate with those of Asos Hardi, the founder of the independent Kurdish newspapers Awene and Hawlati. At his austere office in the eastern Kurdistan city of Sulaymaniyah, he dissected with scalpel-like precision the problems facing journalists in Kurdistan.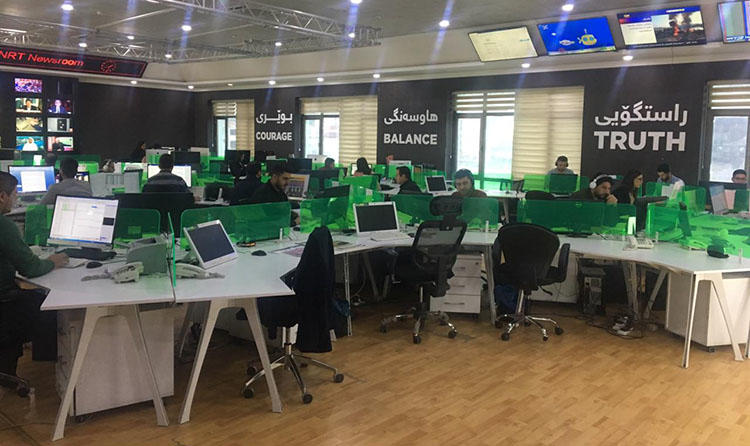 "Journalist are the first victims of tensions between political parties. They can be attacked with full impunity. No security officer or public official has ever been prosecuted for attacks on journalists," he said.
"Kurdistan also lacks an independent judiciary. We have laws, including the press law or the access to information law, but these laws, which either lack clear definitions or are vaguely worded, are either never implemented or used in accordance with the moods of those in power. Finally, journalists have no access to public information. Authorities exert full control over the information and leak it conveniently to their affiliated outlets," he said.
Despite the bleak picture he painted and that his publication, Awene had to discontinue its print edition in 2018 because of financial problems, Hardi remains optimistic.
"There's still room for press freedom… It's not a rosy picture, but it isn't a dark one either. Independent media is struggling, but social media is booming. Fortunately, no party is so powerful that it can fully abolish press freedom," he said.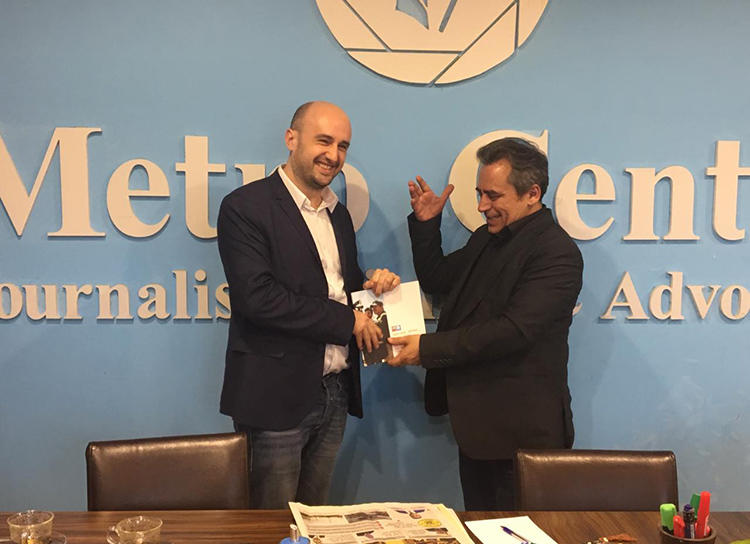 In line with Hardi's assessment are the accounts of other local journalists with whom I met and the conclusions of a 2018 report by the independent Sulaymaniyah-based press freedom organization Metro Center for Journalists' Rights and Advocacy.
The metro center documented 349 press freedom violations in the region in 2018, including security forces impeding coverage, assaults and threats, seizure of equipment, and detentions without a court order.
I asked Zebari, the government advocacy coordinator, about some of these incidents, including the detention of NRT reporters and the closure of its offices in January. Like with Sherwani's case, he defended the authorities' action.
Sherwani freed from jail
As my reporting trip was drawing to an end, Ragaz Kamal, the co-founder of the local human rights organization 17Shubat for Human Rights, told me that Sherwani's brother had visited him in jail, along with his lawyer, Nabi.
"Physically he is good, but the conditions at the jail where he is being held are tough. There's no hot water and he is being held with inmates convicted of terrorism at the Asayish-run side of Zirka prison," Nabi told me, referring to Asayish, the Kurdistan security agency.
Nabi said that international organizations needed to apply pressure to prevent Sherwani being sentenced to life imprisonment. But, he said, authorities often release detainees by surprise to give the impression that international pressure and lawyers have nothing to do with the release.
A week after my trip, Sherwani and the activists he was arrested alongside were released on bail, although charges are still pending.
Communicating through a translator after his release, Sherwani told me, "The director of Asayish said he had talked to the judge and I was going to be freed. It sounded to me as a political decision rather than a legal one."
Sherwani, who said he would continue reporting, added, "It felt good finally being able to see my family after 42 days in detention. What made me really happy though was that we hadn't been left alone. Volunteer lawyers and international organizations worked hard to secure our release."