CPJ believes that all journalists should be able to report freely and safely without any fear of harassment or retaliation. That is why we do what we do.
Yet our work is made possible only with your support. So, as we look back today on some highlights of 2018, we thank you for standing with us.
Challenges to press freedom in the United States
CPJ has been standing up for press freedom in the United States to ensure that journalists in this country are free to report the news and that the U.S. continues to defend the rights of journalists around the world.
In November, CPJ reported on the White House revoking a CNN correspondent's press pass. In October, we called on President Trump to stop his rhetorical assaults on journalists after CNN received a mail bomb. We reported on the Capital Gazette murders and on journalists facing threats after covering white supremacists. In January, when Trump announced his "fake news" awards, CPJ answered with its "Press Oppressors" honors. We issued safety advisories for journalists covering the Unite the Right rally and counter-protests in Washington and in October, we published a special report and documentary on the chilling effect of searches and interrogations of journalists at U.S. borders. Our reporting has been cited thousands of times in U.S. media this year, from major outlets like The New York Times, The Washington Post, and Fox News to local outlets like the Laredo Morning Times in Texas and 9KXLH in Montana.
We also bolstered our advocacy. In January, CPJ led an unprecedented international mission of press freedom groups to the U.S., where mission representatives met with and spoke to journalists and U.S. leaders about the media environment under the Trump administration. The mission concluded with a panel discussion at the Newseum in Washington. On World Press Freedom Day, in May, the groups published a joint report that found that Trump's hostile rhetoric and verbal attacks on the press are exacerbating an already chilling environment for journalists.
The U.S. is an important ally in CPJ's defense of journalists globally, so we also engage with the State Department. To be effective, the U.S. must at the same time ensure that it upholds press freedom domestically, so CPJ also engages with leaders on Capitol Hill. Following our advocacy, bipartisan leaders proposed resolutions recognizing World Press Freedom Day and its significance in both the Senate and the House–the first time in Congressional history. Both cited CPJ data. The Senate version passed unanimously this month.
Preserving a free press in the U.S. is essential to upholding our mandate of protecting press freedom globally. In the past year, CPJ has worked with Sens. Marco Rubio (R-FL), Jeff Flake (R-AZ), Cory Booker (D-NJ), Richard Durbin (D-IL), and Ben Cardin (D-MD), among others, on improving press freedom in countries like Cameroon, Ethiopia, Myanmar, and Mexico.
---
Release of 80 imprisoned journalists
For the third straight year, upward of 250 journalists were behind bars when CPJ conducted its annual prison census on December 1, suggesting that governments' authoritarian approach to critical news coverage is more than a temporary spike. It's the new norm.
CPJ believes that no journalist should be behind bars in relation to their work–and that's why we do what we do. In 2018, CPJ advocacy helped win the early release of 80 imprisoned journalists, surpassing our record from 2017, when we helped win freedom for 75 jailed journalists.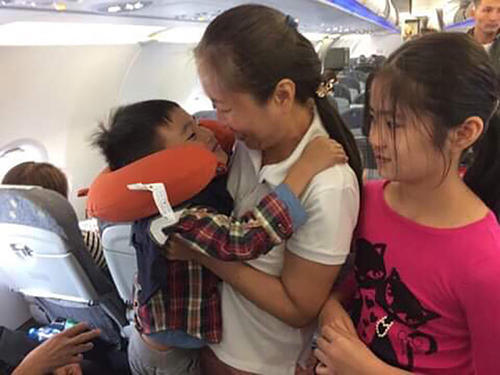 One of these journalists is Nguyen Ngoc Nhu Quynh, a Vietnamese blogger known by her penname Me Nam or "Mother Mushroom." In October, CPJ reported on her release from prison after being behind bars since October 2016. CPJ reported on Quynh's case and advocated on her behalf, especially after she was given a 10-year sentence for "distributing propaganda against the state." In 2018, CPJ named her the recipient of our International Press Freedom Award.
"I am so grateful to CPJ for helping to secure my freedom," Quynh said in her speech. "My dream and my struggle have always been to one day be one of 90 million free citizens of Vietnam–living lives with basic freedoms, with human rights respected and protected, fully free to engage in the process of self-determination."
---
Impunity in journalist murders
For more than a decade, CPJ has waged a Global Campaign Against Impunity. We report on each journalist's murder, meet with government officials, and highlight the issue in our work. We also publish an annual Impunity Index, which spotlights countries where journalists are murdered and their killers go free.
Our diligence pays off. Advocacy by CPJ and other groups helped win convictions in the murders of 38 journalists over the past five years, including, this year, convictions in six murders.
But our work on this issue doesn't stop. In 2018, CPJ documented the murders of at least 34 journalists in reprisal for their work worldwide, nearly double the 18 who were targeted for murder in 2017. So we will continue to call for justice all over the world–like we did most recently in Malta, when we met in October with the prime minister to call for the killers of investigative journalist Daphne Caruana Galizia to be held to account.
---
A successful 2018 International Press Freedom Awards dinner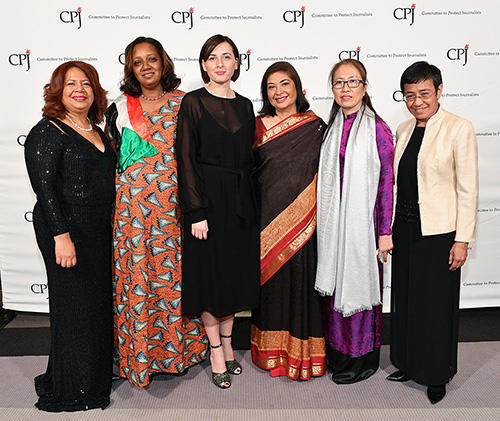 In November, CPJ honored four journalists at its 2018 International Press Freedom Awards dinner for their bravery in the course of their work: Sudanese freelancer Amal Khalifa Idris Habbani, Venezuelan investigative reporter Luz Mely Reyes, Ukrainian broadcaster Anastasiya Stanko, and Vietnamese blogger Nguyen Ngoc Nhu Quynh, who was released from prison in October. "In Venezuela, journalism is an endangered species," Reyes told the audience at CPJ's 2018 dinner. "Sixty percent of the local press has disappeared. Newsrooms look like ghost towns. … But we are stubborn. Amid the darkness, Venezuelan journalists find a way."
CPJ also honored Philippine journalist and Rappler founder, CEO, and executive editor Maria Ressa with its 2018 Gwen Ifill Press Freedom Award. A month later, Ressa was included in TIME magazine's 2018 Person of the Year announcement, along with journalists and news outlets who have been targeted in direct relation to their work. Three of CPJ's other 2018 awardees–Reyes, Quynh, and Habbani–were also featured in TIME's accompanying video.
CPJ also welcomed to the stage two former award winners–Cameroonian journalist Ahmed Abba and Tibetan filmmaker Dhondup Wangchen–who were imprisoned when they were honored in 2017 and 2012, respectively. "I missed the last awards dinner," Abba told the crowd, "but I received postcards from you with loads of words of encouragement, which helped me almost forget the fact that I was in prison for my work."
---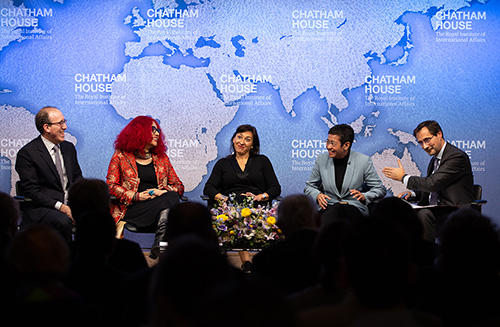 This year kicked off with CPJ being awarded $1 million from the Hollywood Foreign Press Association, an honor that was announced at the group's 75th annual Golden Globes ceremony. Later in January, CPJ honored global leaders with its "Press Oppressors Awards," which named world leaders who have gone out of their way to undermine freedom of the press. President Trump was an award winner, as he has consistently undermined press freedom and declined to publicly raise freedom of the press issues with repressive leaders.
In March, CPJ met with government leaders in Ecuador, where we secured a pledge to reform the country's Communications Law, which has restricted journalists' work for years. In April, CPJ met with high-level EU officials in Brussels, including Commission Vice President Frans Timmermans and Commissioner Věra Jourová, and called for justice in the murders of Maltese journalist Daphne Caruana Galizia and Slovakian reporter Ján Kuciak.
In June, CPJ was honored with the League of Women Voters' 2018 Distinguished Service Award. In September, CPJ spoke at a panel event at the United Nations, which also featured human rights lawyer Amal Clooney and Stephen Adler, president of Reuters and a CPJ board member. We also published a Safety Kit that helps journalists improve their safety awareness and includes first aid videos to enhance journalists' medical preparedness.
In October, CPJ participated in an international delegation to Malta, where we met with the prime minister and other high-level leaders to urge them to pursue justice in the murder of Daphne Caruana Galizia. That month, AT&T donated $250,000 to CPJ to help defend and support journalists and press freedom.
In November, CPJ's Africa program coordinator and sub-Saharan Africa representative were briefly detained by Tanzanian authorities while they were on a reporting mission to the country. The same month, CPJ hosted its 28th annual International Press Freedom Awards dinner, at which we launched a campaign that calls for justice in the murder of Saudi columnist Jamal Khashoggi and highlights the importance of journalism. In late November, CPJ was presented with the 2018 Chatham House Prize at an event in London hosted by the Royal Institute of International Affairs. The prize is awarded to a person or organization that is believed to have made the most significant contribution to the improvement of international relations the previous year.
CPJ is proud to defend journalists every day, and we are honored to have your support. Please consider donating to CPJ today.
Thank you for all that you do to support press freedom. See you in 2019!