The media is in the worst state India has ever seen. That is how several journalists described the current climate in dozens of conversations with CPJ during a trip to Mumbai, Bangalore, and Delhi earlier this year. While the threats they outlined–political pressure, self-censorship, defamation suits, and attacks–are not a new phenomenon in India, many agreed that the environment has changed.
Nearly all of them described journalism as a solitary battle they were fighting and said that a shrinking respect for press freedom across society has left them with few places to turn for support.
In recent years, CPJ has documented how journalists have faced harassment, threats of legal action, imprisonment, or even been killed in retaliation for their reporting. But the current level of harassment and intimidation is unprecedented, Sagarika Ghose, a senior journalist, told CPJ in Delhi.
Ghose is one of several journalists who received death threats after the murder last year of Gauri Lankesh, a prominent left-wing journalist in Bangalore. Ghose said she believed the current state is "an undeclared emergency," and likened the situation to a period in the 1970s when then Prime Minister Indira Gandhi censored newspapers in an effort to consolidate power.
The press is much more controlled under Prime Minister Narendra Modi's administration than previous ones, through media owners and cases filed, a Delhi-based journalist, who requested anonymity to speak candidly on the topic, said, referring to reports of party loyalists harassing journalists and cases of business owners or police filing legal complaints against the press.
This isn't a new tactic, but the flavor is different, Sanjoy Hazarika, director of the independent Commonwealth Human Rights Initiative, told CPJ at his office in Delhi. Hazarika, who has reported for several Indian outlets and The New York Times, said that while members of government have always made phone calls to the press to try to stop coverage, he has heard journalists say the calls are becoming more frequent.
Part of what has opened media corporations up to vulnerability is a focus by some large news groups on creating revenue by hosting events and summits. There's a tacit understanding with sponsors that if you get politicians to attend, the value of the event increases, Indrajit Gupta, director of the digital media platform Founding Fuel and former editor of Forbes India, said over lunch in Mumbai. The government has used it successfully to get softer coverage, Gupta said, adding, "I find it very disconcerting." He said publishers and editors were under pressure and not willing to take on the powers in Delhi and state governments.
India's Press Information Bureau did not immediately respond to CPJ's email requesting comment.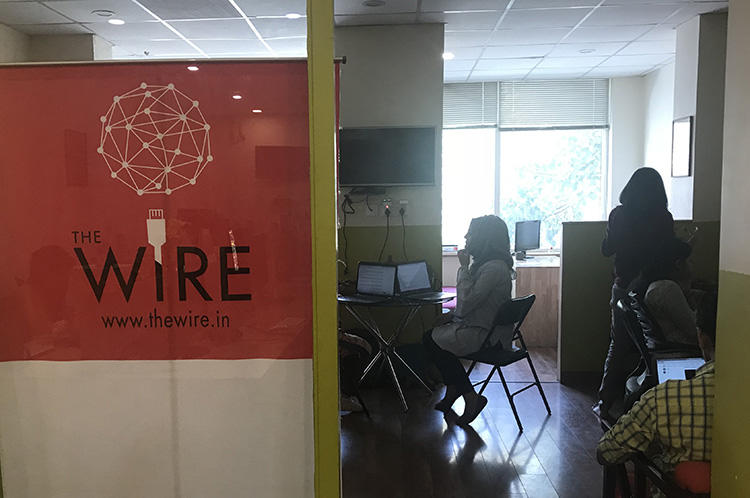 Several journalists at legacy institutions told CPJ they did not feel their institutions would stand by them if they came under fire.
"There's a climate of fear and self-censorship in the media that I don't remember ever having experienced before…perhaps not even during the emergency in the 70s…and certainly no journalists were being killed with impunity then as they are being now," a senior journalist, who requested anonymity, said.
Local journalists also raised the issue of high-profile reporters and editors who cover sensitive issues being fired. While the employers in these cases deny the dismissals are connected to coverage, it has created the impression among local journalists that they could be fired for not toeing the line.
Laxmi Murthy, a senior journalist based in Bangalore, said many dismissals appeared to be because of political reasons or pressure on business owners, and she believes the press should cover the cases more closely. "These internal issues in India are clearly linked because noisy reporters are fired," and "corporate control is dictating content," she said. "Independence is a moot question for everyone."
Ghose said while there wasn't a specific incident she could point to, she has noticed a small chipping away of freedoms. "What you think is normal journalistic work–telling the truth–has become abnormal and self-sacrifice," she said. Ghose added, "We feel isolated and it's hard to see how we can challenge this."
A major contributor to self-censorship is the threat of defamation lawsuits.
Last year, when news website The Wire reported on a sudden rise in revenues in a company owned by Jay Shah, the son of the ruling Bharatiya Janata Party (BJP) president, after Modi became president, Jay Shah filed a criminal defamation lawsuit and the judiciary imposed a gag order, according to reports.
Naresh Fernandes, editor of the independent news website Scroll, who said he is threatened with a lawsuit "every month," told CPJ The Wire case created a chilling effect, but when a court later ruled that the outlet could continue reporting on the case, the media realized "we can say these things." (A higher court later restored the gag order and the case is ongoing).
Any investigative work on the criminality of politicians or data that busts government claims is unacceptable [to authorities], Vinod Jose, executive editor of news magazine The Caravan, told CPJ in his office in Delhi. He added that fighting defamation suits is "a long, slow, lonely battle…You lose friends, the government is watching everyone, and you have funding and job worries."
A member of a media foundation, who asked that their name be withheld so they could speak candidly, told CPJ that with criminal defamation cases, there's little opportunity for legal redress. The suits are strategic–by filing defamation suits, the subject matter immediately becomes sub judice, meaning that outlets are not allowed to continue reporting and the story becomes buried, he said.
Defamation cases have made some media houses more careful, Dhanya Rajendran, editor-in-chief at The News Minute, told CPJ during a visit to the outlet's newsroom in Bangalore. They may not stop reporting, she said, but they become too cautious. Rajendran did not cite specific examples but her view was echoed by other reporters and editors with whom CPJ met, who said they had either toned down coverage or been pressured from editors to do so.
Sidharth Bhatia, a founding editor of The Wire, struggled to recall how many defamation cases the outlet is fighting. "I think at least seven different defamation cases…I don't even know," he said. But, he said, very few journalists or media organizations had called or written in support of The Wire. "We're not heroes, we're not crusaders, we're not martyrs, we are journalists doing our job," Bhatia said. "Everyone says we're brave–we're not. It's hard, cumbersome, and stressful."
Neha Dixit, a reporter in Delhi, said that as well as the financial cost of weathering a criminal complaint filed against her for a 2016 investigative report, she has also faced abuse over her coverage on social media, including having personal information exposed.
Journalists with whom CPJ talked said there were potential ways to help improve conditions, including setting up an organization in India to document threats and harassment of the press, or creating a legal defense fund.
Hartosh Singh Bal, political editor at The Caravan, described the threats India's journalists are facing as "insidious," but said the press needed to carry on. He added, "Media plays a vital role in this country and has huge impact and can't be allowed to disappear."