New York, March 6, 2017–A court in the Mexican state Oaxaca convicted Jorge Armando Santiago Martínez of murdering Marcos Hernández Bautista, a reporter for the daily Noticias, Voz e Imagen de Oaxaca. The Committee to Protect Journalists welcomed the March 3 conviction and called on authorities to prosecute all involved in the crime.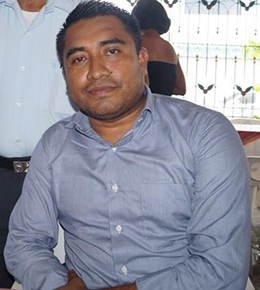 The court in Puerto Escondido sentenced Santiago Martínez, the former commander of the Santiago de Jamiltepec municipal police, at the same hearing to 30 years in prison for shooting Hernández multiple times outside a bar owned by the journalist on January 21, 2016, according to a statement by Oaxaca's attorney general's office. Santiago Martinez was ordered to pay 178,000 Mexican pesos (US$9,100) in damages to the journalist's family, according to the statement.
"We applaud Mexican authorities for this conviction in the murder of journalist Marco Hernández Bautista," said Carlos Lauría, CPJ's senior program coordinator for the Americas. "While this is an encouraging first step toward addressing anti-press violence, justice will remain incomplete until the mastermind has been apprehended. We urge Mexican authorities to identify and prosecute the intellectual author of the crime and break the cycle of deadly violence against the media."
Authorities arrested Santiago Martínez on February 25, 2016 and charged him with murder on July 15, 2016, according to local news reports. The statement by Oaxaca's attorney general's office did not include any information about the motive for the crime. The office did not immediately respond to a phone call from CPJ.
Hernández, who was also a freelance correspondent at La Ke Buena radio in the municipality of Pinotepa Nacional, reported on social issues and had written about protests over a planned hydro-electric dam, according to press reports. His editor at Noticias, Voz e Imagen de Oaxaca, María de los Angeles Velasco, told CPJ that he also denounced officials for land theft and corruption.
Velasco said that Hernández was murdered a few days after a fake story was published on Facebook. The fake report about an alleged land grab was styled to look like a Noticias story. Hernández, who had no involvement in the story, began receiving threatening phone calls, said Velasco and colleagues of the journalist, who spoke with CPJ on condition of anonymity for fear of reprisal.
Hernández was also a municipal official responsible for culture in Santiago Jamiltepec and was active with the left-wing opposition political party Morena, according to Ismael Sanmartín Hernández, the editorial director of Noticias, Voz e Imagen de Oaxaca.
CPJ has documented at least 37 journalists killed for their work in Mexico since 1992, including 34 murdered in direct retaliation for their reporting. Before the March 3 conviction, in 88 percent of the murder cases, there is complete impunity. In another 9 percent of cases, at least one individual is convicted but not everyone involved in the crime has been brought to justice. CPJ is investigating the cases of at least 49 other journalists to determine if they were killed for their work.