Jailed investigative journalist held in isolation
Investigative journalist Ahmet Şık has been kept in isolation in prison and denied basic rights since his arrest last week, according to reports that cited his lawyer. Sık, who was detained December 29 on allegations of spreading terrorist propaganda, was kept at Metris Prison in Istanbul for three days before being transferred to Silivri Prison, according to reports.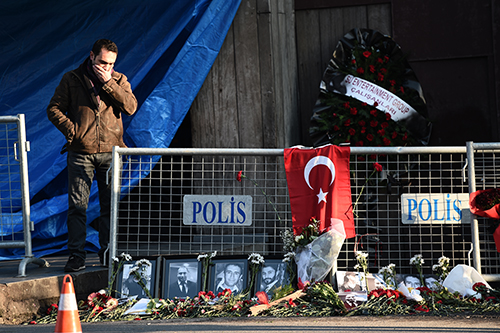 Press credentials revoked over journalist's tweets on nightclub attack
Turkey's Office of the Prime Minister ordered the press credentials of Amberin Zaman to be revoked over her tweets about the attack at an Istanbul night club on New Year's Eve, according to the English-language news blog Turkish Minute. Zaman, who writes for Al-Monitor and the news site Diken, tweeted that Syrian Kurds were the most effective force against the militant group, Islamic State, Turkish Minute reported.
Özgür Gündem publisher detained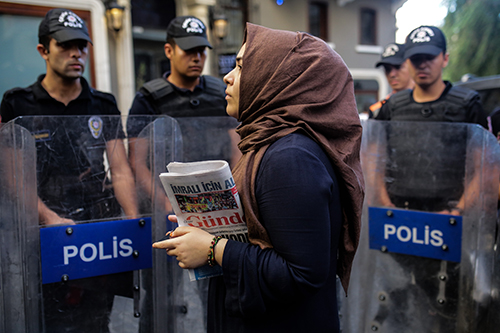 Police detained Kemal Sancılı, former publisher of the shuttered pro-Kurdish daily Özgür Gündem, last night in the eastern province of Urfa, Dihaber reported. CPJ was unable to determine why Sancılı was detained. Özgür Gündem is among the hundreds of media outlets ordered to close in Turkey after the failed coup attempt in July. Several journalists who worked for Özgür Gündem are facing trial in Istanbul, on charges related to the newspaper's editorial policy, the newspaper's lawyers told CPJ.
Journalist threatened over illegal hunt report
Kemal Özer, a reporter for the daily Evrensel, said he was threatened after reporting on the illegal hunting of mountain goats in Turkey's Tunceli province, his employer reported. Özer said he was threatened over the phone after reporting on Twitter and in Evrensel about an allegedly illegal hunt spotted by witnesses in Pülümür. "My number was called by some people the same night. The address of my house was asked. They said they will kill me. They made heavy insults. They said, 'We won't let this slide," Özer was quoted as saying. The journalist said he received a further call from what he believed was the same group of people, in which he said they dared him to meet them. Özer said he will file a criminal complaint about the threats and will continue to report on the need to preserve local wildlife.
[Published January 3, 2017]
Police detain 45 former employees of state media outlet
Police detained 45 former employees of state media outlet Turkish Radio and Television (TRT) last week as part of an investigation by Ankara prosecutors. On December 30, an Ankara court formally arrested 29 of them and released the remaining 16 under judicial control awaiting trial, English-language news blog Turkish Minute reported. According to another report by the state-owned Anadolu Agency (AA), police have sought a total of 68 former TRT employees in 12 different provinces since last week. They were reportedly wanted by police for using ByLock, a smartphone app linked to participation in the failed July 2016 coup attempt. The names and positions of those wanted by police were not detailed in the reports.
Wall Street Journal reporter detained by Turkey returns to U.S.
Wall Street Journal reporter Dion Nissenbaum returned to the United States on December 31 after being detained in Turkey for two and a half days without access to lawyers or family, his employer reported.
News ban issued on Istanbul nightclub attack
A news ban was issued on the bloody attack at a nightclub in İstanbul in the early hours of New Year's Day, Turkey's official radio and television watchdog RTÜK announced shortly after the event. The ban was issued by order of the Prime Minister's office and limits the news that can be reported about the attack and the ensuing investigation to official statements only. Istanbul's 9th Court of Penal Peace made the ban effective until the end of the legal investigation into the attack.
Cafeteria owner at Cumhuriyet office released from prison
The owner of the cafeteria serving the Istanbul office of the daily Cumhuriyet was released from prison today under judicial control awaiting trial, Cumhuriyet reported. Şenol Buran was arrested last week on a charge of insulting Turkish President Recep Tayyip Erdoğan, allegedly telling a police officer that he would not serve tea to Erdoğan if he visited the cafeteria, CPJ reported previously.
[Published January 2, 2017]