CPJ helps secure release of over 50 imprisoned journalists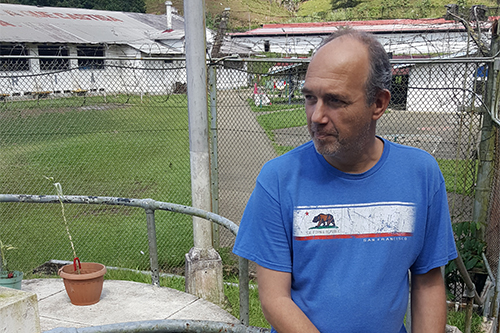 On December 23, Okke Ornstein walked out of prison.
The Dutch journalist had been behind bars since November 15 over a criminal defamation conviction dating back to 2012. Carlos Lauría, CPJ's program director and senior program coordinator for the Americas, and CPJ correspondent Jan-Albert Hootsen met with Ornstein in Panama's Renacer prison and raised his case with Panamanian officials and Dutch diplomats in Panama City. On December 20, Ornstein was named in a list published by the government of people whose sentences were reduced as part of a presidential pardon.
Ornstein was one of four journalists in jail in the Americas when CPJ conducted its most recent prison census on December 1, 2016. CPJ found a global total of 259 journalists imprisoned in reprisal for their work, the highest number recorded since we began keeping detailed records in 1990.
While a significant number of the journalists–nearly 70 percent–were held by just five jailers, Turkey accounted for nearly a third of the total number. All of the 81 journalists imprisoned in Turkey face anti-state charges, and many were jailed in the wake of an unprecedented crackdown that included the shuttering of more than 100 news outlets.
CPJ believes that no journalists should be imprisoned for doing their job. Our work helped secure the release of at least 51 journalists in 2016, including seven from Turkey. We continue to provide support to journalists in the country, many of whom are being prosecuted in connection with their critical reporting. CPJ is documenting the numerous cases of journalists who face harassment, detention, or exile in the "Turkey Crackdown Chronicle," a diary of press freedom abuses. We translated our Journalist Security Guide into Turkish, and are providing financial aid and other support to Turkish journalists.
Tweet your support for Turkish journalists
---
Fight for justice in journalist murders
On October 11, 2013, Ayub Khattak was shot dead outside his home.
Khattak, a reporter for the Karak Times in Khyber Pakhtunkhwa, Pakistan, had worked as a journalist since 2004, and received threats after his reports exposed criminal elements in the region. His colleagues said that shortly before his death he published a story on the sale of illegal drugs and a local gang of drug peddlers.
For two and a half years, Khattak's case was unresolved. Then in March, a Pakistani court sentenced a man to life in prison in connection with the journalist's murder. CPJ welcomed the conviction–after all, securing justice in journalist murders is one of the most important things we do.
And we work hard for this kind of justice. We report on and document each case of a journalist murdered in direct retaliation for their work, meet with government officials, and highlight the issue in statements, alerts, blogs, and special reports, including our annual Impunity Index, which spotlights countries where journalists are slain and their killers go free.
This year, our efforts went a long way–advocacy by CPJ and other groups helped win convictions in 2016 in the murders of at least nine journalists, including Khattak's.
With your support, we will continue to fight for justice every day. Stand with us!
Call for justice in journalist murders
---
CPJ forms Emergencies Response Team to improve safety
In late 2016, CPJ formed an Emergencies Response Team made up of experts in safety, security, and assistance, to help prevent deaths, detentions, kidnappings of journalists, and the endangerment of freelancers and media support workers.
The establishment of this team is part of our strategy to provide more comprehensive support for journalists facing physical and digital security challenges all over the world. We have hired an experienced security expert to head up our safety work. Colin Pereira, who has managed and led high-risk deployment at media outlets for the past decade and a half, joined CPJ as our first Journalist Safety Specialist. He is based in London.
"Today, global press freedom is under serious threat as political, criminal, and terrorist forces seek to silence journalists via intimidation, violence, and murder," Pereira said. "Never has it been a more important time to stand up to defend the safety and independence of journalism. I am humbled and proud to be part of CPJ's new Emergencies Response Team, which will spearhead the fight for journalists' safety around the world."
CPJ plans to release a special report on journalist safety next year, which will examine the growing threats to journalists and provide an assessment of what is being done to meet the challenges. The report will be launched in London.
Stand with CPJ today
---
Gauging the status of press freedom in the United States
"The first thing that President-elect Trump doesn't seem to know is that there is no federal libel law," Floyd Abrams, a leading First Amendment attorney, told CPJ.
In a Q&A, published December 15, CPJ spoke to Abrams about the potential impact of Trump's campaign proposal to open up libel laws and the threats journalists could face from civil suits in the U.S.
"Not only does speech have to be false, not only does it have to be defamatory, but it has to be uttered with actual malice, meaning knowledge of falsity or a high degree of awareness of probable falsity," Abrams said. "That's not legislative, that's constitutional law, so unless his appointees to the Supreme Court reverse this bedrock First Amendment ruling, there's nothing within his power to loosen the libel laws, change the libel laws, or make it easier for him or others to recover."
As a new presidential administration prepares to take over the U.S., CPJ is examining the status of press freedom, including the challenges journalists face from surveillance, harassment, limited transparency, the questioning of libel laws, and other factors.
During the U.S. presidential election campaign and since its conclusion, the climate for journalists in the country has deteriorated. During the presidential campaign, Trump announced he would make it easier to sue for libel in the U.S. and threatened to sue The New York Times. He also obstructed major news organizations, attacked reporters by name, and contributed to a threatening climate for journalists covering the election.
Support CPJ today
---
Press freedom in numbers
At the end of each year, CPJ publishes annual reports on journalists who have been killed or imprisoned in reprisal for their work. These two tallies reflect the climate for press freedom across the world.
The 2016 numbers are grim. CPJ documented the work-related deaths of at least 48 journalists this year. And our annual prison census found at least 259 journalists were behind bars on December 1, the highest number we have ever recorded. Turkey was holding at least 81 of the journalists, also a record high. CPJ investigated an additional 67 cases in which our team of Turkish and international researchers could not confirm a link to journalist activity in the imprisonment.
To read more about our methodology used to compile these lists, click here.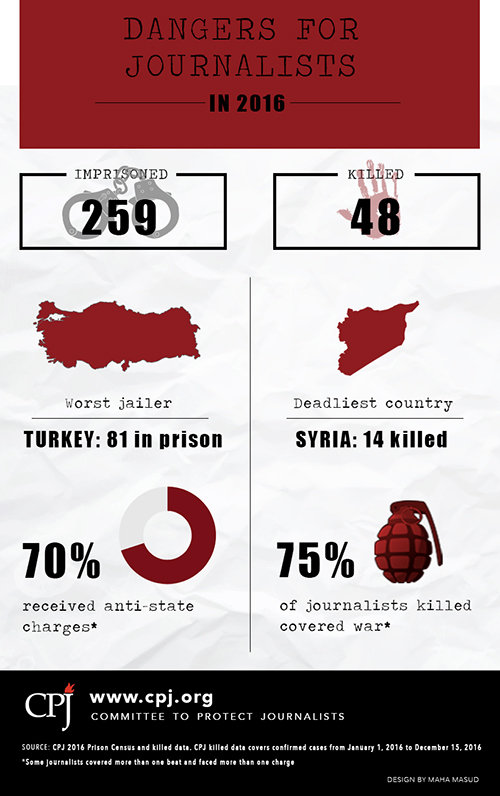 Defend press freedom
---
Thank you for standing with CPJ
Your support this year has meant a lot to us. You came out in droves to support CPJ, spurred by the desire to help preserve the fundamental right to free expression that this country has protected for years.
There's still time to show your continuing support of press freedom. You can donate online or by mail; you can make a gift in honor or memory of a loved one; or you can make a recurring gift.
Lastly, you can rally your friends to your cause as well. Use your Facebook page to start a fundraising campaign for CPJ. Feel free to promote the fundraiser by pointing to CPJ data that we published this month. We documented at least 259 journalists in prison–a record high number–on December 1, and we found that at least 48 journalists were killed in direct reprisal for their work in 2016.
It's been a challenging year, but your support has gone far in the defense of journalists around the world who report the news at great risk.
Thank you for standing with us. See you in 2017!