CPJ Newsletter: May edition
CPJ publishes annual edition of Attacks on the Press
On April 27, CPJ launched its annual publication of Attacks on the Press. This edition, which focuses on gender and media freedom worldwide, highlights the challenges faced by female journalists who fight to report the news against all odds. The book–and the dialogue it has already generated–is an important step in the fight toward ending sexual violence against female journalists.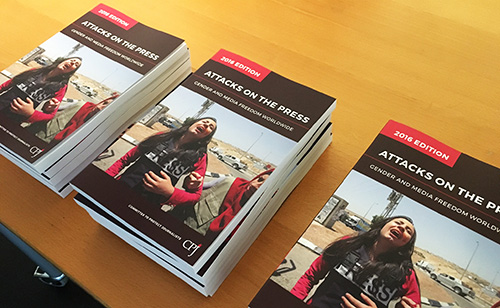 One of the essays in the book was written by Colombian journalist Jineth Bedoya Lima, who was raped 16 years ago by men who sought to punish her for her reporting. Bedoya says that even after the attack, she was compelled to keep writing. "I still do not know where I found the strength to return to the newsroom, to my notes and to my tape recorder. What I do see clearly is what motivated me. I understand now that my love for this profession and for my work as a reporter was greater than the pain of my body and my soul."
Two former paramilitary soldiers were convicted this year in Bedoya's attack. But is it enough?
Solutions may be hard to come by, but "talking openly is an important first step," CPJ Executive Director Joel Simon says in the introduction to the book. "We hope this book makes a contribution to that difficult process."
Select essays in Attacks on the Press are available in Arabic, Chinese, French, Portuguese, Russian, Spanish, and Turkish. Read the book online at https://cpj.org or request a copy through Bloomberg Press, an imprint of Wiley. CPJ gratefully acknowledges the generous support from Bloomberg, which supports the annual publication of Attacks on the Press.
CPJ launched the book at two public events.
…in Washington:
CPJ held a public panel discussion at the Newseum with Lara Logan, CBS News correspondent and CPJ board member; Michelle Ferrier, founder of Trollbusters, an online service designed to combat cyberbullying; Molly McCluskey, freelance foreign correspondent; and Arzu Geybullayeva, freelance Azerbaijani journalist and blogger.
Martha Raddatz, ABC News chief global affairs correspondent, moderated the panel and asked the journalists about their experiences reporting on the front lines, dealing with sexualized violence, and countering gender-related threats and restrictions.
Speaking of her time covering the war in Iraq, Logan told the audience how she had been under pressure from her male colleagues because she wanted to stay to report in the war-torn country when so many other journalists were leaving. "I remember being heavily criticized, because they said, 'You just want to get your face on TV…. But if something happens, we're going to have to come get you.'"
"I feel that women are under an extraordinary amount of pressure from their male colleagues sometimes," Logan said. "If I was a young guy, and I wanted to stay, no one would have said anything like that."
CPJ and the Newseum co-sponsored the panel. Following the public event, CPJ, in collaboration with Internews and the International Women's Media foundation convened a meeting on the safety of female journalists. The meeting brought together members of the ACOS Alliance Gender Working Group and the Gender and Media Development Working Group to discuss ways to improve security for female journalists.
… in New York:
CPJ also launched Attacks on the Press at an evening event at the Columbia University School of Journalism in New York. The event was sponsored by Columbia University and Bloomberg. Kathleen Carroll, senior vice president and executive editor of The Associated Press, and Matt Winkler, editor-in-chief emeritus of Bloomberg News, made opening remarks.
"When I started in this business, I was often the only girl in the room," Carroll told the audience. "And women in my generation weren't necessarily focused on gender issues. We were too busy trying to break in to the boys' club. Many of us did that by becoming one of the boys ourselves."
But, as Carroll pointed out, now, years later, "while the playing field isn't quite level yet, women are in every kind of assignment: in the field, and in the top jobs, and every place in between."
Yet, she noted, this brings up a different issue–how female journalists covering the news are targeted with reprisal, including harassment, threats, and sexual violence.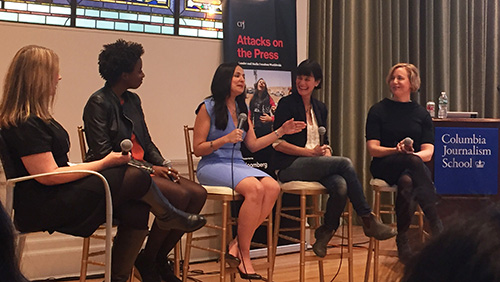 CPJ Editorial Director Elana Beiser moderated the ensuing discussion between four panelists– freelance photographer Scout Tufankjian; New York Times reporter Kim Barker; Egyptian journalist Rawya Rageh; and New Yorker staff writer Alexis Okeowo.
Barker is the former South Asia bureau chief for the Chicago Tribune and the author of The Taliban Shuffle, which is now the major motion picture Whiskey, Tango, Foxtrot. She described some of the challenges she faced while reporting abroad.
"You didn't talk about it," she said. "You didn't talk about being groped. You didn't talk about what happened late at night when a fixer would come to your door and want to come inside or share a room with you. You didn't talk about what happened in certain circumstances because you had to seem like you were just one of the guys. You didn't want to raise this with your bosses… Then they would send somebody else."
Barker also spoke about facing threats online. "This webpage still exists out there, calling me fat and unattractive and saying that no one would want to rape me." The website includes pictures of Barker. "Even if you talk about it in public, there's this anonymity of the Internet."
"You don't even have to be in a conflict zone to feel violated anymore," Barker told the crowd.
'Press Uncuffed" campaign nominated for two awards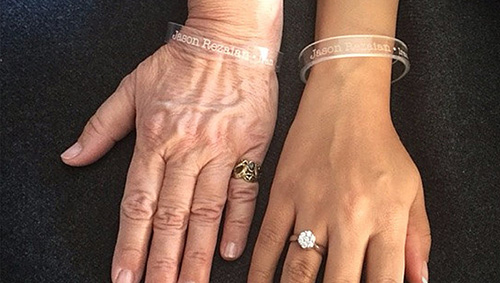 In 2015, CPJ partnered with journalism students at the University of Maryland, led by Pulitzer Prize-winning Washington Post reporter Dana Priest, to create an advocacy campaign called "Press Uncuffed." The campaign highlights cases of journalists imprisoned around the world. Last year, the students raised enough funds to create bracelets emblazoned with the names of the journalists, which were distributed globally. In 2015, the campaign, which features CPJ research, won the "Do Good Challenge" prize, which is sponsored by the University of Maryland's School of Public Policy.
We're proud to announce that the campaign has been nominated for two other awards this year. "Press Uncuffed" and RoseComm, a strategic communications firm that helped launch the campaign, have been nominated for a 2016 North America SABRE Award, which recognizes superior achievement in branding, reputation, and engagement, and for the 2016 Silver Anvil Award, which is given annually to organizations reaching the highest levels of professional achievement.
Seven journalists featured in the campaign have been released since May. Most recently, Iranian authorities released Jason Rezaian, a Washington Post reporter who was jailed in Iran in July 2014. Throughout, CPJ advocated for his release. Rezaian's mother, Mary Rezaian, said in February that she and the journalist's wife wore their "Press Uncuffed" bracelets daily, adding, "Thank you, so much, to the 'Press Uncuffed' team and everyone who is working on this very important issue."
Nearly 200 journalists were behind bars when CPJ conducted its prison census in December. More than 60 percent of them were held by just five countries–China, Egypt, Iran, Eritrea, and Turkey. CPJ will not stop fighting until no journalists are in jail in relation to their work.
Journalist released in Bahrain
In early April, a Bahraini court reduced the prison sentence of a Bahraini blogger to a year and a half, according to the Bahrain Press Association. Ali Mearaj had been sentenced to two and a half years in prison in April 2014. The blogger has been released from prison.
Authorities arrested Mearaj at his home in January 2014 and confiscated his phone and computer. The blogger was charged with "insulting the King" and "misusing communications devices" in connection with posts he was accused of writing on the opposition website Lulu Awal, news reports said. Mearaj denied the allegations.
Bahrain was holding at least five journalists, including Mearaj, behind bars when CPJ conducted its annual prison census on December 1. Of the nearly 200 journalists behind bars in 2015, more than half worked online.
CPJ to host Janine di Giovanni, journalist and author, for book talk
CPJ will host Janine di Giovanni, Middle East editor of Newsweek and contributing editor of Vanity Fair, on May 6. Di Giovanni will be visiting CPJ to discuss her new book The Morning They Came for Us: Dispatches from Syria.
In The Morning They Came for Us, di Giovanni writes an unsparing account of her experiences in Syria over a six-month period in 2012, drawing on the stories of ordinary people embroiled in the continuing conflict.
Syria has been the deadliest country for journalists for four consecutive years, according to CPJ research. Since the conflict began, at least 94 journalists have been killed and more than 100 abducted, many of whom are still being held.
The event will take place from 12:30 to 2 p.m. on May 6. For details, email ptenzing[at]cpj.org.
Media Hits
Branded a traitor, beaten and raped: Stories of female journalists
RFE/RL journalist faces charges in Russian-occupied Crimea
Media watchdog calls on Turkey to catch ISIL killers of Syrian journalist
Bangladeshi student blogger known for secular views hacked to death
Egypt investigates Reuters journalist over report on Regeni murder
Number of murdered journalists in Mexico hard to pin down
Mauritanian blogger's death sentence upheld
A Rwandan press freedom book garners praise abroad but backlash at home
Join us in defending brave journalists worldwide!