"Everyone will get their turn in this war, especially the slave Pakistani media," warned Ehsanullah Ehsan, spokesman for the Pakistani Taliban on Twitter this week. "We are just waiting for the appropriate time."
The warning from the Pakistani Taliban faction Jamaat-ur-Ahrar that the press could be the next target in an attack came as the militant group claimed responsibility for the devastating Easter Day terrorist attack in Lahore that left more than 70 dead and hundreds injured.
Direct threats from terrorists are not new for the country's press. Concerns for journalist security in Pakistan was the impetus for a CPJ mission to the country two years ago, during which Prime Minister Nawaz Sharif pledged to take several steps to improve press safety. But when CPJ spoke with three Pakistani journalists this week, they all said they still take such threats seriously.
Iqbal Khattak, a freelance journalist and the national coordinator on journalists' safety for the Pakistan Coalition on Media Safety, told CPJ, "I think every journalist is taking every threat seriously knowing that the originators can cause harm as well, besides delivering the threat."
He said that while the threat is not new, "They repeated what previously they have been saying to pressure media in Pakistan."
Prominent Pakistani journalist Hamid Mir, who survived two attempts on his life in 2012 and 2014 and has been threatened numerous times, told CPJ threats against the media are constant and that he takes any warning from the Pakistani Taliban "very seriously." Mir, who is the senior news anchor for the privately owned channel Geo News, told CPJ that threats often follow condemnation in the press of terrorist attacks, and in many instances militants act on the warnings they have issued.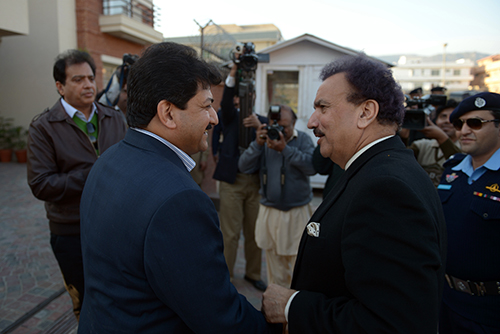 Mir has good reason to take threats seriously. He described a foiled plot to kill him in November 2012, when a bomb was found attached to his car. The Pakistani Taliban claimed responsibility for the failed attempt, reports said. Mir also cited a hit listby the Pakistani Taliban that was sent to media houses in 2014, and which named at least two dozen journalists and publishers as targets. "They attacked many media offices after that," he said.
Mir, who is based in Islamabad, said the media is "under attack from all sides," adding, "I am forced to say that state actors and non-state actors have many differences on many issues, but they are united against the freedom of Pakistani media."
Threats to journalists in Pakistan, as CPJ research shows, stem not only from militants, criminals, and warlords, but also political parties, and military and intelligence agencies. On the same day as the Lahore suicide bombing, journalists covering a protest in Karachi were beaten, stones were thrown at the Karachi Press Club, and a vehicle belonging to Jaag TV was set on fire, according to news reports. The reason? According to journalists who were among those attacked, the protesters were angry at what they claimed was inadequate coverage.
"State actors and non-state actors want us to dance on their tunes. When we refuse they threat[en] us, they pressure us, they attack us," said Mir.
While the three journalists with whom CPJ spoke said they were taking this latest threat from the Pakistani Taliban seriously, one of them said there isn't much more his organization can do at this point.
"I don't think we are taking any extra measure. We are already cautious in our coverage and security at our offices remains high," said Kamal Siddiqi, editor of the Express Tribune. CPJ has documented several attacks against his paper in recent years, including gunmen opening fire on its offices in Karachi in 2013 and an attack that killed three staff in 2014.
In his meeting with CPJ, Prime Minister Sharif committed to a range of measures to safeguard press freedom. Little has come of those pledges two years on. "The government has failed to protect us," said Mir. And the threats continue.