CPJ launches annual publication Attacks on the Press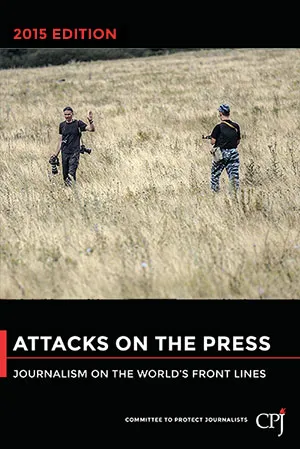 At a U.N. press conference on April 27 to launch CPJ's annual publication Attacks on the Press, CPJ Executive Director Joel Simon called on the U.N. Security Council to include in its May 27 debate on Journalist Safety a warning to states that they should not use national security as an excuse to jail, harass, or censor journalists.
The last three years have been the most deadly for the press, according to CPJ research. One of the reasons is the developing "terror dynamic"–non-state actors targeting journalists with violence while governments restrict civil liberties and press freedom in response. This phenomenon was amply documented in essays published in this year's edition of Attacks on the Press.
The book, which emphasizes reporting and analysis by CPJ staff and outside experts, features essays on multiple threats facing the press: the conflict in Syria, where freelancers and local journalists must adapt to an environment in which they are targets; terror and criminal groups, in countries as Syria, Nigeria, and Mexico, which document their own atrocities and disseminate them through social media; and crackdowns on the press in Ethiopia and Egypt, where governments use the threat of terror to justify repression. Several essays in the book also look at the impact of surveillance in more democratic societies, including those in Europe. The book also includes CPJ's list of the 10 Most Censored Countries.
The print edition of Attacks on the Press is published by Bloomberg Press, an imprint of Wiley, and is available for purchase.
CPJ travels to East Africa to support exiled journalists
Journalists in Ethiopia, Somalia, Kenya, and other East African countries face a variety of threats–including imprisonment, murder, and harassment, CPJ research shows. Many have fled their homes, fearing reprisal or imprisonment, and have sought refuge in other countries.
In an effort to address this ongoing crisis, CPJ flew to Nairobi and Kampala in April to speak to exiled journalists and meet with CPJ's partners on the ground.
"This crisis is not something that can be solved overnight," said Nicole Schilit, CPJ's Journalist Assistance associate. "But we are committed to doing everything we can to ensure that journalists are able to report the news in their home countries–however, if we find they are not, we will stand with them to make sure they have the support they need."
CPJ and the Rory Peck Trust have worked in partnership with local, regional, and international press freedom and human rights groups to coordinate assistance for journalists forced into exile in the East and Horn of Africa region. During the April meeting, both organizations followed up on the three-day conference in Nairobi, held in December 2011, which was an initial response to the regional crisis.
"It's vital that we here at CPJ's Journalist Assistance Program work with local as well as international partners so we can link exiled journalists to opportunities for long-term sustainable support," Schilit said.
Shining a spotlight on the detention of Nigerian journalists
In the run-up to the Nigerian elections in late March and April, CPJ documented the targeting of local and international journalists seeking to cover the events. Authorities denied and delayed visas and accreditation to dozens of foreign journalists, and local journalists were attacked or injured while covering rallies and a clash between political parties.
Amid this tension, two Al-Jazeera journalists were confined to their hotel room in Maiduguri, Borno state, by the Nigerian military. The journalists, who were held in their room from March 24, told CPJ that they had been reporting on the military's operations against Boko Haram before the Nigerian elections.
CPJ's West Africa representative, Peter Nkanga, was in contact with the journalists from their hotel room and used interviews with local and international media, including Al-Jazeera and Nigeria's Daily Trust and Premium Times, to put pressure on the Nigerian authorities. He also submitted a deposition in support of the journalists' case to the local law firm Citizens Advocacy for Socio Economic Rights (CASER), which will file a public interest lawsuit against the military on the journalists' behalf.
The two journalists were freed on April 5.
'Press Uncuffed' campaign gains momentum
On World Press Freedom Day, the Newseum in Washington distributed to its visitors bracelets created following the "Press Uncuffed: Free the Press" campaign launched by students at the University of Maryland's Philip Merrill College of Journalism. The campaign sought to raise awareness about journalists imprisoned around the world. At least 221 journalists were behind bars when CPJ conducted its most recent prison census.
The Newseum also posted tweets showing visitors wearing black press ribbons to remember journalists killed in relation to their work.
The students' "Press Uncuffed" campaign raised enough funds to cover the manufacture of the bracelets. Each bracelet features the name of one of nine imprisoned journalists. The bracelets are now available for purchase for $10 each. The proceeds will be donated to CPJ.
Click here to read the profiles of the featured journalists or here to purchase a bracelet.
Journalist released in Egypt
CPJ has kept its focus on Egypt in recent months, documenting violations against journalists seeking to cover the news in the country. Earlier in April, we wrote a blog featuring the Egyptian photographer Shawkan, who has spent more than 600 days in prison without charge. In March, authorities sentenced three Egyptian journalists to life in prison.
But in April we also had some good news. Ahmed Gamal, an Egyptian journalist who has been behind bars since December 28, 2013, was released from prison on April 29. The journalist had been arrested while covering clashes between students and security forces at Al-Azhar University in the Nasr City neighborhood of Cairo and accused of participating in an illegal demonstration and assaulting a police officer.
CPJ will continue to advocate for the release of other Egyptian journalists in jail.
In our own words
On April 1, 2015, Jason Stern, CPJ's Middle East and North Africa research associate, appeared on Al-Jazeera Arabic's "Al Waqaa Al Arabi" (The Arab Reality) and spoke about the increased violence from all sides that journalists in Yemen are facing.
On April 3, 2015, Joel Simon, in his column for the Columbia Journalism Review, wrote that U.S. President Barack Obama could still take actions to strengthen transparency at home and increase influence abroad.
CPJ's staff technologist, Tom Lowenthal, in late March wrote a blog about the Chinese digital certificate authority, the China Internet Network Information Center, allegedly falsifying credentials for numerous domains, including some owned by Google. The breach, Lowenthal said, had the potential to endanger vulnerable users–including journalists communicating with sources. The blog was referenced in April by VICE and Techdirt as well as the South China Morning Post.
Where we'll be in May:
May 3, 2015: To commemorate World Press Freedom Day, CPJ was represented at both UNESCO World Press Freedom Day and Difference Day, a European Gala for freedom of expression. CPJ also participated in "Remembering Fallen Journalists," an online-only event on May 3. CPJ's Advocacy Director, Courtney Radsch, participated in a Twitter discussion as well as an "Ask Me Anything" on Reddit.
May 3, 2015: CPJ board member Cheryl Gould participated in a panel discussion in Beirut hosted by the Lebanese press freedom group SKeyes, called "Defending press freedom today: New Tools, New Challenges." The panel also marked the 10-year anniversary of the murder of Samir Qassir, a critical journalist who was killed in a car bombing in Lebanon on June 2, 2005.
May 7, 2015: Frank Smyth, the founder and executive director of Global Journalist Security and CPJ's senior adviser on journalist security, will participate in a panel called "Finding Security in Unsafe Passages: Protecting Journalists' Safety & Rights" at the United Nations Headquarters in New York that will discuss the safety and rights of journalists. The panel, which will be held to mark World Press Freedom Day, will offer safety tips to journalists and advice on protecting sources and addressing cybersecurity risks.
May 27, 2015: CPJ will attend the U.N. Security Council debate on Journalist Safety.