In its new series, "Supporting journalists at risk," CPJ profiles journalists who have been in dire situations as a result of persecution for their work. CPJ's Journalist Assistance program has helped these journalists, and hundreds of others, through a combination of financial and non-financial assistance.
In this edition, CPJ looks at Zakwan Hadid, a 29-year-old Syrian journalist from Idlib, who fled to Turkey after receiving death threats from militants and opposition groups in connection with his reporting. Today, Hadid works at a radio station in Istanbul.
Twenty-nine-year-old Zakwan Hadid is from the city of Maarat al-Nu'man, in Idlib, Syria. A few months after the protests began in Syria in March 2011, the former teacher and lecturer took to covering the conflict.
"I did not want to carry weapons, and I wanted to help those who weren't fighting," Hadid told CPJ over Skype. "I liked journalism because of what it represented and what it meant to me. … I wanted to shed light on those operating outside of the law, especially those in government."
Hadid began working for the citizen news organization Shaam News Network, where he reported on daily life in Idlib and other provinces, posting news on social media, and producing video reports. He also worked for the Maarat al-Nu'man Media Center, where he documented protests and reported on daily life in the city. The media center published its coverage on Facebook, Twitter, and YouTube.
Following the uprising in 2011, media centers like the Shaam News Network and the Maarat al-Nu'man Media Center sprung up across Syria in the absence of independent news sources. Their members–citizens or revolutionaries who were swept up by the uprising and took on the role of newsgatherers–called themselves citizen journalists, media workers, or media activists.
Hadid told CPJ that his boss at the Maarat al-Nu'man Media Center was arrested after criticizing Aleppo's governor in his writing. Hadid said government forces came to his home and arrested his brother, threatening to kill him if Hadid did not turn himself in. He said his brother was soon released even though he did not turn himself in.
Hadid said that he was approached by bigger pan-Arab news stations like Al-Jazeera and Al-Arabiya and began collaborating with international outlets such as the BBC, The New York Times, and the L.A. Times. He told CPJ he wrote for the outlets occasionally and provided them with videos and photographs, as well as information.
"I didn't realize how much one could do being a journalist," Hadid said.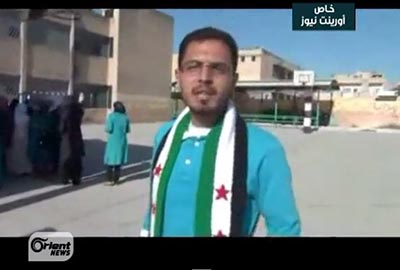 Hadid said he became even more deeply involved after taking a remote course on journalism. "I fell in love with it," he said. "As a Syrian, being objective was my number one priority and I thought it was the most important thing for us. It is good to be objective, because it means it helps our country, and I felt it was rare to see Syrians being objective."
But Hadid's commitment to reporting the truth soon sparked a backlash. In 2012, an individual who he said identified himself as a member of either Al-Nusra, an armed Islamist group linked to Al-Qaeda, or the militant group Islamic State told him that he would be killed if he reported on the group. Hadid said he was called an "infidel" and told to leave the region.
In August 2012, Hadid moved to a different city in Syria. In early 2013, his family fled to Turkey.
"My family moved to Turkey for safety, but I stayed behind," he told CPJ. "Our house was shelled many times, as if the regime were targeting it. But I stayed behind."
Hadid told CPJ that his friends had told him that Islamic State members were searching for him. Then, one morning in August 2013, a car bomb went off near his office. He feared it was in retaliation for his journalistic work. "It was then I decided that I needed to leave," he told CPJ.
In September 2013, he fled Syria for the southern Hatay region of Turkey, which borders Syria, but he did not feel safe even there. "I was sleeping in a different location every day and was still scared," he said. "I knew that the groups that were threatening me had contacts and members in Hatay.
Hadid said he worked odd jobs, including as a retail salesman. He said he received death threats over Skype from individuals affiliated with Islamic State, who said his family would be targeted if he continued to report. He said he left Hatay and went to another city in January 2014. But there, he said, three individuals threatened him in person and warned him to stop his journalism or he would be either arrested or killed. He then moved to Istanbul.
"I wanted to continue being a journalist, but it was so hard," he said. "I was trying so hard to keep updated and follow events. I would move from Internet café to Internet café just to be aware of what was happening. I was a teacher and lecturer before, but now I am a journalist and I will continue to be a journalist."
Hadid is living proof of the hardships that Syrian journalists have faced since the uprising in 2011. "Out of all my friends and colleagues, I am the only one that is okay now," he told CPJ. "So many have been killed or captured by the government and ISIS. Others have been killed in shelling. Others have disappeared."
CPJ's Journalist Assistance Program supported Hadid with a grant while he was in Istanbul. "Thank you to Nicole [Schilit, CPJ Journalist Assistance Associate] for her hard work and for all the hard work that CPJ does to help journalists like me to help us survive," he said. "Major news organizations had no help for us but CPJ helped."
In January 2015, Hadid joined Radio Alkul, a Syrian FM radio station with news programming based in Istanbul. "I still live in fear, because I refuse to succumb to either side," he told CPJ.
"We are people who are trying to show news as it is–why should my life be the one to be affected and ruined?" he said. "Journalism should be honored, because we are giving ourselves a chance to rise above and fix our mistakes."