In its new series, "Supporting journalists at risk," CPJ profiles journalists who have been in dire situations as a result of persecution for their work. CPJ's Journalist Assistance program has helped these journalists, and hundreds of others, through a combination of financial and non-financial assistance.
In this edition, CPJ recounts how 26-year-old Syrian Rifaie Tammas fled his country in 2013 following the threat of detention by the Syrian government. Today, Tammas has established a new life in Turkey.
In mid-March 2011, when the uprising in Syria began, Rifaie Tammas was teaching English at Al-Baath University in Homs. He was also completing coursework toward a PhD in English Literature and linguistics.
As the uprising became more widespread, Tammas began to participate in protests in his hometown of Al-Qusayr, but, he said, he attended them incognito–so as not to jeopardize his safety or that of his family.
"I would go to protests wearing a headscarf," he told CPJ. "Then I took it off and thought there were many people protesting and that it was too hard for security forces to count us."
2012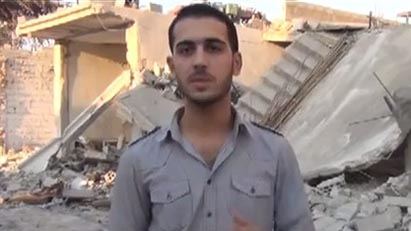 As the unrest continued into 2012, and in July 2012, the International Red Cross said it considered the Syrian conflict to be a civil war, Tammas told CPJ that he wanted to be more involved. "I would see my neighbor posting [news] in Arabic, but rarely in English," he told CPJ. "Very few people were updating regularly in English then."
Tammas turned to Facebook, where he began sharing news in English. As time passed, he became more involved. He joined Skype chatrooms, where activists would post news and videos documenting events in their towns. He, too, began posting daily headlines and translations, including for the Qusair Media Center, which reports on events in in Al-Qusayr using Twitter, Facebook, YouTube, and other platforms.
Following the uprising in 2011, media centers like the Qusair Media Center sprung up across Syria in the absence of independent news outlets. Their members–citizens or revolutionaries who were swept up by the uprising and took on the role of newsgatherers–called themselves citizen journalists, media workers, or media activists.
Soon, Tammas began to be contacted by journalists and news outlets. He told CPJ he provided them with reports in English, translated, and put them in touch with activists. He began appearing, via Skype or phone, on outlets such as Al-Jazeera English and the BBC, where he would provide live reports on Al-Qusayr in nightly segments.
"I wanted to do something for my country and for my people," he told CPJ. "I thought building a network would be the best way to get information and news out."
By late 2012, Tammas had begun making short video reports about daily life in Al-Qusayr, which included highlighting scenes of destruction following helicopter shelling, debunking reports put forth by Syrian state media, and bringing attention to makeshift hospitals. He had also begun writing stories on the uprising for the U.S. government-funded broadcaster Voice of America.
2013
May 2013 marked a massive shift in the conflict and for the hundreds of people in Al-Qusayr, including Tammas. The months-long campaign led by Hezbollah and Syrian government forces to retake Al-Qusayr from armed Syrian opposition groups finally peaked. "We were crippled," Tammas said. "We no longer had mobility or as much access. Life became increasingly more dangerous."
Tammas' mother and sisters fled to nearby Lebanon, but he remained in Al-Qusayr to cover what was happening. The town was eventually recaptured by Hezbollah and Syrian government forces. Tammas told CPJ that his friends had been questioned by the Syrian army and had told him that they had been interrogated about him and his whereabouts. He said he feared he would soon be detained too.
In early June, Tammas, his brother, and his father left Al-Qusayr under what he believed was an unofficial and informal deal brokered between the Syrian government and opposition fighters to allow civilians to leave the city. Tammas and his family left all of their belongings behind, and his youngest brother and his father, who had been injured, died during the journey. Tammas and the other survivors were taken to Qalamoon, a small city outside of Damascus.
After he left Al-Qusayr, Tammas told CPJ, "Leaving Qusayr was so difficult, and the journey itself was difficult. … I felt abandoned."
Tammas continued to report, but, he said, his heart was no longer in it. In mid-July 2013, he left Syria for Turkey, but told CPJ it was difficult to cross into the country because he was being surveilled by Syrian security forces. It took him nearly two months.
In Turkey, he continued working as a fixer, connecting foreign correspondents with those who were still on the ground in Syria. "I would do it without being paid–just small things that I would have done in Syria," he told CPJ.
And as he settled in to his new surroundings, Tammas gradually gave up his journalism. "At first, I thought that this was the way to make a difference, and get help for Syria," he said. "But, in the end, I feel like our media work did not do much or have an effect. But, you know, one day, I will look back and think at least I did something for my country at some point."
Today
In Turkey, Tammas began applying for jobs and set his sights on continuing his education.
"The first few months in Turkey were hard. I am really grateful for the help that I received during that time from CPJ," he said. CPJ provided Tammas with a modest grant to help him get settled in Turkey.
Tammas is currently working in project management and development for Syria in Turkey. He has applied to a number of graduate schools and hopes to complete a master's in international development.