Istanbul, June 5, 2013–Turkish authorities should not interfere with the free flow of information online or in any other media, the Committee to Protect Journalists said today after a senior government official suggested Internet restrictions could be in the offing.
"Restrictions on the Internet will only promote rumor and conjecture at a time that the country needs facts and freely expressed views," CPJ Europe and Central Asia Program Coordinator Nina Ognianova said. "The free exchange of news and information is important at all times, but it is vital at times of unrest as only a well-informed society has the capacity to restore and heal itself."
As police clashed with protesters in the nationwide demonstrations that have claimed at least two lives, Deputy Prime Minister Bülent Arınç suggested at a press conference in Ankara that the government limit Internet access to prevent further violence, according to news reports.
"We know the events are directed from some centers," Arınç said. "We know fake news are being published. … "It is possible to shut down all of these. It is possible to prevent access." He continued: "Look at the tweets! … There are those who want the police to be slaughtered." The government official also said that "immoral news" was being spread over the Internet, but did not offer further details.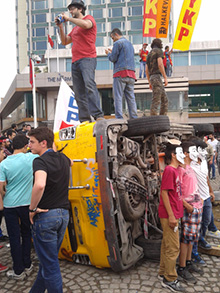 Journalists have also been caught between overzealous law enforcement officers and protesters frustrated by what they see as inadequate coverage of the opposition protests.
On Monday night, protesters in Ankara threw stones at a building housing the offices of the pro-government media outlets Kanal 24 TV and the daily Star, according to news reports. Nobody was injured, the reports said. Demonstrators in Istanbul also broke the equipment of a CNN Türk camera crew while its members were conducting interviews in Taksim Square Monday evening, news reports said. The crew members were not hurt.
CNN News Editor Ali Güven told CPJ that camera crews are afraid to go in Gezi Park–ground zero of the clashes between police and demonstrators–because of such episodes. "It is understandable," Güven said, "that there is a reaction to the media's coverage, but the media have corrected their stance now." The editor was referring to criticism of some Turkish media for not covering early stages of the protests or covering them from a pro-government point of view.
Daily Milliyet correspondent Sertaç Koç told CPJ that he was shot by police firing tear gas pellets in Ankara on Monday. Koç was covering rallies on İnkilap Street in the capital's central Kızılay district, when police surrounded protesters and began to fire gas pellets at them. Koç was hit in the left leg and sustained bruises.
Eren Güvenlik, cameraman for the IMC television, recorded police firing tear gas directly at him in front of a college near Kızılay district on Monday, he told CPJ. He said only one pellet hit him, and that he did not sustain any injuries. He said he would press charges.
For more on Turkey, visit CPJ's Turkey page here.