Under Cover of Security, Governments Jail Journalists
By Monica Campbell
Along an isolated stretch of Ethiopian desert, under a gray July sky, soldiers dragged journalist Martin Schibbye from a truck, stood him up, raised their Kalashnikovs, and fired. The shots whistled by his head. "I thought, just get it over with," Schibbye said. "I'd given up." By that time, he thought his colleague, photojournalist Johan Persson, was already dead. Soldiers had dragged Persson in a different direction and fired repeatedly. Those shots turned out to be near-misses as well, intended to intimidate and instill fear.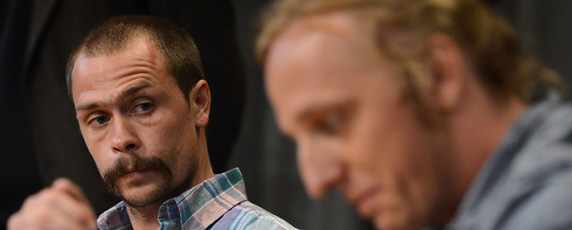 The two Swedish journalists were allowed to live that day, but they were not allowed their freedom. For more than 400 days, they were jailed in Addis Ababa, shuttled from solitary cells to rat-infested rooms crowded with prisoners, some with tuberculosis.
The ordeal ended as the two journalists, fearing years in prison, finally relented. Yes, we collaborated with terrorists. That is why we were jailed. Yes, they told Ethiopian state television, we respect the court. All lies, of course, Schibbye and Persson said after they were freed in September 2012 on a pardon. "It was humiliating, but we felt forced to say those things," Schibbye told CPJ. "We were still unsure they'd actually let us go."
More than a year earlier, in June 2011, the two journalists had crossed into eastern Ethiopia from Somalia and embedded with members of the separatist Ogaden National Liberation Front, or ONLF. "We'd heard about rapes, executions, and an exodus from the Ogaden region, and that a Swedish oil company had operations there," said Persson, who went to Ethiopia with Schibbye, a freelance writer, to report a story for the Swedish magazine Filter. "We wanted to go and see what was happening at the source." Ethiopian security forces seized the journalists during a raid on the separatist group. But unlike the cases of other foreign journalists who were expelled for covering issues Ethiopian authorities wanted to keep secret, the prime minister at the time, Meles Zenawi, called the Swedes "messenger boys of a terrorist organization" and authorized their prosecution under the country's anti-terrorism law. Ethiopian officials forced the journalists at gunpoint to participate in films re-creating their arrests–cartoonish skits with civilian actors playing ONLF members and the journalists cast as accomplices. "It was a circus," Schibbye said, "and we feared for our lives throughout."
Now, back in Stockholm, the journalists are troubled most by the six journalists still behind bars in Ethiopia, including the award-winning editor and blogger Eskinder Nega. "When we left the cell for the last time, everyone cheered," Schibbye said. "They said, 'Tell the world about us. Tell them what's happening.'"
CPJ research has tracked a significant rise in journalist imprisonments since 2000, a year before the September 11 terrorist attacks on the United States fueled the expansion of anti-terrorism and national security laws worldwide. The number of journalists jailed worldwide hit 232 in 2012, 132 of whom were held on anti-terror or other national security charges. Both are records in the 22 years CPJ has documented imprisonments. CPJ's analysis has found that governments have exploited these laws to silence critical journalists covering sensitive issues such as insurgencies, political opposition parties, and ethnic minorities.
The past decade has seen waves of mass arrests on such charges, beginning in countries like Eritrea and Cuba and followed more recently in Turkey and Vietnam. The United States helped legitimize the tactic by imprisoning at least 14 journalists in Iraq, Afghanistan, and Guantánamo Bay throughout the past decade. Although most were never formally charged, all were broadly accused by U.S. officials of having committed security or terror-related offenses. U.S. officials never substantiated any of the allegations.
Throughout the world, CPJ research has found, the vague wording of national security and terror laws has allowed the authorities wide latitude to retaliate against reporters covering sensitive issues. In China, for example, Article 103 of the penal code criminalizes "undermining the unity of the country," allowing the prosecution of journalists covering minorities like Tibetans and Uighurs who have grievances with official policies. Journalists in China can also be charged under the broad provisions of Article 105, which states: "Whoever incites others by spreading rumors or slanders or any other means to subvert the State power or overthrow the socialist system shall be sentenced to fixed-term imprisonment of not more than five years, criminal detention, public surveillance, or deprivation of political rights."
In 2009, Ethiopia passed new anti-terrorism legislation that includes ambiguous language that could permit a journalist to be jailed for anything from covering a protest to communicating with banned opposition groups. It criminalizes coverage of any group the government deems to be terrorist, a list that includes not only the ONLF separatists but opposition political parties. Article 6 states: "Whosoever publishes or causes the publication of a statement that is likely to be understood by some or all of the members of the public to whom it is published as a direct or indirect encouragement or other inducement to them to the commission or preparation or instigation of an act of terrorism … is punishable with rigorous imprisonment from 10 to 20 years." A new law on telecommunications also prohibits "the use of any telecommunications network or apparatus to disseminate any terrorizing message" or "obscene message," subjecting violations to a prison penalty of up to eight years.
In Ethiopia, at least 11 reporters have been sentenced to prison terms since the 2009 anti-terrorism law took effect. One of the best-known cases involves Eskinder, a journalist who lived in Washington before returning to his native Ethiopia in the 1990s to start an independent newspaper. Officials have long targeted Eskinder, shutting his newspapers and jailing him previously on anti-state charges. His wife, journalist Serkalem Fasil, gave birth to the couple's son while she was imprisoned several years ago.
The most recent case against Eskinder stemmed from a 2011 column in which he challenged the government's claim that imprisoned journalists and activists were actually terrorists. Officials said that Eskinder's commentary provided "moral support" to outlawed individuals and groups and charged him with terrorism. After his arrest, Eskinder was further charged with having links to Ginbot 7, a banned political party based in the United States, and with receiving weapons from Eritrea. Eskinder denied the charges, and prosecutors presented no evidence tying him to arms trafficking or any other terrorist activity. In July, a judge sentenced Eskinder to 18 years in prison.
"His story is a powerful symbol of the dramatic repression of freedom of speech in Ethiopia," said Jason McLure, a former Bloomberg correspondent in Ethiopia who worked with Eskinder and runs a blog called FreeEskinderNega.com. "He won't fold, and he's willing to pay a high price for that."
But while the greatest cost is borne by those in prison, the public suffers as well. In Ethiopia and other nations, CPJ research shows, national security prosecutions have forced many journalists into silence. One Ethiopian reporter, who spoke on condition of anonymity for fear of reprisal, said he was detained on anti-terrorism charges after covering protests by Muslims opposing government policies seen as curtailing religious freedom. Fearing he could be swept into a legal vortex, he abandoned reporting on Muslim activities in the country. "It is very difficult to be a journalist and exercise the profession without fear of getting charged under the new anti-terrorism law," he told CPJ.
Iranian authorities also use national security laws as a club to intimidate journalists, particularly since the disputed 2009 presidential election. CPJ surveys since that time have found 40 to 50 journalists imprisoned at any given time, many of them serving lengthy terms in inhumane conditions. The prosecutions, typically on charges such as "propagating against the regime" and "acting against national security," have chilled news coverage within Iran and driven vulnerable writers and editors into exile. At least 68 Iranian journalists have fled the country since 2007, CPJ research shows.
Crackdowns often precede elections or other events that Iranian authorities see as sensitive. In January 2012, ahead of the country's parliamentary election, police arrested at least a half dozen journalists associated with reformist papers. Illustrating the far-reaching application of national security laws to spread fear, the authorities detained the well-known writer Marzieh Rasouli, who covered arts and culture for reformist newspapers but was not known for her political coverage. She was accused of "acting against national security."
Hadi Ghaemi, director of the New York-based International Campaign for Human Rights in Iran, said the vague language of the laws allows for blanket arrests of those seen as political opponents. "And it might get worse," Ghaemi said. "As international tension over Iran's nuclear program grows, along with political infighting and next June's presidential election, the effort to control the press through anti-state laws is set to increase."
Although local reporters constitute the majority of those targeted by national security laws, the local news bureaus of foreign agencies can also be vulnerable. In Iran, the Reuters news agency saw its accreditation pulled in October on charges of "propagating against the regime" after a video report about a martial arts group in Tehran mistakenly called the participants "assassins." Reuters issued a correction and clarified that the Tehran bureau chief, Parisa Hafezi, an Iranian, had not been involved in the editing of the video script. But officials also pursued a criminal case against Hafezi and, in September, a jury found her guilty of anti-state charges. The use of anti-state charges against the local news bureau of an international outlet, Ghaemi said, reflected a disturbing shift in tactics by Iranian authorities.
China, one of the world's worst jailers of the press, has used national security laws to enforce compliance with the views officially approved by the country's propaganda department. Journalists challenging that authority are at risk. Newspaper editor Shi Tao, for example, has been jailed since 2004 for emailing to an overseas news outlet a propaganda department directive on how to cover the anniversary of the Tiananmen Square protests. The directive, an unremarkable set of instructions that called for news media to convey the official stance on Tiananmen, was retroactively classified a state secret, and Shi was convicted of disclosing information that harmed national security.
In 2008, Chinese authorities began turning to national security laws to silence journalists covering marginalized ethnic groups. In December 2012, when CPJ conducted its most recent census of imprisoned journalists, more than half of the 32 journalists imprisoned in China were Tibetan and Uighur journalists who had covered ethnic unrest, a topic the central government has worked hard to suppress. In those cases and others, the authorities typically filed charges of inciting subversion, subverting state authority, or promoting disunity; in most of the cases, published articles constituted the primary evidence. "If you're arrested and charges are filed–if it gets that far–chances are very good that you'll be convicted," said Victor Clemens, a San Francisco-based researcher at Chinese Human Rights Defenders, an online network of human rights activists. "We'll see a blogger [arrested] for writing about land issues or a religious group and slapped with charges that are barely defined and for crimes that are rarely even described beyond a few words. It's ruthless."
In Vietnam, the authorities have used anti-state charges in an ever-widening crackdown on critical coverage of land seizures and the country's relations with China. Online journalists are heavily targeted: All but one of the 14 journalists in prison in late 2012 worked on digital platforms not easily controlled by the state's extensive censorship regime. "It's more than the mere growth of online media," said Peter Noorlander, executive director of the London-based Media Legal Defence Initiative, which helps pay defense costs and trains lawyers in media law worldwide, including Vietnam. "What we're seeing is increasing nervousness on the part of the government about threats to its existence." In September, three bloggers who co-founded the Free Journalists Club, a website that carried stories critical of Vietnam's relations with China, were sentenced to prison terms ranging from four to 12 years on anti-state charges related to their journalism.
Four contributors to the online news outlet Redemptorist News have been jailed for more than a year, three of them charged under Article 79 of the penal code with engaging in activities aimed at overthrowing the government. Redemptorist News, which is run by the Congregation of the Most Holy Redeemer, reports on the country's persecuted Catholic minority, land disputes between the government and grassroots communities, and other social issues. "We have our own reporters, but we also publish information from the people if we feel we can say something on their behalf," Dinh Huu Thoai, a priest who helps edit the site, told CPJ in a 2012 interview. "We stand for the people who have no voices."
Although the government of Turkish Prime Minister Recep Tayyip Erdoğan has won accolades for building the country's economy and raising its international image, it constrains journalists from covering the Kurdish issue or addressing other sensitive political topics. In an extensive August 2012 survey, CPJ found 76 journalists jailed in Turkey, at least 61 in direct relation to their work. Nearly all of those jailed faced national security-related charges. More than three-quarters of the imprisoned journalists had yet to be convicted of a crime and were held as they awaited resolution of their cases.
Of those imprisoned in Turkey, about two-thirds were Kurdish journalists charged with aiding terrorist organizations by covering the viewpoints and activities of the banned Kurdistan Workers Party, or PKK. Nearly all of the other jailed journalists faced allegations that they took part in anti-government plots or were members of banned political movements. In a June 2012 letter to CPJ, Justice Minister Sadullah Ergin justified the criminal prosecution of journalists, saying that Turkey must balance the protection of free expression against the need to bar "the praising of violence and terrorist propaganda." But in numerous cases, CPJ's analysis found, Turkish authorities conflated the coverage of banned groups and the investigation of sensitive topics with outright terrorism or other anti-state activity.
"Journalists are not preaching terrorism. They are not telling their readers to get a bomb and kill," said Mehmet Ali Birand, a veteran broadcast journalist and columnist in Turkey. "Still, with any story we do on Kurdish or separatist groups, we face enormous government pressure to cast them as terrorists. If not, you'll have a minister or top official that night on television singling you out for not doing enough to help the country's security forces."
The cases against two prominent investigative reporters, Nedim Şener and Ahmet Şik, illustrate the over-reaching nature of the Turkish prosecutions. Both spent more than 12 months in detention on charges that they aided an anti-government conspiracy by writing or contributing to books about the influence of the Islamic Fethullah Gülen movement on Turkish public affairs. The cases, still pending in late 2012, were filled with irregularities and illogic. The charges, for example, were based almost entirely on computer documents whose authenticity has been disputed. Şener said he never contributed to any book about the Gülen movement, although he has long faced government harassment for other critical reporting. Most notable is that Turkish authorities have not fully explained why writing about a group's political influence would constitute a crime against national security.
International outcry prompted the government to free Şener and Şık while their cases continued through the court system. "But being released from jail doesn't mean you are free," said Necati Abay, an Istanbul-based journalist and spokesman for Turkey's Platform for Solidarity With Arrested Journalists, a small network that tracks jailed journalists and coordinates visits and other forms of support for imprisoned journalists. "The threat is there that you could easily be sent back to jail." Abay has been arrested several times for his work, including in 2003 when he was accused of belonging to a banned Marxist group, an allegation he denies. He said his arrest was just one example of a long official clampdown on the socialist weekly, Atılım, where Abay has worked as an editor. The government has closed the paper at times and regularly labeled its staff as dangerous Marxists.
Press freedom advocates are intensifying their calls on governments to follow international standards in the application of national security laws, invoking Article 19 of the Universal Declaration of Human Rights, which guarantees the right to seek, receive, and impart information. When he was commissioner for human rights for the Council of Europe, Thomas Hammarberg issued two detailed reports that identified deficiencies in Turkey's criminal justice system, including its broad definition of terrorism offenses and the excessive length of its criminal proceedings. Turkey made modest reforms in 2012, reducing some penalties and altering the system that adjudicates terrorism cases. But the measure did not fundamentally change the anti-terror law to rid it of the broad, ambiguous language used to silence critical news and opinion.
Mats Johansson, a member of Sweden's parliament and the rapporteur on press freedom for the Council of Europe, found in his own 2012 report that there was deterioration in Turkish democracy that was "mirrored by a retreat of press freedom." In an interview with CPJ, Johansson said international pressure requires great persistence. Turkish politicians, after all, have used his critiques to bolster their own arguments that foreigners should not meddle in national affairs. "We cannot force Turkey to reform its laws," Johansson said. "What we can hope for, however, is incremental change as pressure builds over time. It's very patient work."
The price of not exerting pressure is enormous. In Ethiopia today, a reporter told CPJ, "journalists, editors, media owners–they all censor themselves. Any political news, if it's not liked by the government, can get a journalist charged with treason." As did many others, he spoke only on condition of anonymity. He feared government reprisal.
EDITOR'S NOTE: This article has been modified to reflect the correct name of the Media Legal Defence Initiative.
Monica Campbell is a San Francisco-based journalist who reports for Public Radio International's "The World." Campbell has reported for CPJ from Mexico, Cuba, and Venezuela.