In Asia, Three Nations Clip Once-Budding Online Freedom
By Shawn W. Crispin
When a Bangkok court ruled that website editor Chiranuch Premchaiporn was criminally liable for an anti-royal comment posted by an anonymous visitor to one of her news site's Web boards, the landmark verdict effectively shifted the onus of Internet censorship in Thailand from government authorities to Internet intermediaries. Judges ruled that by failing to remove the comment quickly enough–it remained on Chiranuch's Prachatai website for more than 20 days–she had "mutually consented" to the critical posting. Chiranuch, who was acquitted on nine other, similar counts, was sentenced to an eight-month suspended prison term under the 2007 Computer Crime Act, legislation passed in the aftermath of a military coup that, among other restrictions, applies the country's strict lèse majesté law to online content.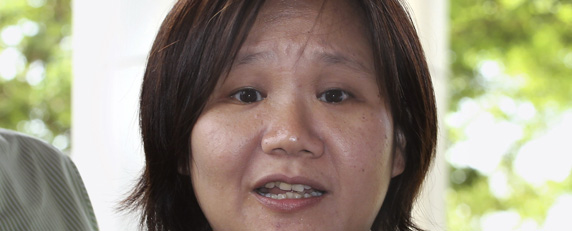 The May 2012 ruling represented the first time the Computer Crime Act was used by the state to criminally convict a Thai journalist for a freedom of expression-related offense. The authorities had already applied the law's vague and arbitrary national security-related provisions to censor tens of thousands of anonymously posted Web pages, mostly for material deemed offensive to the monarchy. While the ruling sent a stark warning to all online journalists in Thailand, it also implied that Web managers of user-generated platforms like political chat rooms, social media applications, and e-commerce hubs could also be held accountable for content posted to their sites deemed offensive to the royal family, a criminal offense punishable by 15 years in prison under Thai law.
"The verdict confirmed that the [Computer Crime Act] could be implemented to restrict Internet freedom by requiring intermediaries to police Internet content," said Chiranuch, who appealed the decision and had another lèse majesté-related case pending against her in late 2012. "It has had direct effects on freedom of expression and free flow of information because Internet intermediaries now must practice self-censorship."
Across Southeast Asia, governments have curtailed Internet freedoms through increasingly restrictive practices, including prohibitive laws, heightened surveillance and censorship, and threats of imprisonment on various national security-related offenses. But Thailand, Malaysia, and Vietnam–countries that once had some of the region's most promising online openings and vibrant blogospheres–stand out as the most egregious backsliders due to official crackdowns.
Through critical postings and commentaries, online journalists in the three countries had challenged officialdom's traditional control over the mainstream media. Their independent reporting opened once untouchable institutions and largely unaccountable politicians to more public scrutiny and criticism. It wasn't until the latter part of the previous decade that officials came to view Internet-delivered news as a threat to their authority.
But now governments in Malaysia, Thailand, and Vietnam are fighting back with a vengeance, employing increasingly harsh tactics including the imposition of intermediary liability and local data hosting requirements, and the use of underlying anti-state and national security laws to crack down on Internet freedoms. Other countries in the region, including Cambodia, the Philippines, and Singapore, are moving more tentatively, mostly through legal measures governing the Internet, in the same restrictive direction.
They have only partially succeeded. Despite the threats, tech-savvy reporters have made effective use of proxy servers and other technological roundabouts to circumvent state-administered blocks and maintain their online anonymity and security. In Vietnam, for example, pseudonymous bloggers have gravitated from domestic to foreign-hosted platforms to conceal their identities.
Though the three countries' Internet controls are not as invasive or sophisticated as those in China, journalists believe their respective governments have taken certain cues from Beijing's repressive model. For instance, governments have recently deployed Internet agents, known respectively in Malaysia, Thailand, and Vietnam as "cybertroopers," "cyberscouts," and "red guards," to flood online political forums with pro-government propaganda or undermine critical bloggers through ad hominem attacks–tactics that journalists believe have been imported from China.
Earlier hopes that more Internet-enabled journalism would usher in a new era of regional press freedom have been diminished by the mounting crackdowns. But the repression has come at a high reputational and economic cost to governments: Civil society groups, business associations, and international technology companies have all sounded alarms about growing online restrictions, pressuring governments to strike a more progressive balance between online freedoms and controls. In Thailand, for instance, Chiranuch's case served as a rallying point against a wider government crackdown on Internet freedoms. Though Chiranuch was convicted on only one of 10 counts, "convicting her for something she never wrote sends a clear message to the entrepreneurs and business leaders who run Internet platforms in Thailand that they can and will be penalized for the independent actions of users," Ross LaJeunesse, Google's Asia-Pacific public policy head, wrote on the company's blog.
Vietnam's Internet crackdown has targeted individual bloggers: Thirteen of the 14 journalists imprisoned in Vietnam in late 2012 were jailed primarily for their online writings. In September, three prominent bloggers–Nguyen Van Hai, Ta Phong Tan, and Phan Thanh Hai–were sentenced respectively to 12, 10, and four years in prison for online postings that a judge ruled had "abused the popularity of the Internet" and "destroyed people's trust in the state." In August, bloggers Dinh Dang Dinh and Le Thanh Tung were sentenced to six and five years on criminal charges of conducting propaganda against the state for their online writings.
In recent years, Vietnam has enacted a series of progressively restrictive decrees and directives that have given authorities the legal powers to censor online content and prosecute bloggers. A 2008 decree made it illegal for users to access government-banned websites, including Vietnamese-language sites that promote multi-party democracy or habitually criticize the ruling Communist Party and its policies. Later that year, the Ministry of Information and Culture issued a directive that required blogs to refrain from political reporting and to remove on demand any postings the authorities deemed as sensitive, including reprinted international news articles. In 2011, an executive decree brought bloggers under the same national security-related restrictions, including vague and arbitrary anti-state legislation, traditionally used by state authorities to censor and control the mainstream media.
A draft decree pending in late 2012 would require international technology companies to establish data centers and representative offices in Vietnam, a provision that online journalists fear would compromise the security of their IP addresses. Company representatives complained it could force them to uphold the decree's many freedom-curbing measures. The decree would also make it illegal for bloggers to maintain anonymous or pseudonymous online identities. The draft decree poses "a significant threat to free expression and privacy, obliging Internet companies and other providers of information to Internet users in Vietnam to cooperate with the government in enforcing overbroad provisions that are inconsistent with international human rights standards," said David Sullivan, policy and communications director of the Global Network Initiative, a coalition of technology companies, academics, investors, and human rights defenders. "Internet companies have helped to enable the free flow of information in Vietnam, where other forms of media remain tightly controlled, but that could change as a result of the decree by raising the risks of remaining in the Vietnamese market for rights-respecting companies."
Vietnamese authorities maintain extensive filtering of online content. The OpenNet Initiative, a global academic project that monitors Internet surveillance and censorship, found in technical testing results conducted in 2012 that the blocked content was generally specific to Vietnam, and included websites associated with imprisoned bloggers, the U.S. government-funded Radio Free Asia, and the exile-run political party Viet Tan, which has campaigned on press freedom-related issues. Still, certain Vietnamese bloggers are skeptical of the government's online tracking capabilities. "In Vietnam we live in a jungle of rules and laws," said a Hanoi-based mainstream journalist who moonlights as a blogger under a pseudonym. "Where there is a firewall, there is a way to break it. And technically many [of the regulations] are not enforceable." She notes, for example, that the authorities were unable to stifle independent blogs that reported in 2010 on a fireworks accident that killed as many as 40 people during a government-sponsored, millennial celebration of the founding of the national capital, Hanoi. State-censored mainstream media, she says, were forced to report that only four people had died in the accident, the severity of which was played down. "In many cases now, bloggers are leading [mainstream] journalists," she said.
In Malaysia, where the government tries to maintain the illusion of an uncensored Internet, curbs against online freedom have been less overt but similarly disruptive for journalists. In 1996, in an effort to lure foreign investment to the Multimedia Super Corridor, a state-led information technology development project, then-Prime Minister Mahathir Mohamad and other senior officials vowed not to censor the Internet. The no-censorship promise was also included in the corridor's 10-point "bill of guarantees" and the 1998 Communication and Multimedia Act. While it's not clear that Malaysia directly filters online content, the authorities have openly harassed and pressured critical bloggers and probing news sites. Despite the Internet freedoms guaranteed under the Communication and Multimedia Act, bloggers have been detained and charged under provisions of the Official Secrets Act, the Sedition Act, and the Security Offenses Act for postings on such sensitive topics as race, religion, and official corruption. The vague national security-related laws have recently been extended to stifle online criticism of Malaysia's royal sultans.
In July 2012, police briefly detained blogger Syed Abdullah Syed Hussein al-Attas under the Official Secrets Act over a series of investigative articles he posted about the sultan of the state of Johor. In 2010, Khairul Nizam Abd Ghani, who blogs under the name Aduka Taruna, was detained under the Sedition Act for postings considered insulting to Johor state's royal family. He was acquitted in June 2012 after state prosecutors failed to present evidence to justify the charges. Malaysiakini, the country's leading online news portal, has been persistently singled out for harassment, both from official and anonymous sources. Days before a pivotal state election in 2011, Malaysiakini and two other news websites were hit by debilitating denial-of-service attacks of unknown origin that forced them to publish through alternative domain names and platforms. Malaysiakini has been hit by unexplained cyberattacks at least 35 times since the site was founded in 1999, according to CPJ research.
In other instances, censorship pressure has been more overt. In 2009, the state-run Malaysian Communications and Multimedia Commission ordered Malaysiakini to take down two videos, one of which included footage of Malay Muslim demonstrators parading a severed cow's head in protest against plans to relocate a Hindu temple to their neighborhood. Editors stood by the clips' news value and refused to comply with the order. By late 2012, the popular news site faced possible punitive legal action from the attorney general's office.
A new law threatened to further erode Internet freedoms. In April 2012, parliament passed an amendment to the 1950 Evidence Act that made intermediaries liable for any seditious postings made by anonymous visitors to their online platforms or over their Wi-Fi networks. The amendment threatened to "open the door to selective, politically motivated prosecutions," the U.S. government-funded Freedom House said in a September report on global Internet conditions. "The amendment has sent a chill down the spine of Internet users," said Anil Netto, a prominent Malaysian political blogger. "It makes me more careful about moderating comments that are posted on my blog … just to be on the safe side against seditious or potentially libelous remarks."
For bloggers like Raja Petra Kamarudin, founder of the collective Malaysia Today blog, rising restrictions on online freedoms are symptomatic of a wider censorship problem. "Discussing whether the monarchy should be abolished in favor of a republic, whether Islam should be removed as the religion of the federation in tune with the ideals of a secular state, whether meritocracy should prevail rather than special rights for ethnic Malays–all are taboo subjects," said Kamarudin, who was detained for several months on pending sedition charges for his online journalism in 2008. "Hence why even bother to discuss Internet freedom?"
Thailand's crackdown has been driven by political polarization caused by the 2006 military coup that ousted the elected prime minister, Thaksin Shinawatra, and by anxieties over the approaching royal succession from 85-year-old King Bhumibol Adulyadej to his son, Crown Prince Vajiralongkorn. While in power, both pro- and anti-Thaksin sides have touted their pro-royal credentials by aggressively censoring commentaries posted anonymously online that criticize the monarchy.
Because different ministries and agencies maintain independent censorship powers, the precise extent of the crackdown is unclear. C. J. Hinke, founder of Freedom Against Censorship Thailand, an Internet freedom monitoring organization based in Bangkok, said that by mid-September 2012 the authorities had blocked more than 950,000 URLs, an estimate that included banned pornographic, gambling, and pharmaceutical websites but with approximately half of the total dealing with politics or the monarchy. "A lot of the censorship is tied to the personal issues of [political] leaders," said Hinke, whose own site is blocked by the Ministry of Information and Communications Technology, or MICT. "They're killing the Internet for their own self-interests." Hinke says that while local Internet service providers are quick to block content on government orders, there is no precedent for the authorities' unblocking a site after it has been targeted for censorship.
In 2009, in the name of shielding the monarchy from criticism, the previous Abhisit Vejjajiva-led government began a controversial Internet monitoring scheme that trained civilian volunteers, including university students, to serve as "cyberscouts" assigned to comb the Internet for anti-royal material. The number of lèse majesté complaints filed under Abhisit's tenure nearly tripled year on year from 2009 to 2010, rising from 164 to 478 cases, according to Thai court records.
Prime Minister Yingluck Shinawatra expanded the government's Internet surveillance capabilities in 2011 through a US$13 million investment in an undisclosed "interception" system, according to local news reports. That same month, her cabinet approved a directive that allowed the national police Department of Special Investigations to collect evidence, including through the intercept of Internet-based communications, without a court order in Computer Crime Act-related investigations. Yingluck also established a 22-member committee dedicated specifically to suppressing lèse majesté content online. By mid-2012, MICT authorities claimed to have blocked 90,000 Facebook pages because of anti-monarchy content. That censorship followed on a late-2011 warning by MICT Minister Anudith Nakornthap that Internet users could be charged under the Computer Crime Act for "liking" online comments critical of the royal family.
"If you want to criticize the prime minister or other ministers, there's seldom a crackdown on political opinion, whether in newspapers or online," said Sinfah Tunsarawuth, a Bangkok-based independent media lawyer who monitors Internet freedom cases. Although he maintained that since the 1960s Thailand has allowed greater freedom of expression than most of its Southeast Asian neighbors, he added, "lèse majesté offenses have always been different."
Faced with these rising threats and restrictions, journalists and civil society groups have fought back in their respective countries in different ways. In Thailand, activist groups have campaigned against the Computer Crime Act's many draconian provisions, prompting a government-appointed review through the Human Rights Commission of the law's use in lèse majesté cases. In Vietnam, where public protests and rights-related advocacy campaigns are strictly prohibited, bloggers recently produced and distributed the underground book, F Generation, which chronicles the history of Vietnam's blogging movement and provides tips on how to access and use Facebook as a secure platform.
And in Malaysia, news organizations, bloggers, academics, and nongovernmental organizations voluntarily took down their websites in August 2012 in a symbolic "Blackout Day" to protest the government's Internet freedom-eroding amendment to the 1950 Evidence Act. "Malaysians cherish the freedom they have on the Internet," said Masjaliza Hamzah, executive officer of the Centre for Independent Journalism, a Kuala Lumpur-based press freedom advocacy group that spearheaded the blackout. "If push comes to shove, they will fight back and resist the control the authorities want to impose on them."
CPJ's Senior Southeast Asia Representative Shawn W. Crispin is based in Bangkok, where he is a reporter and editor for Asia Times Online. He is the author of the 2012 CPJ report, "As Vietnam's economy opens, press freedom shrinks."