Bloggers Targeted as Murders Spike in Brazil
By John Otis
On April 23, 2012, Décio Sá, the most influential journalist and blogger in the northern Brazilian state of Maranhão, was shot three times in the head by a gunman who fled on a motorcycle. Sá was killed two months after the murder of Mario Randolfo Marques Lopes, a combative blogger who ran a local news website in Barra do Piraí, a town about 90 miles northwest of Rio de Janeiro.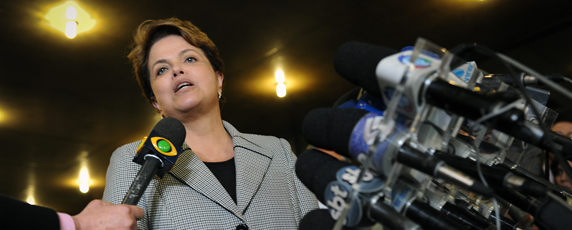 The deaths of Sá and Randolfo, the first Brazilian news bloggers to be killed for their reporting, are part of a wider increase in journalist murders in the country since 2011. Randolfo's case is also emblematic of a common plight for provincial journalists in Brazil: Without ties to major urban media outlets, these journalists lack visibility and the support of colleagues on a national level. Such a low profile can mean that the authorities feel little pressure to solve attacks on the provincial press. Unsolved attacks on journalists, in turn, can dissuade provincial reporters from investigating crime and corruption in their regions.
"When you have any kind of violence against journalists, this threatens other reporters who might want to do the same kind of work," said Marcelo Moreira, editor-in-chief of TV Globo in Rio de Janeiro and president of the Brazilian Association for Investigative Journalism, or ABRAJI. "This is especially true in Brazil, where the number of attacks is increasing. That's why we are so worried."
Journalists and law enforcement officials told CPJ during visits in September 2012 to São Luis, Barra do Piraí, and Rio de Janeiro that Sá and Randolfo were likely targeted for their aggressive reporting on local political corruption and organized crime–stories that were largely ignored by the country's major media based in Rio de Janeiro and São Paulo.
Radio journalists have often been gunned down in outlying areas of Brazil for their aggressive, often politically slanted reporting. But news bloggers, seen as more independent than radio reporters, have grown influential in many of the country's second-tier cities and towns. Thus, bloggers have become the newest targets of those who want to muzzle the Brazilian media. "Traditionally, the largest number of journalist deaths in the interior was among radio journalists," Jose Reinaldo Marques, an investigator for the Brazilian Press Association, an industry group based in Rio de Janeiro, told CPJ. "But that was until the bloggers came along."
There are no official figures on the number of reported news blogs in Brazil. A 2011 survey by the Brazilian government's Internet Facilitation Committee (Comitê Gestor da Internet no Brasil) found that 16 percent of online users in urban areas and 11 percent in rural areas had created blogs. The data revealed nothing about the nature of the writings, but it's clear that serious blogs and Internet news sites focusing on current events are popping up across the country. For example, in the northern city of São Luis, the capital of Maranhão state where Sá was killed, about 20 widely read blogs cover news and politics, according to Marco Aurélio D'Eça, a blogger who was one of Sá's closest friends.
D'Eça told CPJ that blogs and Internet news sites have shoved aside radio as the most important media in many provincial capitals and towns. These regions often lack aggressive hometown newspapers or TV stations, and they are largely overlooked by Brazil's major media.
Radio stations once filled some of the gaps, but many are owned by politicians, and their reporters often produce accounts that favor their bosses, he said. Although some bloggers are also aligned with and paid by politicians, D'Eça said, he and many other independent bloggers "have more freedom to investigate" issues like drug smuggling, human trafficking, and environmental crimes.
In addition, radio news is generally aimed at a less educated audience and airs for just a few minutes before disappearing. By contrast, D'Eça said, local news stories and commentaries published online can have more impact because these posts are usually aimed at a more literate audience of politicians, business leaders, and opinion makers. In addition, blog posts are available on the Internet for months and can be reposted and emailed to reach a broader audience. As a result, corruption, political scandals, and gossip in rural Pernambuco, Mato Grosso, Bahía, and other states–stories that in the past would have remained local–can now be read by Internet users across the nation and reproduced by the mainstream media.
Sá, 42, was a veteran political reporter at the region's largest newspaper, O Estado do Maranhão, which is owned by the Sarney family, a political dynasty headed by former President and current President of the Senate José Sarney, whose daughter, Roseana Sarney, is the state governor. The newspaper generally shies away from investigations or critical reporting about the Sarneys, said Saulo McClean, a police reporter for O Estado do Maranhão. McClean writes stories based on police reports, but he said his editors rarely push him to dig deeper.
Sá, however, made a name for himself outside the newspaper by starting in 2006 the independent Blog do Décio, which aggressively covered the intersection between politics and organized crime. "Décio had to follow the editorial line in his work at the newspaper but not on his blog," McClean said. "His blog was more informal. It included gossip and rumors, but he always went after the big fish." It quickly became one of the most widely read blogs in the state. Sá's sources were so good that sometimes he went too far and compromised police investigations, Maranhão Police Chief Aluísio Mendes said. "He was very aggressive," Mendes told CPJ. "Everybody read his blog."
The postings that might have led to Sá's killing concerned the March murder of a local businessman. Mendes said that Sá got ahead of the police investigation by linking the case to a network of Maranhão loan sharks who often doled out huge sums to political candidates in return for government contracts once their clients were elected. The murdered businessman, Fábio Brasil, had apparently failed to pay back his debt, Mendes said. Although Sá did not name names, several comments published beneath his original blog post alleged that the murder had been ordered by Gláucio Alencar and his father, José de Alencar Miranda Carvalho–the reputed leaders of the loan shark ring.
Because the ring leaders had corrupt police officers and politicians on their payroll, Mendes said, they were more concerned about what Sá might reveal on his blog than about the official police investigation. As a result, they hired the same gunman who had killed Brasil to murder Sá, Mendes said. Sá was shot dead while sitting in a bar in São Luis. He is survived by his wife, who was pregnant at the time of his death, and a young daughter.
Mendes told CPJ that solving the crime was a huge priority. Not only did the reporter work for the Sarney family, which demanded results, but Sá was the best-known journalist in Maranhão. "There was a sense that if they could kill Décio, they could kill anyone," Mendes said. A man was quickly arrested, confessed to being the gunman, and claimed the crime had been ordered by the Alencar family, according to Mendes. Gláucio Alencar, his father, and seven other suspects–including a police captain alleged to have provided the pistol used to kill Sá–were arrested, Mendes said. Alencar and the other suspects have denied the charges and, along with the alleged gunman, were awaiting trial in late 2012.
The Sá killing attracted widespread attention in the Brazilian press and was considered solved within 50 days. By contrast, the murder of Randolfo remains under investigation and has barely registered, according to Moreira, the ABRAJI president. Unlike Sá, Randolfo did not work for a major newspaper and had no heavyweight political connections. He was also based in a much smaller city, Vassouras, in southern Rio de Janeiro state, where he was founder, editor-in-chief, and the main blogger for the news website Vassouras na Net.
Like many independent Internet journalists, Randolfo supported himself by selling ads on his site to local businesses, according to Wilians Renato Dos Santos, a crime reporter for RBP Radio in the city of Barra do Piraí where Randolfo was killed. In his blog posts, Randolfo frequently accused local officials of corruption and had reported on an alleged network of hit men run by a former Vassouras police chief. "He challenged everybody," Dos Santos said. "He denounced crimes. He put a lot of people into difficult situations, and they wanted to make him shut up."
He described Randolfo as an honest, ethical reporter. J.C. Moreira, a friend of Randolfo and president of the local journalists union, said the blogger often proclaimed: "No one can buy me." But Barra do Piraí Police Chief José Mário Salomao de Omena told CPJ that Randolfo also published rumors and delved into the personal lives of officials, even reporting on their extramarital affairs. "He was like an unarmed sniper. He had no limits," said Omena, who was not a subject of Randolfo's investigations. "In a small town, that kind of reporting can be devastating. Wouldn't you want to kill someone if he said your mother was a whore and your father was unfaithful?"
In July 2011, an unidentified gunman entered the Vassouras na Net newsroom and shot Randolfo in the head, which left him in a coma for three days with a bullet lodged behind his right ear. He survived and later claimed on his website that he had been targeted in retaliation for his reporting on irregularities in the investigation of a local murder. No one was charged or arrested in that attack. For his safety, Randolfo moved in January from Vassouras to Barra do Piraí, a town of 88,000. But the two towns are just 15 miles (25 kilometers) apart, and Randolfo did not stop reporting for his website. "After the attack, I told him to be careful and to forget about doing journalism," his friend, Moreira, told CPJ. Because Barra do Piraí is so close to Vassouras, Moreira said, "I thought he was crazy to move here."
Randolfo was killed on February 9, 2012, along with his companion, Maria Aparecida Guimarães. Omena said their bodies were found by the side of a highway on the outskirts of Barra do Piraí. Both had been abducted from Randolfo's home the night before and shot to death early that morning.
Omena said the vast majority of homicide cases in Barra do Piraí are solved, but he acknowledged a lack of progress in the Randolfo case. Shortly after Randolfo's death, he told reporters that the journalist had "created such a large volume of enemies that it is difficult to know where to start" the investigation. In responding to written questions from CPJ, Ramon Leite Carvalho, the public prosecutor in charge of the Randolfo case, refused to discuss details, citing the continuing investigation.
In the wake of the Sá and Randolfo killings, President Dilma Rousseff's government has tried to play down the notion that Brazil is turning into a red zone for journalists, according to Moreira, the ABRAJI president. He pointed out that the 2014 World Cup will be played in 12 cities across Brazil and that amid the increased international scrutiny, the government is trying to push the idea that the nation is peaceful and reporter-friendly. But at least seven Brazilian journalists were killed in direct relation to their work between January 2011 and November 2012, making the nation one of the world's deadliest for the press. And the government has at times appeared insensitive to the problem. In April 2012, the Brazilian delegation opposed a UNESCO-led plan to combat impunity in journalist killings worldwide. After Brazil's position drew heavy criticism from ABRAJI and others, U.N. Ambassador Maria Luiza Ribeiro Viotti said in June that the country would support the plan as it moved forward at the United Nations.
Sá and Randolfo took a delight in tweaking the powerful, yet neither took any special measures to protect themselves, according to friends and colleagues. Fellow bloggers have reacted in different ways to their deaths. Gildean Farias, the Web editor for O Impartial, São Luis' oldest daily newspaper, said Sá's murder persuaded him to steer clear of politics in the blog he writes for the paper. D'Eça, by contrast, has been using his blog to continue with Sá's investigation of Maranhão loan sharks.
Reporter friends of Sá have kept his blog alive. But in rural Rio de Janeiro state, Randolfo's Internet site has been taken down and his death has meant one less watchdog in a part of the country with few journalists to begin with. There's been almost no follow-up in the Brazilian media about his case. And according to Moreira of ABRAJI, that means far less pressure on local authorities to find the killers.
Moreira said reporters based in Rio de Janeiro and São Paulo often view provincial journalists as biased, corrupt, and in bed with local politicians. Thus, he said, the major media pay less attention when these reporters and bloggers come under attack. Randolfo's murder did not make TV Globo's main newscast in Rio de Janeiro even though the blogger was gunned down in a nearby town. "If they are not writing for the big media, they are seen as nothing," Moreira told CPJ. "Yet these bloggers had the courage to write about the bad things that were happening in their communities."
John Otis, Andes correspondent for CPJ's Americas program, also works as a correspondent for Time magazine and the Global Post. He wrote the 2010 book Law of the Jungle, about U.S. military contractors kidnapped by Colombian rebels. He is based in Bogotá, Colombia.