Disdain for Foreign Press Undercuts China's Global Ambition
By Madeline Earp
China's new leaders have an opportunity to transform international media relations as they assume power in 2013. But their predecessors spent the previous year ensuring that reforms would take years to manifest–even if the new generation shows the political will to implement them.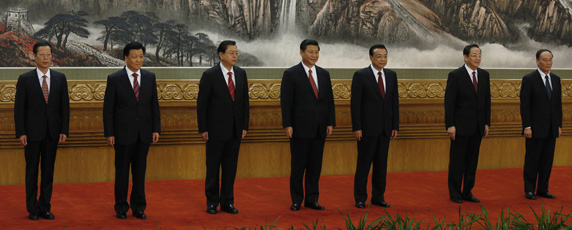 In 2012, Chinese leaders appeared less concerned than they had in some time with how their treatment of the foreign press corps was perceived internationally. The government forced a foreign correspondent out of the country for the first time since 1998 and allowed anti-foreign popular sentiment to flourish, to the detriment of international correspondents. Obstruction of reporting seemed particularly stark when looking back to the 2008 Beijing Olympics, when leaders tried to appease international media companies concerned about lack of access. The restrictive measures on the mainland came even as the Chinese Communist Party pushed an unprecedented expansion of its own news media into global markets.
In November, seven new members of the party's leading Politburo Standing Committee were selected at the 18th Party Congress, completing the long-planned ascension of Vice President Xi Jinping to the head of the party and positioning him to take the presidency at the March 2013 legislative session. Liu Yunshan, longtime leader of the propaganda department, was among the new lineup, which analysts described as conservative.
"Nothing should be ruled out," Robert J. Barnett, who watches China as the director of the Modern Tibet Studies Program at Columbia University in New York, told CPJ. "This is a new leadership, going through an unprecedented transition upheaval, facing unparalleled challenges from social and economic tensions in China."
But the press received little encouragement to chart these upheavals, with restrictions on visas and accreditations tightened ahead of the Congress and hotel owners instructed to report guests whose resident permits identify them as journalists, according to the translation of a notice by the California-based China Digital Times. It wasn't clear how Xi and his cohort might transition from this dismal beginning. To make the media globally competitive and functional as a domestic watchdog–especially as economic growth slows and wealth discrepancies continue to reverberate–reforming media policies in line with international norms is a necessity. Though many observers believe the new leadership recognizes the need for change, there's little hope this can be achieved within existing frameworks or with any urgency.
"Many people are hoping the new team will move towards greater transparency and a deeper commitment to freedom of the press, but it's premature to say if this is likely anytime soon," Melinda Liu, Beijing bureau chief of Newsweek/Daily Beast and a former president of the Foreign Correspondents Club of China, told CPJ.
A significant marker in 2012 came when the Ministry of Foreign Affairs declined to renew the accreditation of Al-Jazeera English correspondent Melissa Chan, forcing her to leave Beijing after five years. Delaying and denying visas–or threatening to revoke them–is a long-standing technique for discouraging critical reporters. But this de facto expulsion was the most egregious example CPJ had documented since the 1990s, and it cast a chill over the entire press corps because the motivation was unknown. When correspondents pressed spokesman Hong Lei for more information about the decision at a Foreign Ministry press briefing, he said, "With regard to the relevant issue, I think relevant media and journalists are clear about that." They weren't. Chan told CPJ she remains unclear about why the government would not renew her credentials. "The Chinese have not been entirely forthcoming," she told CPJ. "I guess we just won't be able to know." Under relatively unknown new leaders, foreign journalists will need to continue to guess which lines cannot be crossed.
Those who retained permission to work found their access eroded. In May, security officials summoned for questioning a dozen journalists covering the treatment of blind legal activist Chen Guangcheng in a Beijing hospital. At least two journalists' press cards were temporarily confiscated because the hospital parking lot was supposedly off-limits to reporters. Similarly, in 2011, police told international reporters seeking to cover anti-government protests–the Jasmine uprising that was crushed before it began–that they required advanced authorization to report, even though they were in one of the busiest shopping districts in the capital.
Nor were journalists able to get substantive information through official channels. In the digital media age, Foreign Ministry news conferences appeared particularly archaic. After Chen garnered global media attention for fleeing house arrest for the sanctuary of the U.S. Embassy in Beijing, Chinese Vice Foreign Minister Cui Tiankai told reporters he had "no information" on the case. In September, Xi Jinping's absence from public events prompted speculation about his health, with one journalist asking at a regular ministry news conference whether the official had died unexpectedly. "I hope you can ask a serious question," was Hong's response.
Officials' interactions with journalists on overseas trips were also characterized by suspicion. President Hu Jintao's refusal to schedule news conferences overseas drew strong criticism on a June trip to Denmark. Organizers of a September EU-China summit in Brussels canceled the post-meeting news conference, an established tradition at the event, after Chinese participants tried to vet attendees and limit the number of questions, according to The Associated Press. On a high-profile visit to the U.S. in February 2012, future president Xi didn't hold any news conferences, which may be an indication of the approach he will take in office.
This was "especially disappointing" to Melinda Liu, who headed the Foreign Correspondents Club of China during a window of openness shortly before the start of the Olympics in 2008. After the Sichuan earthquake in 2008, Liu said, "Premier Wen Jiabao held a press conference for foreign media near the epicenter of the quake where unscripted questions were asked and answered." International diplomacy also had some effect in promoting openness at the time. "During the year before the Games, the Foreign Correspondents Club of China had regular liaison with foreign embassies in Beijing to brief diplomats on changing regulations and events on the ground. It helped when foreign governments raised their concerns about press freedoms to the Chinese Foreign Ministry. And the ministry itself wanted to appear responsive to foreign journalists' concerns," Liu said. "However, the pendulum swung back toward greater restriction of media access."
The Foreign Correspondents Club of China faces its own share of restrictions. In August 2012, it issued a statement condemning four attacks against international reporters, but its activity was muted in comparison to past years. Though the group formerly logged incidents involving foreign correspondents on its website, the information has been circulated to a members-only list since mid-2010. A Foreign Ministry official threatened the organization with "serious consequences" should it continue to post such material, said Peter Ford, the club's president. He said the group interpreted the "vague and ambiguous threat" to mean that the authorities might close the club, officially an illegal organization, or make it hard for its leaders to work in China.
Foreign officials appeared to have limited ability to influence press conditions. Twenty-six German correspondents working in China wrote to Chancellor Angela Merkel asking her to intervene on their behalf during a visit scheduled in August. Some reports said she raised the issue privately, but there was no public result. CPJ appealed to U.S. Secretary of State Hillary Rodham Clinton and Danish Prime Minister Helle Thorning-Schmidt to raise the issue in their travels to Beijing, but the effort met with no apparent success. It's unclear if new leaders wanting to start off international relations on a fresh footing will be any more approachable.
Broad censorship of foreign news reports remained in place in 2012; international satellite channels, for example, were largely unavailable to the public. China Digital Times published a government listing, circulated in advance of the November Congress, that said 33 such channels were permitted in "domestic hotels serving foreigners rated three stars and above." Encoded signals from the channels are under the sole control of the state-owned China International Television Corporation. The government's notice said that no other venue could broadcast the signals without approval, according to China Digital Times.
The authorities blocked a June report by the U.S.-based Bloomberg news agency that examined the financial assets held by Xi Jinping's family and associates. Just months ahead of Xi's expected designation as the next president, this was an especially sensitive report. Bloomberg's terminal service, which provides real-time financial data, was unaffected by the censorship, although Hong Kong's South China Morning Post reported in September that the Chinese market for the service shrank in the aftermath of the report. In October, the website of The New York Times was blocked within an hour of the paper's publication of an exposé on the family wealth of outgoing Prime Minister Wen Jiabao. Earlier in the year, the Times reported that a Sina Weibo microblog account linked to its newly launched Chinese-language edition was censored within a week of being activated. Tight restrictions applied to Chinese journalists, too: Jian Guangzhou, who broke the story of contaminated Sanlu milk formula for the Shanghai-based Oriental Morning Post in 2008, quit the paper in October. "I definitely couldn't do [that investigation] today," Jian told the McClatchy news service.
Censorship and obstruction were accompanied by a rise in anti-foreign sentiment, as the party used state media to manipulate public anger. As the dispute with Japan over the Diaoyu or Senkaku islands in the East China Sea intensified in mid-September, propaganda officials withheld the habitual orders to suppress reporting on "mass incidents," the party's phrase for public disturbances. Violent anti-Japanese protesters took to the streets across major Chinese cities, encouraged by saturation media coverage. The repercussions were severe: Several Japanese companies temporarily halted production in China as thousands looted factories, and one man was beaten and partially paralyzed while driving his Toyota Corolla, news reports said. When police in southern Guangzhou resorted to tear gas to contain protesters, domestic media changed course and urged restraint. Censors blocked videos and search terms related to the demonstrations, according to The Associated Press. The Tokyo-based Overseas Courier Service Co. told the English-language Japan Times that Chinese customs officials seized at least two entire October issues of Japanese newspapers delivered by air for distribution in China, because they contained reports on the developing dispute. The report did not identify the newspapers by name.
If Xi Jinping and other new Communist Party leaders persist in this attitude toward foreign correspondents on home soil, they may find other states unwilling to cooperate with Chinese media expansion around the world. The conflict with Japan provided a small illustration when China protested the Japanese coast guard's detention of two journalists who had accompanied Chinese activists planting flags on the unoccupied islands–a rare instance of a foreign government obstructing the Chinese press. Japan promptly released the two reporters.
In June, a U.S. Congressional subcommittee on immigration met to consider the proposed Chinese Media Reciprocity Act of 2011, which would restrict the number of U.S. visas granted to journalists working for Chinese state media. The bill was based on a faulty analogy between American news outlets with state backing, like Voice of America, and the complex system of licensing in China that mandates some level of state sponsorship for all media. The bill's drafters identified only 13 state outlets, and hoped that China's fear of limited access for those outlets would prompt Beijing to offer more visas to their U.S. counterparts. CPJ opposed the act, which had not been passed by late 2012, on grounds that it would likely goad China into retaliation, not reciprocity, at the expense of journalists in both countries. But the bill served as a measure of the resistance Chinese journalists might encounter if their leaders refused to grant them independence.
An episode in Canada bodes ill for China's effort to create global media networks. Mark Bourrie, a 55-year-old Canadian who worked for the Xinhua news agency, publicly resigned in April after his employer asked him to report an event involving the Dalai Lama as an internal briefing, not as public news. Bourrie also said he had been told to gather names and addresses of anti-China protesters in Canada. Xinhua's Ottawa bureau chief denied his account, according to the Canadian Press, but the details rang true for analysts familiar with Xinhua's two-tier domestic publication system, which reserves sensitive content for government-only distribution. Linda Jakobson, East Asia program director of Australia's Lowy Institute for International Policy, highlighted another concern on the organization's blog in October, saying a Xinhua reporter had misquoted her as praising China's role in facilitating talks with North Korea. She had actually commented critically on China's involvement more than a year earlier, she wrote. "The official media continues to either censor or intentionally misconstrue any stance which does not conform to what the propaganda officials have deemed as the correct interpretation," Jakobson said.
Other factors undermine China's effort to find a global audience for its state media, such as the behavior of Yang Rui, the high-profile host of "Dialogue," a CCTV English-language talk show structured around debate with international guests. Encouraged by viral media stories about badly behaved foreign nationals and the launch of an official public campaign to tighten visa checks, Yang published a series of comments about "foreign trash" on his personal microblog, culminating in a reference to Melissa Chan's dismissal. "We kicked out that foreign bitch and closed Al-Jazeera's Beijing bureau," Yang wrote in May, according to a Wall Street Journal translation. After foreign guests boycotted his show, Yang grudgingly conceded that his choice of wording was "incautious." Select posts from his microblog archive–including one saying that U.S. journalists are "afraid of getting fired by their Jewish bosses"–were deleted, according to the Shanghaiist website, which published them in translation. Even in his belated October apology, Yang stressed that "foreign correspondents in China united" against him, which "proves the influence of our program."
Though Yang's language prompted widespread debate, the offensive post about Chan went unrebuked by propaganda officials. In fact, state media amplified it: The Global Times reprinted the language in a special section titled, "Foreign Devils or Angels?" This was particularly troubling since, like "Dialogue," the Times is geared to an English-speaking audience perfectly positioned to mediate between the Chinese state and the world. If these outlets continue to adhere to the state's disdain for their audience, they are unlikely to achieve commercial success. Blogger Charles Custer, who was based in Beijing at the time, described Yang as "one of the faces of China's soft power push" on his site, China Geeks. "The fact that [Dialogue's] host is apparently a racist xenophobe is probably indicative of how successful China's soft power push is likely to be," Custer wrote.
It apparently has not occurred to outgoing Chinese authorities that courting international journalists at home would be the surest way to kick-start soft power. If new leaders have a different view, it has yet to manifest. Even the announcement of the date for the Congress just before the National Day holiday seemed intended to elude, or at least annoy, the foreign press. "Announcement of … Nov 8 Party Congress date is Chinese equivalent of the Friday afternoon document dump, before a weeklong holiday," The Washington Post's Keith Richburg complained on Twitter, one of 13 similar reactions compiled by the China-based blog, Beijing Cream.
Also slipped quietly into the news cycle that Friday was the announcement that Bo Xilai, the ousted Chongqing Communist Party leader, would be prosecuted for abuse of power and other crimes related to the 2011 fatal poisoning of British citizen Neil Heywood over an alleged "economic dispute" with the erstwhile anti-corruption czar's family. Bo's wife, Gu Kailai, was given a suspended death sentence for that murder in August, though at least one Chinese forensic expert has disputed the evidence used in her trial, according to The Wall Street Journal. The story, and the corruption allegations surrounding it, rocked the nation when they were exposed earlier in the year–thanks in good part to a push by highly motivated international correspondents. Local journalists had long been stymied in their own efforts to reveal Bo's wrongdoing. A former CPJ award winner, Jiang Weiping, served six years in jail for anti-graft reports published in Hong Kong that implicated Bo when he was governor of Liaoning Province. A Chongqing freelancer, Gao Yingpu, was handed a three-year sentence in a closed-door trial in 2010 after criticizing Bo on his personal blog.
The decision to charge Bo was a victory for all those whose relentless pursuit of the story forced the party to investigate one of their own. Yet announcing the charge in a way intended to minimize overseas news coverage implied that his prosecution would take place on the party's terms, and not to appease critics of China's entrenched political corruption. It also underscored the ambivalence leaders have toward the foreign press corps, a community they still treat as agents of hostile powers, regardless of their essential role in the country's information culture. On November 1, China Digital Times reported that Chinese environmental protesters in southwestern Ningbo applauded international correspondents as "family" after domestic media refused to cover their concerns, clustering around reporters to protect them from police and spontaneously hoisting a cameraman above the crowd for a better perspective. China's new leaders might take heed.
Madeline Earp is senior researcher for CPJ's Asia Program. She has studied Mandarin in China and Taiwan, and graduated with a master's in East Asian studies from Harvard. She is the author of the 2010 CPJ report, "In China, a debate on press rights."