New York, December 4, 2012–An editor for a state-run paper and a reporter for a pro-opposition weekly died in Syria in recent days, lifting the death toll in the world's most dangerous place for the press.
"Journalists in Syria face myriad risks from multiple sources including targeted killings and the deadly crossfire of combat," said CPJ Middle East and North Africa Program Coordinator Sherif Mansour. "We call on all sides of this conflict to afford journalists the civilian protections they are entitled to under international law."
Naji Asaad, editor for the state-run daily Tishreen, was shot in the head by a sniper outside his home in the Tadamoun neighborhood of Damascus today, according to the state news agency SANA and other pro-government news outlets. SANA reported that the journalist was killed by "armed terrorist groups," a catch-all phrase the regime has used to describe all armed opposition fighters.
The Tadamoun neighborhood of Damascus has seen continuous fighting between rebel and government forces, according to news reports. Basel Tawfiq Youssef, a Syrian State TV reporter, was shot dead on November 21 outside his home in the same neighborhood, news reports said.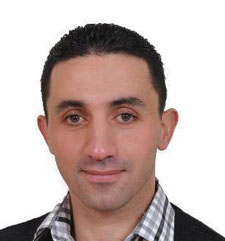 Mohamed Quratem, a reporter for the local pro-opposition weekly Enab Baladi (The Grapes of My Country), was killed in government shelling of the Damascus suburb of Darya on November 28, according to his employer and the pan-Arab news channel Al-Arabiya. Quratem and two local activists, Marwan Shurbaji and Abd al-Rahim Shurbaji, died when a mortar shell fell on the building in which they were working, Eiad Shurbaji, a relative of the killed activists and an exiled Syrian journalist, told CPJ. The three bodies were not discovered until November 30 because of the continuous shelling and the rubble, Shurbaji said.
Quratem was a founding member of Enab Baladi, which covers news on the conflict. The paper began publishing in January 2012 in response to the March 2011 uprising.
Darya has been under government siege since the beginning of November, according to news reports. Most people fled when the government offensive began, but Quratem stayed behind to document the siege and work with local and international media outlets to get news out of the city, Enab Baladi reported.
At least 27 other journalists have been killed while covering the Syrian conflict since November, including one killed just over the border in Lebanon, CPJ research shows. CPJ has ranked Syria the most dangerous place in the world for journalists.
In an unrelated development, a video surfaced on November 28 that showed Anhar Kochneva, a Ukrainian journalist who has been missing in Syria since October 9, saying she had entered Syria with fake credentials and had acted as a Russian spy by translating exchanges between Syrian and Russian government forces. CPJ and other press freedom organizations believe Kochneva was coerced into making the video. Kochneva had contacted her colleagues a few days after she was abducted and told them she was being held by the rebel Free Syrian Army, according to news reports.
For more data and analysis on Syria, visit CPJ's Syria page here.