News from the Committee to Protect Journalists, July 2012
CPJ calls for release of jailed Ethiopian blogger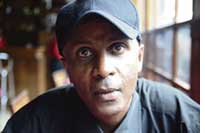 CPJ's condemnation of the trial and conviction of Ethiopian blogger Eskinder Nega this month has received widespread coverage in the international media, as has a follow-up story on the Ethiopian government's attempts to cover up news of Prime Minister Meles Zenawi's failing health.
CPJ joined a coalition of international rights groups, including the PEN American Center, in calling for the release of Eskinder, who was sentenced on vague terror charges. Members of the coalition issued a combination of petitions and protest letters in the international media to bring an international focus to the blatant violations of press freedom in Ethiopia. CPJ board member Charlayne Hunter-Gault also wrote a blog on how Ethiopians, especially Eskinder, are being denied the right to exercise their constitutional rights, such as freedom of expression or freedom of association.
Through its advocacy, CPJ has helped garner widespread global attention to the prosecution of journalists in Ethiopia as well as the country's restrictions on press coverage of high-ranking officials. Our advocacy has helped make Eskinder a key symbol in the global fight for press freedom.
Speaking highlights
CPJ Deputy Director Robert Mahoney provided testimony at the Tom Lantos Human Rights Commission of the U.S. Congress in Washington, D.C., on July 25. Mahoney spoke about the global threats to free expression and urged the international community to ensure that meaningful steps were taken to prevent attacks on press freedom. The deputy director also pointed out the deteriorating free press environment in Honduras, Russia, and Turkey, where journalists face repression, censorship, and outright violence
At the Global Voices Citizen Media Summit in Nairobi earlier this month, CPJ East Africa Consultant Tom Rhodes and CPJ Internet Advocacy Coordinator Danny O'Brien spoke about the challenges faced by journalists in East Africa and highlighted CPJ's Journalist Assistance Program, which provides direct help to journalists at risk, and CPJ's Journalist Security Guide. The two also briefed Nairobi's exiled journalist community on the increasingly prevalent digital security threats in Africa and described ways to curb the hazards.
O'Brien also spoke at "The Revolution in Mobile Media: Power (and Peril) to the People," a joint conference of the International Human Rights Funders Group and Grantmakers in Film and Electronic Media, which was hosted on July 16 at the Paley Center in New York. O'Brien's panel, "Security and Policy: How to Use Mobile Media Safely," examined specific policies that govern the use of technology and impact human rights.
A shameful award
For years, CPJ has called on UNESCO to suspend the controversial Obiang prize, pointing out that Equatorial Guinea's record on human rights, including press freedom, made it incompatible with UNESCO's mission. Despite widespread opposition, the prize, sponsored by Equatorial President Teodoro Obiang Nguema Mbasogo, was awarded by UNESCO on July 17 in France.
CPJ participated in a global coalition that fought against the award. While the groups could not stop the award, they were able to ensure that Equatorial Guinea paid a high price for its stubborn insistence–the country hired global public relations firms–in presenting the prize.
Conspicuously absent from the award ceremony were Irina Bokova, UNESCO's director general, and several Western leaders. The president himself did not show his face–and no wonder. The same week of the ceremony, France issued an arrest warrant for his son, Teodoro Nguema Obiang Mangue, on charges of money laundering. Obiang's son had failed to appear at an investigation to answer questions about how "he managed to spend millions of dollars despite earning a modest government salary," according to news reports.
An award for excellence
CPJ would like to congratulate our West Africa Consultant Peter Nkanga, who was a finalist this year in CNN's MultiChoice African Journalist Awards, which recognize excellence in African journalism. Nkanga's coverage of West Africa spans stories on Nigeria and Equatorial Guinea, and also includes the controversial report on the threats and harassment that Liberian journalist Mae Azango faced after reporting on female genital mutilation in the country.
Upcoming events
In August, CPJ will be releasing a special report on the deteriorating press freedom environment in Venezuela. The report, which analyzes President Hugo Chávez Frías' use of legislation to diminish free expression, will be available in English and Spanish.
Donate
CPJ's Distress Fund provides emergency grants to journalists facing persecution for their work. Support our work and give a gift today.
Blog highlights
Egypt's state-run media threatened by Shura move
The Maldives backslides on press freedom
Internet law: a good bad example of Russia's backsliding
Bossa Nova's home and Olympics host is risky for press
Victory for press freedom in Sarkozy video case