News from the Committee to Protect Journalists, April 2012
CPJ launches Journalist Security Guide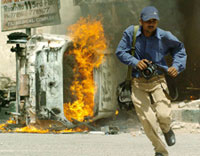 CPJ launched the Journalist Security Guide recently, which provides reporters with concrete steps to minimize the dangers of digital and physical reporting. In the guide, Danny O'Brien, CPJ's Internet advocacy coordinator, and Frank Smyth, CPJ's senior security consultant, discuss the threats facing journalists and outline the relevant steps journalists should take in considering their safety.
The guide, which was created in consultation with prominent journalists such as Sebastian Junger, Umar Cheema, and Carolyn Cole, includes six videos and also features guidelines on protecting digital information, preparing for armed conflict, covering organized crime, and mitigating the risk of sexual violence.
To continuously present journalists with up-to-date security information, CPJ is also launching the Journalist Security Blog, a platform that features posts by CPJ and guest bloggers on safer mobile use, first-aid training courses, and new ways to ensure journalist safety.
The Journalist Security Guide is available online in Arabic, English, French, and Spanish. It can also be downloaded in e-reader, iBook, and pdf formats.
2012 Impunity Index now online
On April 17, CPJ launched its 2012 global Impunity Index, which spotlights countries where journalists are slain and their killers go free. The index showed that unsolved journalist murders have risen sharply in Mexico, continuing an alarming trend in the country. In addition, Pakistan's impunity rating worsened for the fourth straight year as authorities failed to bring prosecutions in journalist murders, including several with suspected government links.
Among the four worst nations in combating journalist murders–Iraq, Somalia, the Philippines, and Sri Lanka–CPJ found virtually no sign of progress. But the index did chart improving conditions in Colombia and Nepal, along with a long-term decline in deadly, anti-press violence in Bangladesh that caused that country to drop off the list entirely.
The index, which is available in English, Arabic, French, Portuguese, Russian, and Spanish, is accompanied by an online video that highlights the report.
The Impunity Index is part of CPJ's Global Campaign Against Impunity, which is supported by the Adessium Foundation, the John S. and James L. Knight Foundation, the Omidyar Network, and the Open Society Foundations.
Liberian journalist visits CPJ
CPJ welcomes Liberian journalist Mae Azango, who will be visiting the CPJ offices in New York today. Azango is an award-winning journalist who has been recognized for her reporting on reproductive issues by the U.S.-based Pulitzer Center.
After Azango was threatened and forced into hiding last month for reporting on the widespread practice of female genital mutilation in her country, CPJ used news reports and a social media campaign to extensively advocate on her behalf. CPJ Executive Director Joel Simon also wrote President Ellen Johnson Sirleaf a letter, asking her to end the threats against Azango and protect her.
The Liberian government, which has remained silent on the issue for years, responded to CPJ with a brief statement, then finally declared the temporary suspension of the practice. The government's decision to publicize its stance on FGM was in direct response to both international pressure and CPJ advocacy.
Spotlight on countries that curb commitment to press freedom
After delegates from Brazil, India, and Pakistan failed to endorse the UNESCO Draft Plan of Action on international efforts to combat anti-press violence last month, CPJ expressed its dismay in a letter to Brazilian President Dilma Vana Rousseff and asked her to ensure that the government upheld its commitment to press freedom.
CPJ representatives were present at the UNESCO meeting and reacted publicly to its outcome, drawing attention to the plan's potential derailment. A Brazilian activist group, Associacao Brasileira de Jornalismo Investigativo, reposted CPJ's letter, drawing even more attention to the issue, and local media wasted no time in covering the story that Brazil, as a global leader with major influence, had failed to combat anti-press violence. The Ministry of Foreign Affairs reacted by arguing that Brazil only opposed parts of the Plan of Action text and the procedure to approve it.
The local media in Pakistan also picked up the story. An article published by the English-language daily The News began: "The government showed its true colour on the question of press freedom in a recent meeting of Unesco in Paris." The article, which quoted CPJ Senior European Consultant Jean-Paul Marthoz, spurred greater local press coverage over the country's objection to the plan that would combat anti-press violence.
On April 13, the UNESCO Chief Executive Board approved the Plan of Action despite Brazil and Pakistan's failure to endorse it.
Brazil, Pakistan, and India are listed for the second consecutive year on CPJ's 2012 Impunity Index.
Two Somaliland journalists released
Earlier this month, Ahmed Ali Farah, a reporter for Royal TV, was arrested in alleged violation of Somaliland law, and Abdisaman Isse, a reporter for Universal TV, was taken into custody while visiting Farah. When the authorities did not disclose the journalists' charges, the Somali Journalist Association, in partnership with CPJ, met with government officials and used CPJ's alert to call for their release. The authorities released Farah and Isse without condition.
CPJ provides support in Somalia
CPJ's Journalist Assistance program worked with a coalition of international and regional groups to provide financial support for injured journalists in Somalia after the Mogadishu bombing this month. The explosion at a national theater killed about 10 people and injured at least eight journalists. As several of the injured journalists remain in critical condition, CPJ and its partners continue to work to ensure they receive medical care. This support is part of an East Africa initiative, which was launched in Nairobi in December.
CPJ's IPFA winner receives UNESCO prize
Azerbaijani journalist Eynulla Fatullayev was awarded the 2012 UNESCO/Guillermo Cano World Press Freedom Prize in a joint nomination by CPJ and other partner organizations. The UNESCO press prize, awarded on May 3, World Press Freedom Day, is given to a person or organization that promotes or defends press freedom around the world despite facing risks.
As the former editor of Azerbaijan's Realny Azerbaijan and Gundalik Azarbaycanm, Fatullayev served a four-year prison sentence on fabricated libel charges after reporting on his country's obstruction of justice in the murder of his colleague, Elmar Huseynov. CPJ supported Fatullayev and his family throughout his trial process until he received a presidential pardon in 2011.
In 2009, when CPJ honored Azerbaijani journalist Eynulla Fatullayev with an International Press Freedom Award, he was unable to receive it because he was in prison. In November 2011, Fatullayev walked on stage as a free man and received his award.
Upcoming
On May 2, CPJ and Columbia University's Graduate School of Journalism will host a two-part panel on physical safety and digital security. Moderated by CBS correspondent Lara Logan and Columbia digital guru Emily Bell, the panels will feature well-known journalists discussing the pressing security issues facing members of the news corps today.
On May 2, the day before World Press Freedom Day, CPJ will release its much-awaited 10 Most Censored Countries list, which ranks the most oppressive regimes in the world. The report, which updates the 2006 list, will highlight state-sponsored censorship as one of the largest threats to journalists.
An auction will be held on May 15 to support the family of freelance photographer Anton Hammerl by the nonprofit Friends of Anton. Hammerl was shot and killed by government forces in Libya on April 5, 2011.
Donate
CPJ's Distress Fund provides emergency grants to journalists facing persecution for their work. Support our work and give a gift today.
Blog Highlights
Internet giants submit to external free expression scrutiny
Chinese censors target tomatoes amid Bo Xilai scandal
El Salvador government pledges to protect El Faro