On January 8, 1912, South African intellectuals–including pioneering black newspaper publishers Pixley ka Isaka Seme, editor of Abantu-Batho, and John Langalibalele Dube, editor of Ilanga lase Natal–formed Africa's oldest liberation movement, the African National Congress (ANC), in the Wesleyan Church in Bloemfontein.
During weekend centennial commemorations of this event, twitter users made the #ANC100 hash tag a global trend. The lively social media debate illustrated both the discomfort many Africans feel toward criticism of their leaders, and the role as scapegoat that the media is currently playing as the ANC struggles to hold onto a decisively positive legacy. It also highlights the growing influence of social media in South Africa, where the number of Twitter users is estimated to have increased 20-fold in little more than a year, according to Bizcommunity.com.
The current ANC leadership has maligned the South African news media for what it calls unfair coverage. The National Assembly that it controls has passed an information bill (still pending approval by the upper house) that would restrain investigative reporting and make information harder to get – apparently all in a bid to suppress corruption stories and silence criticism. As such, journalists tweeting critically about the party over the weekend met with antagonism on social media from ANC supporters.
For example, after Time's South Africa-based correspondent Alexander J. Perry tweeted the headline of his article, "How the ANC lost its way, A critical look at the most storied of liberation movements on its centenary," a twitterer called Khaya Dlanga accused the journalist of unbalanced reporting. "You didn't call it a failed state, but you wrote your Time Magazine article like you were writing about one," tweeted Dlanga, who claimed his grandfather died after being imprisoned and tortured during apartheid. "Reading the article seemed to me like the ANC didn't do one good thing these past 17 years," Dlanga said. "Yes, I do feel that most of our leaders are not living up to the ideals of the founding fathers," he added, before declaring: "I criticize the ANC all the time, but I don't pretend they never do any good." Perry defended the story but welcomed the feedback. "As you know, feedback, like yours, is vital for any media," he tweeted.
"All the reports I've seen, by both local and international media, about #ANC100 point out how the ANC has let itself go in recent years," complained @Mabine_Seabe. "Y is the media focusing on what ANC is not doing, instead of celebrating with them," asked @morudilebo. "What's so hard for Media houses just to congratulate #ANC100 and stop talking about discontents of past 17 years?" said @mokhathi.
There were other signs of ANC-media tensions after several journalists criticized President Jacob Zuma's speech at a local stadium in the municipality of Mangaung on Sunday. "The story of Mangaung so far today. Two themes. How slowly Zuma is delivering his speech and how quickly people are leaving. Sigh," tweeted Channel 403 news anchor Iman Rappeti. In response, Mzi Dlanga, a Zuma supporter, tweeted: "Some idiots are criticizing President Zuma's speech & if u were to give them a piece of paper & a pen they wouldn't even know where to start." Dlanga also accused journalist and political analyst Justice Malala of bias against the president. "My guess is that Justice Malala would be attacking the character of Mr Zuma & he won't give us balanced analysis of the ANC," he tweeted.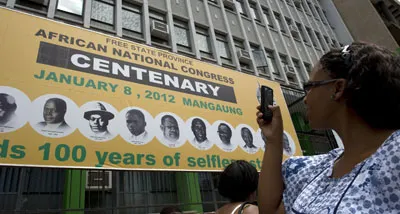 Reporting on Zuma's speech, journalist Mandy Rossouw tweeted that "A faction in the crowd tries their best to distract Zuma, police sent in to stop them." Zuma supporter MthimkuluMashiya responded, "JZ speech shaping up to be a powerful & inspirational one, must u concentrate on a few disruptive elements? C'mon now."
Earlier, City Press Multimedia Editor Qhakaza Mthembu complained about the official decision to deny journalists access to the Wesleyan church where Zuma lit a symbolic torch. "Why would you invite the media if you gonna push us away and close church doors, I'm here to film the candle not the friggin doors," she angrily tweeted. Mthembu later sarcastically expressed her surprise at seeing an ANC spokesman lounging in the media pavilion, drawing an even more sarcastic comment by @drphobophob: "Oh is Floyd Shivambu chilling in the media pavilion? I was pretty sure he hated our kind…1st rule of war=know your enemy."
The South African Press Agency, a non-governmental agency around since 1938, made note of an apparently deliberate act by the ANC Youth League (ANCYL) to shut out the media by not distributing their public statement to journalists. "#ANCYL message of support not in booklet handed to journos at ANC Centenary, just Sanco, Cosatu, Sacp, women's league and veterans league," read a tweet on its account.
Yet not all criticism of the ANC appeared to come from members of the press. "The #ANC pops champagne yet majority of South Africans struggle to access clean water. "tweeted @bekezeep. "At #ANC100 look out for all the dictators with murky Zuma…" tweeted @hebbiedodds. "LEADERS typically arrive in the latest range rover while the masses are ferried in belching buses," tweeted @Ms_eazy. "Celebrating 100 years of what? Have we achieved the true victories set out in the Freedom Charter?" tweeted @SuGaRusHB. "Gotta wonder what #anc100 concert really cost us? How many houses schools or hospitals could we have built? How many kids could we have fed?" tweeted @TracyLeePurto. "Anc was started by theologians yet today its criminals that run it," tweeted @MaqPaulM.
In a microcosm of the national debate, Zuma supporters confronted a twitterer called Hlomla Dandala for mocking the president. "Mangaung: Where tenderprenuers meet pantyprenuers," read one of his tweets, a witty reference to corruption and sex scandals entangling several ANC leaders. Defending himself, Dandala tweeted to a handful of Zuma supporters: "In all democracies, presidents r criticised, ridiculed & mocked. That's democracy."
The best line came from National Director of Public Prosecution Menzi Simelane, tweeting in his personal capacity. "Good thing about real freedom is about making fun of your President, an elder, and a Statesman, without worrying about repercussions!" he said. However, given pending criminal complaints by Zuma's spokesman against two journalists, as well as other potential media prosecutions, repercussions against investigative reporting cannot be ruled out.
UPDATE: This post has been corrected to reflect that City Press Multimedia Editor Qhakaza Mthembu is a female, and that the South African Press Agency is not state-run as previously stated.