The Torch is a weekly newsletter from the Committee to Protect Journalists that brings you the latest press freedom and journalist safety news from around the world. Subscribe here.
Russian authorities passed new restrictive legislation and blocked local and international media outlets and social media platforms in order to censor information about the war. The move plunges Russia into "an information dark age," said CPJ Executive Director Robert Mahoney. A local journalist told Mahoney, "The Russian media is dead." Watch Brian Stelter's interview with Mahoney on CNN's Reliable Sources show here.
CPJ spoke to journalists covering the war about the situation in both Ukraine and Russia. Sevgil Musaieva, chief editor of independent Ukrainian news site Ukrayinska Pravda, spoke to CPJ about the risks she and her team in Ukraine face covering the invasion; Dozhd TV editor Tikhon Dzyadko shared why he fled Russia and shut his broadcaster down; and Russian journalist Irina Borogan spoke to CPJ from exile about Moscow's censorship of the Ukraine invasion. At least 150 Russian journalists are believed to have left the country in the face of Moscow's crackdown on independent Russian media.
Other press freedom news from the Russia-Ukraine war:
Find the latest updates on the Russia-Ukraine war here. To receive daily updates on press freedom and the war in your inbox, subscribe to CPJ's Europe and Central Asia email alerts here.
Spotlight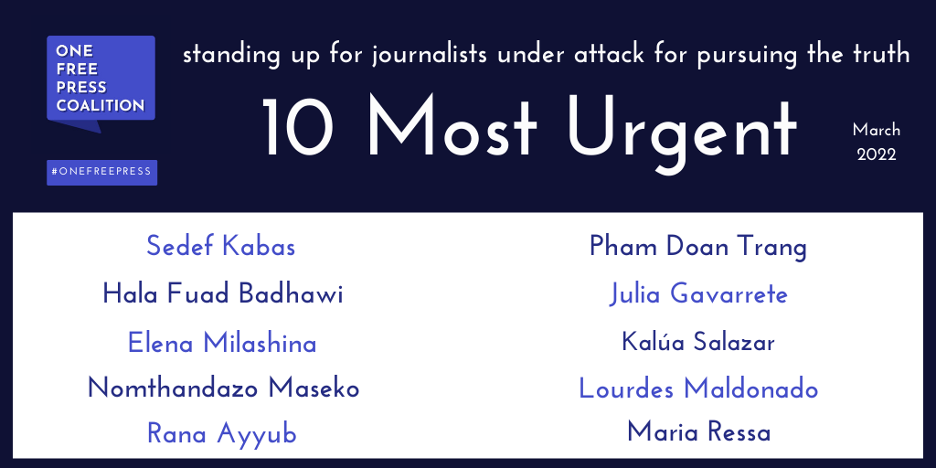 To mark International Women's Day this week, CPJ published a new video highlighting the courageous work of female journalists. CPJ also highlighted individual cases, such as Ukrainian journalist Olga Rudenko, editor of the Kyiv Independent, who, alongside other brave Ukrainian female journalists, has been covering Russia's invasion of the country.
The One Free Press list this month focused on cases of female journalists under threat globally. Read their stories here.
---
This year, the International Journalism Festival in Perugia, Italy, will offer free safety clinics for independent journalists on April 7 and 8. The clinics, which are organized by ACOS Alliance signatory organizations including CPJ, provide a unique opportunity for journalists to receive one-on-one safety advice from industry-leading experts. RSVP here.
What we are reading
Explore our database of attacks on the press.
Do you have an Amazon Alexa-enabled device? Enable CPJ's flash briefing skill to stay up to date with the latest press freedom news from around the world.