The Torch is a weekly newsletter from the Committee to Protect Journalists that brings you the latest press freedom and journalist safety news from around the world. Subscribe here.
As journalists, media workers, and their families face increased risk in Afghanistan following the U.S. pullout, CPJ welcomes the priority inclusion of Afghans who are or were employed in Afghanistan with U.S.-based media outlets in the U.S. Refugee Admissions Program, and calls on the Biden administration to ensure the program is inclusive and accelerated. "Given the potential for violence against journalists following the U.S. military withdrawal, it is imperative that the process for this priority designation be expedited," said Michael De Dora, CPJ's Washington advocacy manager.
Spotlight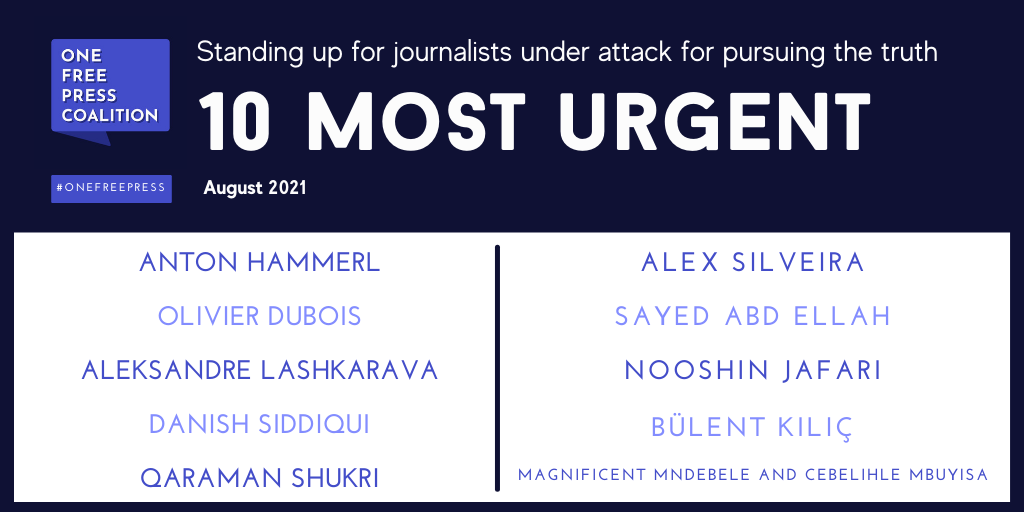 This month, ahead of World Photography Day, August 19, the One Free Press Coalition highlights cases of photojournalists, filmmakers, and camera operators who have experienced a range of threats in retaliation for their work, from lawsuits to kidnappings, to imprisonment, to physical attacks. One photographer, Anton Hammerl, was killed in Libya ten years ago. His family is seeking accountability through the #JusticeForAnton campaign.
Photojournalists experience a unique set of challenges as the nature of their work necessitates direct access to the action. In a 2018 global survey of photojournalists, 90% of respondents told CPJ they had worked in high-risk environments and almost half had been injured while working.
Learn more about photojournalists and CPJ's #SafetyInFocus campaign highlighting photojournalist safety here.
Do you have an Amazon Alexa-enabled device? Enable CPJ's flash briefing skill to stay up to date with the latest press freedom news from around the world.