Conclusion
The late political scientist Joel D. Barkan wrote in 2013: "Kenya is the anchor of eastern Africa and the region's geopolitical and economic hub; conditions there determine the region's stability, security, and prosperity." Though Kenya's 2010 constitution sought to ensure that the country's media and its information, communications, and technology sectors develop and thrive, there are worrying signs that old efforts to control the media are undermining this freedom through the passage of poorly drafted and restrictive legislation, commercial pressures, and threats and attacks on individual journalists and bloggers.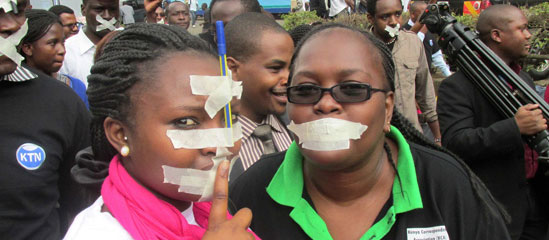 There is also a dangerous temptation to use the security threats facing Kenya to censure or silence the press—as witnessed after the attack on Westgate mall and other violent incidents. As U.N. Secretary General Ban Ki-moon observed at a White House summit on countering violent extremism: "Governments should not use the fight against terrorism and extremism as a pretext to attack one's critics."
Veteran journalist and lecturer at the University of Nairobi's School of Journalism George Nyabuga told CPJ that if issues of national concern are not addressed and exposed by an independent media, abuses will continue. "How can we project positive development if left in the dark?" Nyabuga asked. "A censored press contributes to curbed development and a dangerous status quo, allowing inimical elements in Kenyan society to thrive."
More in This Report
In Print
Government Information Secretary Ezekiel Mutua said Kenya is an open society, committed to freedom. "Freedom of media and access to information: These are values the president has made me believe he cherishes; as his employee, I say the same thing," Mutua told CPJ.
Yet as this report illustrates, a multitude of threats is undermining those freedoms and putting at risk Kenya's promising economic growth. Freelance journalist and Nation columnist Murithi Mutiga wonders whether Kenya will further curb its freedoms, or stay true to the letter and spirit of openness envisaged in its 2010 constitution.
"The instinct of those in power is that we should have a stronger state," Mutiga told CPJ. "They admire Putin more than Obama. Now you have people … with a very good spin operation, one of the smoothest in the region. They are the sons of Moi. We have a progressive constitution, but a constitution in the hands of a man can be manipulated in different ways."
CPJ's Recommendations
To the Kenyan Government
Given the legal challenge by media houses and civil society to laws passed in 2013, President Uhuru Kenyatta should publicly reaffirm his government's commitment to the role of an independent and robust press as a cornerstone of Kenya's democracy and a vital part of its socio-economic and political development.
Amend the Parliamentary Powers and Privileges Bill and the Public Audit Bill to include press freedom principles, aligning it to the letter and spirit of the 2010 constitution and international best practice.
Expeditiously investigate the April 2015 murder of John Kituyi, and renew the investigation into the 2009 murder of Francis Nyaruri.
Repeal sections of the penal code so that defamation is no longer a criminal offence, in accordance with the 2010 call by the African Commission on Human and Peoples' Rights and international best practice.
In consultation with the Media Council of Kenya develop and include a module in the police training program on the rights and role of the press.
Create and maintain information channels for systematic, prompt, and detailed communication between officials—at national and county level—and the media.
To the Media Council of Kenya
Amend the accreditation process so that it is not linked to qualifications, nor the right to work as a journalist, and does not amount to licensing of journalists.
Set up a dedicated system to document and support journalists who have received threats in relation to their work and engage the authorities to pursue justice.
Roll out a systematic series of meetings between county officials, journalists, and editors to build a common understanding of press freedom and the role of the media in a democratic society, informed by Kenya's constitutional safeguards.
To Media Organizations
Ensure a clear separation between editorial and commercial departments so that journalists are free to investigate and report without fear of influence from special or powerful interests.
Embrace the "Global Safety Principles and Practices" and provide appropriate security and hostile environment training for staff and freelance journalists, support them in the event of threats or attacks, and hold police accountable for thorough investigations.