Introduction
On April 18, two journalists arrived near a state-owned ranch in Tana River County in southeast Kenya to investigate residents' claims that local paramilitary police had impounded a large herd of cattle for allegedly trespassing and were demanding bribes to release the animals. Before the journalists got out of their car, about 15 officers attacked them, beating them with wooden clubs and metal rods, according to one of the journalists, news reports, and video footage of the attack. Both journalists were hospitalized, one with a broken leg.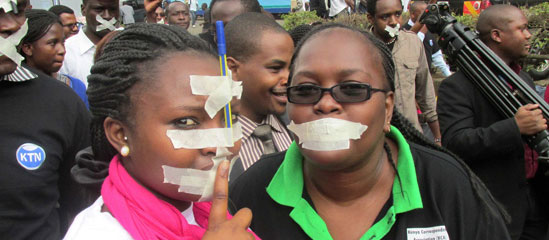 "If we had broken the rules, they should have arrested us instead of breaking our bones," one of the journalists, Reuben Ogachi of privately owned station Citizen TV, told the press after filing a statement with police.
The assault was emblematic of the deteriorating state of press freedom in Kenya. Though it did not achieve its immediate purpose—designed to suppress media coverage, the assault was instead aired on more than one television channel—such attacks, if carried out with impunity, can intimidate journalists into censoring their own reporting, CPJ has found. At the time of writing, no action had been taken against those who carried out the assault in Tana River County.
More in This Report
In Print
While most of the risks that Kenyan journalists face today are more subtle than an attack with a metal rod, they are nonetheless effective. In interviews with more than a dozen journalists and reviewing published accounts, CPJ found that Kenyan reporters, editors, and publishers are exposed to threats of being hurt, prosecuted, imprisoned, or simply having crucial advertising withdrawn. Media are manipulated by dominant corporations, and news outlets are subject to the whims of their politician-owners or publishers who want to cozy up to power.
"Something that was meant for the public good [is subverted] to something for sectarian interests," said veteran journalist and columnist Kwamchetsi Makokha.
Since President Uhuru Kenyatta's Jubilee coalition came to power in 2013, several laws have been drafted (and some have passed) that undermine the media's self-regulation, allow for heavy fines, restrict the handling of classified information, and would impede reporters' access to Parliament. The legislation has been introduced despite Kenya having adopted a new constitution in 2010 that guarantees freedom of the media and specifies that the state shall not "exercise control over or interfere with any person engaged in broadcasting, the production or circulation of any publication or the dissemination of information by any medium," or "penalise any person for any opinion or view or the content of any broadcast, publication or dissemination."
"This is one of the most hostile regimes we have seen to press freedom," said David Ohito, digital content editor at the Standard Group. "Consider the number of laws proposed, those enacted, and those that we have challenged in court and remain suspended, and you see a media situation in Kenya that is worse than in the single-party era."
The deteriorating climate for the media comes at a time when press scrutiny and public discussion are essential for continued development of Kenya's democracy and economy. As evidenced by the April massacre at Garissa University that killed at least 147 people and the 2013 terror attack on Nairobi's Westgate Mall, the country faces a strong security threat from Al-Shabaab militants based in neighboring Somalia. The country's deputy president is under indictment from the International Criminal Court (ICC) in The Hague for alleged crimes against humanity, while the ICC withdrew similar charges against the country's president in December 2014. The economy is one of the fastest-growing in Africa, and the government is spending billions of dollars a year on infrastructure, but growth has been uneven and the country has the greatest inequality in East Africa. The high price of land has led to evictions and exacerbated corruption.
"Pursuing mega projects while shrinking the space for freedoms and rights and failing to strengthen governance institutions is the weakest link in our development agenda," Karuti Kanyinga of the Institute for Development Studies at the University of Nairobi wrote in January. Whether induced by fear of repercussions or outright bribery, the media's watchdog role in development projects has been weakened, Makokha and Nation columnist George Kegoro wrote. Instead, questionable tender processes are seldom scrutinized, which can enable abuses such as over-spending, Makokha said.
Yet security operations, anti-terror operations, the ICC case, state spending, land deals, and corruption are the most sensitive topics most likely to get journalists in trouble, CPJ found.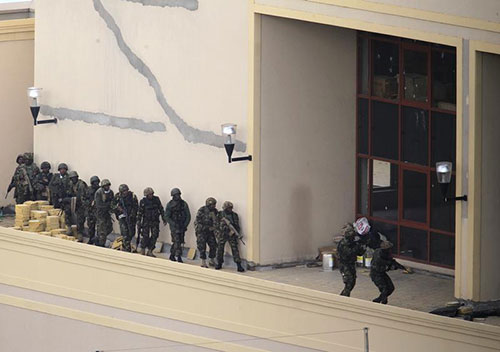 Kenyan government Information Secretary Ezekiel Mutua disagrees. "The media has never been freer," Mutua told CPJ. "There is no reason for journalists to fear." He said Kenyatta has held more press conferences in the two years that he has been in office than the three presidents before him combined. In July 2013, in what news reports described as a first-ever exchange of views between a sitting president and editors, Kenyatta made assurances of his commitment to media freedom, saying he wanted to be "partners" with the media, according to the reports.
What happens in Kenya has ramifications beyond its borders. Kenya is a role model for economic development in East Africa, and—given the feisty, independent nature of many of its journalists—could also be a model for freedom of the press. A Brookings institute analysis of the country's economy described Kenya as an "anchor" in the region with "wider democratic space compared to its neighbors." Yet, to fulfil its promise as a leader in the democratic arena, Kenya needs to further distinguish itself from some of its neighbors. The government of Ethiopia has chosen to imprison critical journalists; Somalia ranks second on CPJ's Impunity Index, which spotlights countries where journalists are murdered regularly and their killers go free. In Rwanda, censorship and self-censorship are pervasive, CPJ has found.
Kenya's 2010 constitution commits it to a higher path—one that acknowledges citizens' fundamental right to freedom of expression and the value of an open and robust exchange of critical views. It is unclear, however, whether Kenya's ruling coalition will live up to that commitment.