From Earthquakes to Tsunamis:
Mexico, November 2007, flooding Heavy rainfall caused four rivers to breach their banks. Tabasco and Chiapas states were left without drinking water or electricity. Hundreds of thousands of people had to evacuate. Killed: 19 Affected: More than 1 million Damages: US$45 million
Bangladesh, November 15, 2007, Cyclone Sidr The cyclone struck the coast as a Category 4 storm, destroying infrastructure as it moved inland. An estimated 1.2 million homes were destroyed. Local journalists were instrumental in detailing the extent of the damage. Killed: More than 3,000 Affected: 7.3 million Damages: US$2.3 billion
China, May 12, 2008, earthquake A 7.9-magnitude earthquake hit Sichuan province, collapsing 7,000 schools and killing 5,335 students. At least 64 aftershocks were recorded. Authorities obstructed journalists covering the disaster. Killed: 87,000 Affected: 46 million Damages: US$20 billion
Burma, May 3, 2008, Cyclone Nargis The cyclone hit the Irrawaddy Delta. Twelve-foot tidal waves caused massive loss of life and property. Facing criticism for a sluggish response, the government exerted fierce censorship of news media. Killed: 138,000 Affected: 2.4 million Damages: US$4 billion
Haiti, January 12, 2010, earthquake A 7.0-magnitude earthquake struck 16 miles west of Port-au-Prince. At least 52 aftershocks were recorded. News media infrastructure was crippled; at least 30 journalists died. Killed: 222,000 Affected: 3.7 million Damages: US$14 billion
Iceland, April 14, 2010, volcanic eruption Ash from Eyjafjallajökull eruptions disrupted air travel in western and northern Europe for weeks, affecting millions of travelers. Affected: 10 million Damages: $1.7 billion
Pakistan, July 2010, flooding Nearly a fifth of the country was under water, entire villages were washed away, and millions of people were affected. Much of the press was unable to gain access to flooded areas. Killed: 1,100 Affected: Up to 12 million Damages: US$9.5 billion
Indonesia, October 25, 2010, earthquake, tsunami, volcano A 7.7-magnitude earthquake west of Sumatra caused 10-foot-high tsunami waves to hit the coast. Hours later, eruptions from Mount Merapi forced thousands to flee. Killed: At least 500 Affected: More than 60,000 Damages: More than US$1 billion
Japan, March 11, 2011, earthquake, tsunami A 9.0-magnitude earthquake triggered a massive tsunami in the north, killing thousands and affecting millions more. The government blocked online and foreign media from press conferences, avoided questions, and created a task force to crack down on websites seen as spreading rumors. Killed: 15,485 Affected: More than 50 million Damages: Estimated US$309 billion
United States, August 2011, Hurricane Irene Irene made landfall in the state of North Carolina as a Category 1 hurricane. Within two days, Irene reached Canada, leaving a trail of destruction in its wake. Killed: 56 Affected: At least 65 million Damages: More than US$6 billion
---
Earthquakes, hurricanes, tornados, floods, tsunamis, cyclones, monsoons, volcanic eruptions, fires, avalanches, and landslides can all strike with little or no warning. Breakdowns in communication, transportation, and power should be expected. The ability to either report or disseminate information may also be impaired. Establishing redundancies to maintain communications with colleagues is essential. Two-way radios may be necessary, for instance, if local cell phone towers are down. Newsrooms should prepare in advance for the possibility of natural disasters in their vicinity by preparing a detailed contingency plan. Journalists assigned to cover natural disasters overseas or otherwise away from their newsroom should review field safety protocols before departure.
Freelance Risks
Freelancers should draw up a risk assessment before traveling to a scene, identifying potential hazards, detailing plans to effectively communicate with editors and others, and charting multiple potential exit routes.

A sudden natural disaster can create immediate opportunities for freelance journalists. But stringers must understand that they may have to navigate the risks and accept potential consequences on their own. Freelancers would be well advised to contact editors in advance to secure interest in possible stories, and to determine the level of institutional support a news organization will provide. Freelancers should draw up a risk assessment before traveling to a scene, identifying potential hazards, detailing plans to communicate with editors and others, and charting multiple potential exit routes. (See Chapter 2 Assessing and Responding to Risk.) Freelancers should also consider what level of health, disability, and life insurance they may have, and whether their insurance policies exclude natural disasters often described in policy language as "acts of God." (See the section on Insurance Coverage in Chapter 1.)
Newsroom Planning
Managers of newsrooms prone to hurricanes or floods should prepare and update a detailed disaster plan before each intemperate season. In areas where such events are rare, editors should update their emergency plans at the same time each year. The completed disaster plan should be printed out in hard copy (in a disaster, computers, the Internet, and electrical power could be down) and reviewed by the entire staff. All staff members should be aware of their responsibilities and the roles they will be expected to play. Everyone should retain his own hard copy of the emergency plan and know where emergency materials are stored. The disaster plan should include the landline phone numbers, cell phone numbers, and work and personal email addresses for all newsroom employees or contractors, along with contact information for their next of kin, according to the International Center for Journalists' Guide to Disaster and Crisis Reporting. The plan should include a map with each individual's home address clearly marked, identifying who is certified in CPR or other emergency first aid, and who has a four-wheel-drive vehicle. In disaster-prone areas, managers should ensure that multiple staff members are trained in basic first aid. (For staff security, the plan should not be disseminated publicly or posted in a public place.) Include contact information for government authorities as well as local emergency personnel for use in newsgathering and for newsroom safety. The contacts should include national, regional, and local emergency response and relief agencies, along with independent experts. Include instructions for operating the newsroom in an emergency. If only a limited number of staff can reach the newsroom during the emergency, they should be able to publish or broadcast reports. Managers should prepare employees to assume such tasks as may be required.
Transportation and Equipment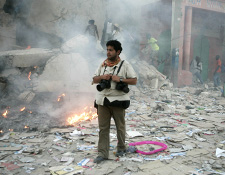 Journalists of all kinds should research what equipment or other supplies may be safely stored in case of a power outage or other disruption. Generators, emergency lights, batteries, two-way radios with back-up batteries, GPS location devices, first-aid kits, and extra first-aid equipment should be part of the reserve. Packaged or canned food, bottled drinking water, cots, and blankets may also be needed in disaster-prone areas. Press vehicles should be equipped with emergency gear, including a first-aid kit, road flares, and blankets. Managers should research where to obtain emergency rentals of vehicles, communication equipment, generators, and other gear, and include the information along with contact details in the disaster plan. They should consider having standing emergency contracts with local transportation providers, according to the International Center for Journalists. Managers should also know how to get reserve fuel during an emergency. Large, hard-copy maps should be kept in the newsroom, marked with locations of hospitals; emergency clinics, including pediatric clinics; shelters; transportation centers; schools; and other buildings that could be used to harbor families or refugees during a crisis. Physical, topographic maps should be on hand to help identify hazards such as low-lying areas where flooding is likely. The newsroom's digital data should be backed up and stored on at least one server located elsewhere. Important paper data should be copied and stored off-site.
Field Safety
Avoid putting yourself at risk. Doing so would only make you a burden to emergency crews and colleagues. Journalists should work in teams of at least two and preferably three people during disaster coverage; one team member should carry a small first-aid kit. Waterproof gear should be readily available and worn as needed. Carry contact information that includes your blood type and allergies, preferably on a laminated card and perhaps worn around your neck. Reporters and editors alike should monitor road and other travel conditions and do as much as possible to keep each other informed of changing conditions. Evacuation routes should be mapped out and updated as needed. The best way into an area may not be the best way out. Multiple routes and travel contingencies must always be planned. Natural disasters can give rise to a host of other problems, from leaking toxic fumes to water-borne diseases. Be aware of the surrounding conditions at all times. One member of the team should be watchful for any changes in conditions and be tasked with maintaining and updating exit strategies. Water lines can rise, power lines can fall, gas pipes can explode, fires can spread, and criminals can approach. Team members may also wish to carry whistles in case they become separated, as recommended by the International Federation of Journalists. Traveling with a private security entourage may be recommended when looting and other crimes are occurring during the natural disaster. Journalists traveling to an overseas disaster or to a hazardous area at a distance from the newsroom should be equipped with a GPS device, a portable satellite phone, and a shortwave radio to monitor international broadcasts if local broadcasting is interrupted. On location, be sure you have sufficient water, food, and batteries (or other back-up sources of power for communications).