The prosecution of dozens of defendants in the 2009 Maguindanao murders is testing a faltering judicial system in the Philippines. Bribes, intimidation, attacks, and flawed detective work already threaten to undermine the government's case. Will this massacre go unpunished? A CPJ special report by Shawn W. Crispin
Published November 10, 2010
AMPATUAN, Philippines
Weeds have overgrown the backhoe-scarred clearing set among the tropical hills of rural Maguindanao province. Aquiles Zonio has a question as he looks over this killing field where a year earlier a political hit squad executed his colleagues and friends, dumping their bodies into open pits.
Will it ever be safe to work here?
It was on this hilltop clearing, overlooking the abandoned bamboo shacks of a former rebel camp, that 57 people, including 32 journalists and media support workers, were systematically shot and killed in an orgy of violence now known as the Maguindanao massacre. The main suspect in the crime, Andal Ampatuan Jr., mayor of the town that bears his family's name, is now on trial in Manila along with the police and paramilitary members he allegedly commanded.
"After the massacre people were afraid to talk, but after the Ampatuans were arrested and placed behind bars many local residents and others started to work together for justice," said Zonio, a local reporter who traveled to the site with CPJ on a recent day, a military patrol in escort to protect against the dozens of suspects still on the loose. Then again, Zonio added, "They are so rich and so powerful, there is still a chance they'll go unpunished."
That's been the case in more than 90 percent of media killings in the Philippines since 1992, CPJ research shows. The administration of newly elected President Benigno Aquino has made encouraging statements about the need to reverse that record of impunity, raising hopes that justice will be served in the legal proceedings now under way in the Maguindanao massacre.
But a CPJ investigation has uncovered a disturbing repetition of the pattern seen in previous cases, one that has allowed the killers of Philippine journalists to go free time and again. Even as the Maguindanao case is being described by a top government official as a "litmus test" for the judicial system, CPJ has found that victims' families have been approached with bribes, witnesses have been intimidated and subjected to deadly violence, law enforcement officials have failed to coordinate activities, and forensic investigations have been deeply flawed. The government was dealt another blow this month, when one of the lead prosecutors, Leo Dacera, 54, was found dead in his home from what initial news reports described as a heart attack.
The highly anticipated trial was moved from Maguindanao to Manila at the order of the Supreme Court to guard against political interference at the local level. Trial proceedings began on September 8 in the first phase of what many local lawyers believe will be one of the most complicated and significant court cases in the country's history.
A mere 19 of 196 suspects in the crime, including Andal Ampatuan Jr., 16 police officers and two private militia members, are currently on trial for one of the 57 murders. The other 47 suspects in custody have yet to be arraigned. Another 130 suspects, including police officials and members of the Ampatuans' 3,000-strong militia, are still at large.
"With the case's exposure in the international media, there are high hopes the ultimate destination will be justice and an end to the cycle of impunity," said Al Calica, a public prosecutor who is working on the case and often travels with four armed bodyguards in this lawless region.
Bribes, threats, and violence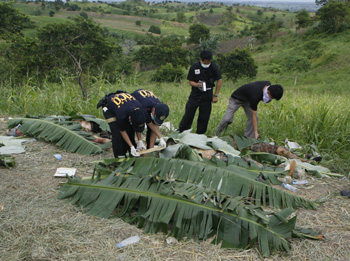 On the morning of November 23, 2009, family members and supporters of political clan leader Esmael "Toto" Mangudadatu left the town of Buluan en route to the provincial capital, Shariff Aguak. The convoy, with journalists in tow, planned to file candidacy papers for Mangudadatu's bid for provincial governor, a big news story because it reflected a schism between the Mangudadatu and Ampatuan clans. The military declined to provide a security escort despite rampant rumors that the convoy might be ambushed along the way. Gunmen intercepted the convoy, executed its members, and deposited them into crudely dug mass graves.
Today, six members of the Ampatuan clan, including Mayor Ampatuan, his father, uncle, and three brothers, are in detention, a break from past cases where the politically influential masterminds behind media killings are seldom identified or detained. The prosecution has submitted a witness list with 220 names, including 22 police officials who have been granted leniency in exchange for their testimony.
Andal Ampatuan Jr. has maintained his innocence to the multiple murder and conspiracy charges. The defense team's cross-examination of prosecution witnesses during bail proceedings indicates it will try to undermine their credibility, claiming they should be considered perpetrators rather than witnesses.
"My client did not conspire or participate in the murder of the 57 (victims)," Philip Sigfrid Fortun, the lead defense lawyer, wrote in reply to CPJ's questions. He said that his cross-examination of witnesses in the bail proceedings and trial has "focused on the absurdity of their claims."
But law enforcement sources, victims' relatives, and witnesses allege that the Ampatuans are also pursuing channels outside of court. That includes alleged attempts to pay victims' relatives in exchange for their withholding support for the prosecution. State prosecutors would continue to pursue the case as a crime against the Philippine people, but they fear if enough families accepted offers it would weaken the solidarity of the prosecution, as well as the resolve of witnesses to testify.
Luisa Subang, wife of slain reporter Francisco "Ian" Subang, told CPJ she was approached by people claiming to represent the Ampatuans and offering a financial settlement. She said in an interview with CPJ that she was offered 500,000 pesos (US$11,300) to drop her support for the prosecution but declined because she and her three children want to see the case fully prosecuted. She said she is "sometimes scared" what might happen to her family because she didn't accept the offer.
Nancy Dela Cruz, the mother of Maguindanao massacre victim and reporter Gina Dela Cruz, said she was approached in March while the Ampatuans were still detained locally before being transferred to a prison in Manila. She said three men who claimed to represent the clan visited her house and offered 3 million pesos (US$68,000) in exchange for her signature on a blank piece of paper.
"We didn't take it. We want justice, not money," she told CPJ through a translator at her ramshackle house on the outskirts of General Santos City, two hours by car from Maguindanao.
Fortun told CPJ that he had no knowledge of the alleged cash offers made to Subang and Dela Cruz. "I do not subscribe to settlement where my client is not guilty," he wrote in an e-mail response to the allegations. "I never initiated nor advised the offer of settlement to any of the victims' kin."
Witnesses say they also have also been targeted. At least one of the prosecution's witnesses was offered a 5 million peso (US$113,000) bribe by a purported Ampatuan representative to drop his planned testimony, according to public prosecutors.
Other witnesses have faced harm.
Ampatuan Vice Mayor Rasul Sangki testified in bail proceedings in January that he witnessed his superior, Andal Ampatuan Jr., shoot the first massacre victim with a high-powered rifle. He testified that he did not participate in the massacre and was ordered by Ampatuan to leave the site and inform people living in the area "that they saw and heard nothing," according to news reports.
The day after Sangki's testimony in Manila, his house in Maguindanao came under mortar attack by unknown assailants. On July 2, his personal lawyer, Richard Petisme, was shot in the neck by unknown assailants while leaving his office in Cotabato City in Mindanao. The lawyer, who suffered minor injuries, later identified one of the assailants as someone present in court during bail proceedings. Defense attorney Fortun told CPJ that Sangki "may not be telling the entire truth" during his testimony and that "no offer of settlement had been made to him."
Another potential witness, Suwaib Upham, known publicly as Jesse, was killed in June under unclear circumstances. A reputed member of the Ampatuans' militia who turned prosecution witness in the case, Upham had given several press interviews detailing his role as one of the gunmen in the killings. In comments to Human Rights Watch, he also accused the Ampatuans of ordering the killing of three family drivers who were potential witnesses in the case. Upham was in the process of enrolling in the Justice Department's witness protection program at the time of his murder, according to news reports.
Defense attorney Fortun questioned Upham's credibility, writing in an e-mail to CPJ that "this witness was not even presented to the [Department of Justice] or converted to turn state witness. No one, least of all myself, knows anything about this phantom."
Upham's death has focused attention on the pressing need to provide better security for potential witnesses in the case. Prosecutor Dacera, who also headed the Department of Justice witness protection program, told CPJ before his death that 35 of the state's top witnesses in the case had been enrolled in the program, with others secured to "varying degrees." A number of witnesses, he said, faced harassing lawsuits filed by the suspects and their lawyers.
Dacera also said police officials suspected of involvement but who had agreed to serve as state witnesses were until recently held in prison cells near the ones where Ampatuan clan members were detained. He claimed that they came under verbal threats and received financial offers from the Ampatuans to change their minds about testifying. Under Philippine law, police officers are not eligible to enter the witness protection program.
A series of investigative failures
Witness protection is crucial because prosecutors will rely far more on testimony than forensic evidence to build their case. Much of the physical evidence at the crime scene, including the bodies, was contaminated by military officials who were the first responders, according to Raquel Del Rosario-Fortun, a professor of pathology at the University of the Philippines in Manila, who is not involved in the case but has reviewed the evidence.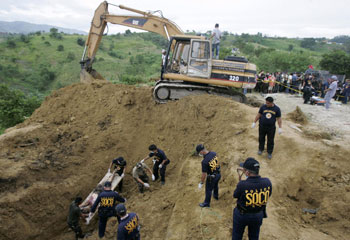 Investigating officers failed to wear gloves while inspecting the crime scene, and there is evidence that some corpses were looted, she said. Rosario-Fortun also found that many bodies were returned to their families before they were X-rayed to identify and recover embedded bullets. She described the autopsy reports, which she reviewed in detail with CPJ, as "very superficial."
"They relied on unscientific techniques to identify the bodies," she said, noting that in one instance two different families claimed the same corpse. "It's a weakness in the case the defense will likely pounce upon."
Rosario-Fortun said it's still unclear if the forensic evidence was deliberately contaminated or merely incompetently mishandled. She notes that the Philippines still lacks the capabilities to conduct DNA forensic testing and other technology-driven investigation techniques. But that doesn't explain why officials decided to move 22 bodies from their original positions before forensic investigators arrived, or to use backhoes to retrieve corpses from the pits that the Ampatuan militia allegedly dug in the clearing.
In other instances, there was a lack of cooperation between local security agencies and state prosecutors. For example, the military and police refused for several months to turn over weapons confiscated from the Ampatuans in the wake of the massacre, along with related ballistics reports, relenting only when prosecutors threatened to file charges against them. One assault rifle that matched bullets found in victims' bodies was turned over to prosecutors only this September, more than nine months after the massacre. In all, the seized arsenal included a wide range of weaponry—M-16 assault rifles, 60mm mortars, .50- caliber sniper rifles, among others.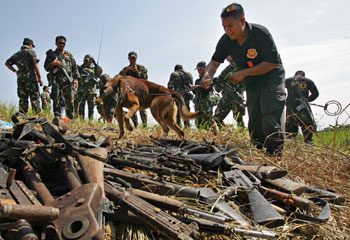 Dacera also complained that local police refused to participate in the initial inquest conducted by the Department of Justice and National Bureau of Investigation; local police said at the time that they planned to file a separate report. After Nena Santos, a private attorney representing the Mangudadatu family, independently secured witnesses for the inquest, local police filed a conflicting illegal firearms report that identified the witnesses as suspects. Further, Santos told CPJ, police have still not turned over evidence gathered from the crime scene in November 2009 and have effectively halted further evidence-gathering. (Under Philippine law, private attorneys such as Santos may work on behalf of victims' families and assist public prosecutors in preparing cases for trial.)
Some police officials not implicated directly in the massacre have been transferred to other regions due to Manila's concerns that they remained under the influence of the Ampatuans, whose clan members won several local government seats in the May election. (Esmael Mangudadatu won the governor's race.) Even under new leadership, though, police have raised doubts that they are genuinely trying to arrest the 130 suspects still on the loose.
The police director appointed to Maguindanao soon after the massacre was removed in August because of his failure to locate or arrest any of the at-large suspects. The record of his replacement, Marcelo Pinlac, who was previously posted to General Santos City, has not inspired confidence. In General Santos City, Pinlac's forces failed to arrest a fellow police official who was wanted in a 2008 media killing—even though the suspect was widely, and frequently, seen in local restaurants and other public places, a 2009 CPJ investigation found.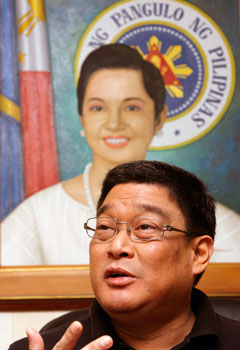 Col. Mariano Mendoza, a brigade commander in the area, said the failure to arrest any of the suspects owed largely to the fact that officials involved in joint military-police patrols were recently transferred to the region and are unfamiliar with the terrain. A lack of centralized data, including computerized databases of photos and fingerprints, has also hampered investigations, he said.
The Department of Justice's own impartiality has come into question as well. Justice Secretary Alberto Agra raised concerns in April when he suddenly ordered that two Ampatuan clan members—respectively governor of the Autonomous Region in Muslim Mindanao and vice governor of Maguindanao—be dropped from the official list of suspects.
Agra's order drew protests from rank-and-file prosecutors who issued a statement through Chief State Prosecutor Claro Arellano: "We are deeply concerned that the resolution will all the more convince a long skeptical public that our criminal justice system is impotent when the accused are politically influential." Facing revolt in his own ranks, the justice secretary reversed the decision three weeks later.
Breaking from the past
With the change in administration in July, many hope that political influence will no longer dictate the course of justice. Newly elected President Aquino has said publicly that he plans to closely monitor the Maguindanao case proceedings. His justice secretary, Leila De Lima, a former human rights lawyer, has said her office views the case as a "litmus test" for a faltering judicial system.
She met in August with local press freedom groups who recommended, among other things, a review of lenient court rules that have been exploited by defense attorneys to delay proceedings in several media murder cases. These stalling tactics have had the effect of breaking the will of witnesses and breaking the bank of victims' families who can't afford prolonged travel and legal expenses.
Press groups also urged greater funding for the witness protection program, and the creation of rapid response teams composed of forensic and legal experts to handle major crimes. In comments to CPJ, Assistant Justice Secretary Sy Geronimo acknowledged the country's criminal justice system was "broken" and said his department was pursuing reforms that included streamlining court procedures.
The official receptiveness to reform marks a significant change in tone from the administration of President Gloria Macapagal-Arroyo, which presided over a spike in unsolved media killings during its nine years in power. Arroyo was known to maintain close political ties with the Ampatuans, who helped her secure crucial votes in Maguindanao province during the tightly fought 2004 election.
The new stance of the Aquino administration was on display on August 24, when a CPJ delegation led by board member Sheila Coronel met for 90 minutes with senior justice officials at the presidential residence, Malacañang Palace. Richard Fadullon, the government's lead attorney in the Maguindanao case, and Geronimo, the assistant secretary of justice, affirmed the government's commitment but noted that it will be a long process. Many analysts expect the Maguindanao prosecution to stretch out over many years. Aquino offered his own pledge in a brief meeting with CPJ on September 26. He stated his government's intention not only to pursue the killers in the Maguindanao case, but to address the overall climate of impunity.
The Maguindanao prosecutors who spoke with CPJ said they are confident now that they can pursue the case without high-level political interference. The prosecution believes it has gathered enough "interlocking testimonial evidence" to secure convictions for both murder and conspiracy, Dacera said in an interview before his death. That includes the testimony from eight key witnesses, including eyewitnesses, who were examined and cross-examined during bail proceedings.
The first trial witness presented by the prosecution, Lakmudin Saliao, a former household servant to the Ampatuans, testified on September 8 that he overheard Ampatuan family members plotting the killings over dinner days before the massacre. Saliao quoted Andal Ampatuan Jr. as saying "let's kill them all" while speaking of the plot.
If accurate, the statement underscores the culture of impunity in which perpetrators feel confident they can get away with murder. The Philippines ranks third on CPJ's Global Impunity Index, a statistical reflection of the 55 journalist murders that have gone unsolved over the last decade. CPJ has launched a Global Campaign Against Impunity in cooperation with local partners to raise awareness about journalist murders and focus on the legal deficiencies that have created the culture of impunity.
It's part of a larger failure of the justice system, which still operates under a 1930s colonial-era penal code. Patchwork reforms have resulted in complicated court rules that can be exploited to subvert the legal process. The European Union's Philippine Justice Support Program puts the country's murder conviction rate at 10 percent, far below that seen in the United States and Western Europe.
Prosecutors who spoke with CPJ believe that this time they have enough evidence to break the cycle of impunity. They contend that defense lawyers underestimated the quality of prosecution witnesses and are now scrambling to devise a new strategy. He said that explains why the defense has resorted to myriad stalling tactics, including motions, mostly unsuccessful, to disbar certain prosecutors, to force the recusal of the presiding judge, and to challenge the propriety of prosecutors' public comments in the case. "They don't want the case to remain in the public consciousness," said Prima Quinsayas, a prosecutor. "They want people to forget."
Back in Maguindanao, journalist Zonio serves frequently as a fixer for foreign reporters and advocates who want to visit the massacre site. Each time, he secures a military escort and ensures that visiting reporters have left Maguindanao before nightfall due to fears of possible attacks from militia members still on the loose.
Zonio was due to accompany the Mangudadatu convoy on the day of the massacre, but he and two colleagues turned back because of concerns there would be an ambush. "Everything we learned from our security training taught us that there was safety in numbers. But it wasn't enough to save my colleagues that day," said Zonio while walking along a rugged track at the massacre site. "Even though many of the suspects are in jail, we still don't feel safe reporting here."
Shawn W. Crispin is CPJ's senior Southeast Asia representative. Bob Dietz, CPJ's Asia program coordinator, contributed reporting from Manila. The John S. and James L. Knight Foundation underwrites CPJ's Global Campaign against Impunity, including its work in the Philippines.
CPJ's Recommendations
President Benigno Aquino and his administration must follow through on commitments to ensure justice in the Maguindanao killings. The administration should demand full coordination and cooperation among law enforcement agencies in the Maguindanao case. It should order all evidence collected by police be turned over to prosecutors immediately. It should further demand that police give full attention and sufficient resources to apprehending the 130 Maguindanao suspects still at large.
National police should thoroughly investigate all acts of violence against witnesses in the Maguindanao case. Police should also take assertive and timely enforcement action in response to reports of intimidation and bribery of witnesses and victims' families in the Maguindanao case. Authorities should arrest and prosecute all those responsible for bribes, threats, and violence.
These steps must be part of a broad, nationwide strategy to aggressively prosecute the killers of journalists. Police and justice official should consider the creation of rapid response teams composed of forensic and legal experts to handle all major crimes, including the murders of journalists.
The legislature and executive branch should ensure adequate funding for the Department of Justice witness protection program. They should also devote sufficient funding for DNA forensic testing and other technology-driven investigation techniques.
Judicial officials should review court rules that have been exploited by defense attorneys to delay journalist murder proceedings, often across many years. Judicial officials should revise rules allowing attorneys to file duplicative, harassing, and irrelevant motions. These motions have been used as a stalling tactic to break the will of witnesses and victims' families.
The judicial system should continue to review and approve all motions seeking changes of venue in journalist murder cases. Public prosecutors and attorneys representing victims' families have filed these motions in a number of cases to ensure neutral and secure venues.
Beyond Maguindanao, the government must review and pursue policies to address impunity. Authorities should examine the experiences of other countries that have addressed the issue. They should consider a protection program for at-risk journalists modeled after a successful effort undertaken by Colombian press and government officials.