An exodus from Iran, East Africa
At least 85 journalists fled their home countries in the past year in the face of attacks, threats, and possible imprisonment. High exile rates are seen in Iran and in the East African nations of Somalia and Ethiopia. A CPJ Special Report by María Salazar-Ferro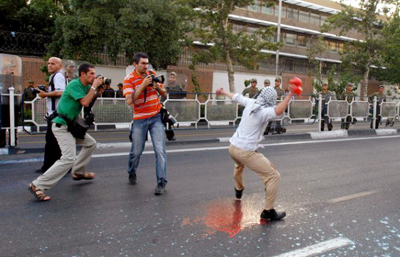 Posted June 17, 2010
At least 29 Iranian editors, reporters, and photographers fled into exile over the past 12 months, the highest annual tally from a single country in a decade, a new survey by the Committee to Protect Journalists has found. CPJ also found a significant spike in the number of journalists fleeing violence and harassment in East Africa.
"My photos were seen as political criticism of clerics in Iran," said photographer Mohammad Kheirkhan, who, like other Iranian journalists, went into exile after being harassed and interrogated by authorities for coverage of the unrest that followed the disputed 2009 presidential election. "The punishment for criticizing clerics is prison, torture, and even execution."
Worldwide, at least 85 journalists fled their home countries over the past 12 months, CPJ found in its annual survey, which marks World Refugee Day, June 20, and highlights the plight of journalists who are forced to leave their homes in the face of attacks, threats, or the possibility of imprisonment. This year's total, which counts journalists who went into exile from June 1, 2009 to May 31, 2010, is double the number recorded in the prior 12-month period. The tally is comparable to the decade's previous high of 82, which CPJ recorded in 2007-08.
Data on exiled journalists closely track other press freedom indicators such as deadly violence and the threat of imprisonment. The countries with the highest exile rates over the past 12 months—which include Ethiopia and Somalia, along with Iran—have long records of press repression.
"It wasn't a single incident that pushed me to leave Ethiopia—it was numerous incidents over the course of several months," said Mesfin Negash, who served as editor of the independent Ethiopian newspaper Addis Neger. Government security forces, intent on silencing criticism before the May 2010 elections, intimidated staff members and threatened criminal charges. Finally, Negash and several other staffers closed Addis Neger and fled the country. "We had hoped the harassment and intimidation would stop, but it never did because [the government] thought that if we stayed in Ethiopia we could influence the outcome of the elections."
Hundreds of journalists in exile over the past decade
Since 2001, when CPJ began compiling detailed records on journalists in exile, more than 500 journalists have fled their homes. Illustrating the extraordinary dangers facing these journalists at home, 454 remain in exile today.
African journalists have been at particular risk throughout the past decade, but the exile rate tripled over the past 12 months. At least 42 African journalists, most of them from Somalia and Ethiopia, fled their homes in the past year. A majority sought refuge in Kenya and Uganda, where they hoped to resettle to a third country through the United Nations High Commissioner for Refugees. The process can be lengthy as well as financially and emotionally grueling. "It is difficult to even plan when you are in this situation of exile and relocation," said Negash, who has relocated elsewhere on the continent. "It is tormenting because everything is out of your control."
Journalists find themselves in a legal limbo, unable to work and often the targets of ethnically motivated violence and police harassment. They live in a constant state of anxiety about the family members who are still back home. Negash's exile has been devastating for his wife and mother, who depended on him but were forced to stay in Ethiopia when he fled. "It has been so difficult that sometimes I can't even call them because they are so emotionally disturbed," said Negash, who continues to help his family financially, sending whatever amounts he can spare from the small aid he receives from international organizations.
At least half of the Iranian journalists who fled this year are in a similarly precarious situation in Turkey. Several of those journalists told CPJ they have been approached by individuals they believe are working for the Iranian regime who have warned them that colleagues and relatives back home will suffer consequences if they discuss Iranian politics publically.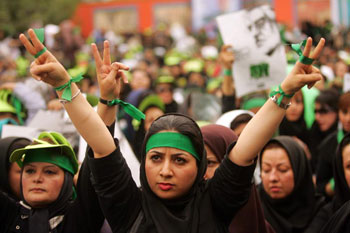 Kheirkhan, 24, whose photographs of the Iranian political unrest for United Press International were seen worldwide, had to travel through Afghanistan and Italy before resettling in the United States. "I wasn't happy to be far away from my country, my family, and my friends," he said when asked about his decision to petition for asylum. "But safety is the first thing that everybody must think about in his or her life." He said he hopes to continue working as a journalist in California, where he now resides.
In exile, journalists face obstacles in continuing work
That will not be an easy path. CPJ research shows that less than a third of exiled journalists are able to continue to work in their profession. Throughout the world, exiled journalists face lengthy bureaucratic procedures as they establish their new legal status, along with significant language and cultural adjustments as they rebuild their lives. Many accomplished journalists are forced to take whatever employment opportunities are available.
Luis Horacio Nájera, a Mexican reporter with almost two decades of experience covering criminal gangs and political corruption, has been working as a janitor in Vancouver, Canada, since leaving his home country in 2008 in the face of death threats.
"It has been really hard to work here because no one recognizes my experience and I don't speak English well," he told CPJ in an interview conducted in Spanish. "There aren't many opportunities, and you have to stand in a very long line of other refugees, so you end up doing things that you never thought you would have to—cleaning houses and washing bathrooms—because there is nothing else that you can do."
Nájera and his family filed for asylum in 2009, and are awaiting an answer from Canadian authorities. If approved, Nájera said, he will study English, enroll in school, and find other work, although he does not think he will go back to journalism. Neither does he plan to return to Mexico. "I am very hurt with my country," he told CPJ. "I did all that I could to help Mexico through my work as a journalist, and Mexico has not responded—it has not even been able to keep me and my family safe."
Nearly 50 percent of journalists who have been forced into exile since 2001 have done so after being attacked or threatened with violence. Another 30 percent fled because of the possibility of imprisonment, while 20 percent left following prolonged harassment, CPJ research found.
Violence was the primary reason for an exodus of Iraqi journalists earlier in the past decade. As the death toll in Iraq has dropped to its lowest point since the U.S.-led invasion in 2003, so too have the numbers of journalists seeking exile. CPJ documented just one Iraqi exile case in the past 12 months. Until this past year, Iraq had seen the largest single-year exodus of journalists.
CPJ's survey counts only those journalists who fled due to work-related persecution, who remained in exile for at least three months, and whose current whereabouts and activities are known. It does not include the many journalists and media workers who left their countries for professional or financial opportunities, those who left due to general violence, or those who were targeted for activities other than journalism, such as political activism. Other groups using different criteria cite higher numbers.
CPJ's Sheryl Mendez and Elisabeth Witchel contributed to this report.
Journalists in Exile: A Statistical Profile
Totals for June 1, 2009 – May 31, 2010
Total Fled: 85
Total Still in Exile: 83
Returned During Year: 2
By Region
| | Number Who Fled |
| --- | --- |
| Africa | 42 |
| Middle East and North Africa | 31 |
| Asia | 8 |
| Europe and Central Asia | 3 |
| Americas | 1 |
By Country

| | Number Who Fled |
| --- | --- |
| Iran | 29 |
| Somalia | 16 |
| Ethiopia | 15 |
| Sri Lanka | 5 |
| Rwanda | 4 |
| Eritrea | 3 |
| The Gambia | 2 |
| Russia | 2 |
| Afghanistan | 1 |
| Guatemala | 1 |
| Guinea Bissau | 1 |
| Indonesia | 1 |
| Iraq | 1 |
| Kenya | 1 |
| Kyrgyzstan | 1 |
| Pakistan | 1 |
| Tunisia | 1 |
By Reason
| | Number Who Fled |
| --- | --- |
| Threat of Violence | 53 |
| Threat of Imprisonment | 29 |
| Harassment | 3 |
Totals August 1, 2001 – May 31-2010
Total Fled: 509
Total Still in Exile: 454
Returned During the Period: 55
By Region
| | Number Who Fled |
| --- | --- |
| Africa | 277 |
| Middle East and North Africa | 97 |
| Asia | 53 |
| Americas | 47 |
| Europe and Central Asia | 35 |
By Country (Top 10)

| | Number Who Fled |
| --- | --- |
| Ethiopia | 62 |
| Somalia | 59 |
| Iraq | 51 |
| Zimbabwe | 49 |
| Iran | 40 |
| Eritrea | 32 |
| Colombia | 20 |
| Sri Lanka | 19 |
| Uzbekistan | 18 |
| Rwanda | 15 |
By Reason
| | Number Who Fled |
| --- | --- |
| Threat of Violence | 241 |
| Threat of Imprisonment | 98 |
| Harassment | 170 |
Top Host Countries
| | Number Who Fled |
| --- | --- |
| US | 140 |
| Kenya | 57 |
| UK | 34 |
| Sweden | 26 |
| Turkey | 23 |
| Canada | 22 |
| South Africa | 16 |
| Djibouti | 15 |
| France | 14 |
| Uganda | 13 |
| Holland | 6 |
| Switzerland | 6 |
| Ethiopia | 5 |
| Germany | 5 |
| Ghana | 5 |
| India | 5 |
| Spain | 5 |
| Syria | 5 |
Professional Status
Exiled journalists who have found work in their field: 123 (27 percent)
Those who returned home and went back to their profession: 36 (65 percent)