More than 80 journalists flee their home countries in the last year. Iraq and Somalia are the hardest hit. By Elisbeth Witchel and Karen Phillips
New York, June 18, 2008–At least 82 journalists fled their native countries under threat or harassment in the last 12 months, with more than half coming from conflict-ridden Iraq and Somalia, the Committee to Protect Journalists has found in a new survey. The rate of journalists going into exile–about seven per month–is double the average that CPJ has recorded since it began compiling such data in 2001.
In the majority of cases, journalists literally ran for their lives. CPJ found that 51 journalists worldwide fled their homes after being assaulted, threatened with violence, or threat
ened with death. Severe harassment–such as police surveillance, repeated interrogations, and sporadic detentions–drove another 19 journalists to flee worldwide. The threat of imprisonment prompted 12 to seek exile.
The wave of journalists leaving Iraq and Somalia has thinned the ranks of local reporters, photographers, and editors who form the main conduit between these conflict zones and the rest of the world. In the case of Somalia, Chicago Tribune correspondent Paul Salopek called it "a journalist community from an entire country on the run."
Many of the journalists who fled over the past 12 months are in a legal limbo, living as refugees in places such as Syria, Jordan, Kenya and Djibouti as they seek permanent resettlement elsewhere. Even when journalists do resettle, CPJ's long-term research shows that many struggle economically and professionally. Fewer than a third of those who went into exile since 2001 have found work in their profession in their new homes.
"The difficult conditions that journalists are willing to endure in exile serve as testament to the dire circumstances in their home countries," said Joel Simon, CPJ executive director. "CPJ is concerned when threats, imprisonment, and harassment force any journalist from his or her home, but when the media are driven out en masse as in Iraq and Somalia, a vital piece of those societies is being lost."
CPJ conducted its survey to mark World Refugee Day, June 20. The survey counts only those who fled due to work-related persecution, who remained in exile for at least three months, and whose current whereabouts and activities are known. The survey does not include the many journalists and media workers who left their countries for professional or financial opportunities, those who left due to general violence, or those who were targeted for activities other than journalism, such as political activism. Of the 82 journalists who fled in the last year, 12 eventually returned home after conditions improved.
The high number of journalists leaving Iraq and Somalia drove up the worldwide total over the past 12 months, CPJ's analysis shows. Not coincidentally, these two countries were the world's deadliest for the press in 2007. In Iraq, journalists are often targeted for affiliations with Western or state-backed media. Abductions, assaults, and threats drove 22 Iraqi journalists into exile in the past 12 months.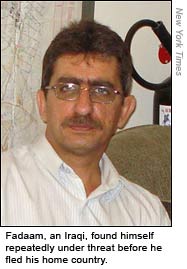 Iraqi Ahmed Fadaam, an art teacher who turned to journalism when his school was burned and looted following the 2003 U.S. invasion, is among those who went into exile during the past 12 months. Fadaam had worked for National Public Radio, Agence France-Presse and The New York Times before leaving the country to protect himself and his family. Two close colleagues had been slain, Fadaam said, and he had found himself repeatedly in harm's way.

Listen to Fadaam's Story Fadaam is more fortunate than many: Colleagues helped him obtain a fellowship at the University of North Carolina. But before he arrived in the United States in May he was living as a refugee in Syria and confronting a no-win choice: Remain a refugee for an indeterminate time (without income or education for his children), or return home and face daily risk.
"There is no job for an Iraqi in Syria so he has to depend on what he owns. He has to sell whatever he has and go to Syria where he spends it. And when he's out of money he has to go back to Iraq," Fadaam said.
Other Iraqi journalists have made their way to Europe, embarking on harrowing journeys arranged by smugglers. They include Jumana al-Ubaidi, 30, a correspondent for a U.S.-government funded media outlet. Al-Ubaidi decided to leave Iraq after being kidnapped last October by insurgents, who killed her driver and tortured her in captivity. She said she was freed after two weeks only after paying ransom and promising to stop working for the "occupier." Upon her release, she found her way to a neighboring country and, for a $20,000 fee, was smuggled with her mother to Western Europe.
"We spent eight days driving in a big truck without enough food or water. The only time we were allowed to get out was when we needed to use the bathroom, which had to be at night," she told CPJ. She now lives in a refugee camp awaiting a government decision on her asylum request. (Al-Ubaidi asked that the camp's location not be disclosed for security reasons.) With an estimated 2 million Iraqi refugees, only a small portion have been permanently resettled outside the region, said Amelia Templeton, who manages Iraq refugee issues for the U.S.-based group Human Rights First.
The pace has been worsened by low U.S. admittance numbers. Since 2003, the United States has resettled only about 11,000 Iraqi refugees, although it is aiming to resettle 7,000 more by the end of September to meet a 2008 fiscal year target. Sweden, by contrast, has been a haven for more than 40,000 Iraqi refugees and asylum seekers, according to news reports.
In May, the U.S. government began processing refugee applications under a program known as the "Direct Resettlement Program for Iraqis with U.S. Affiliations," part of legislation passed last fall to heighten the U.S. response to the refugee issue. Under this program, Iraqi journalists working for U.S.-based or U.S.-backed media organizations can apply for direct resettlement to the United States from Baghdad, Amman, and Cairo, rather than applying through the U.N. High Commissioner for Refugees.
James B. Foley, U.S. senior co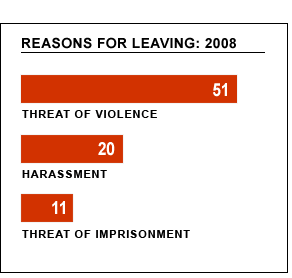 ordinator for Iraqi refugee issues, told reporters at a June press briefing that the government's 2008 goal is ambitious but feasible. Advocates are urging the United States to increase its goal in 2009 to about 25,000, Templeton said.
CPJ has documented the cases of 21 Somali journalists who have fled their homes, although regional groups say the number could be much higher. Somalia has had no effective central government since 1991, but the past two years have been especially bloody as a transitional government backed by Ethiopian troops has clashed with Islamic insurgents. Conditions have been so bad, "journalists were actually sleeping in their offices, afraid to go home," said Salopek, who reported from Somalia in October 2007.
---
---
"Everyone in the conflict wants to manipulate the media, and this has made journalism a battleground," says Omar Faruk Osman, secretary-general of the National Union of Somali Journalists (NUSOJ).
Hassan Shiek Abdullahi Kalkata, Abdulkadir Ahmed Olad, and Baabul Nour Mohamud–staff members of Radio Shabelle, an independent station targeted multiple times for its reporting–said they couldn't leave their station for two months and went without food for days at a time. Kalkata recalled that he and his two colleagues decided to flee Somalia in October after Shabelle's managing director, Bashiir Noor Gedi, was murdered when he tried to return to his home after being holed up at the station.
"We feared we would be the next targets," Kalkata said. "I felt I had one leg in the grave."
The three left Mogadishu with help from CPJ, NUSOJ, and a group known as the East and Horn of Africa Human Rights Defenders Program. They initially joined several other radio journalists who had moved to Hargeisa in Somaliland, a less restive part of the country. Even there, the reporters faced police harassment. They and other Somali journalists eventually scattered throughout the region, in Kenya, Uganda, and Djibouti. Reliant on support from press and human rights groups–and without secure status or work–their situations are precarious.
Other countries that saw flights of journalists in the last year include Chad, where a rebel attack on the capital in February brought a government backlash against critical voices in the media. At least 14 journalists fled Chad temporarily, although most have since returned.
Journalists continue to trickle out of Ethiopia and Eritrea, where repressive governments have driven out dozens of reporters and editors since 2001. In the last year, at least four journalist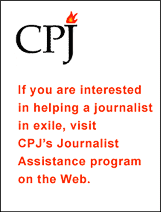 s left Eritrea and three left Ethiopia.
In Sri Lanka, where journalists face retribution from Tamil rebels and persecution at government hands, at least three reporters went into exile in the last 12 months. Two Cuban journalists found safe haven in Spain following their release from prison, and three journalists from the Gambia fled following detentions and harassment.
Few journalists return to their home countries after going into exile, CPJ's long-term research shows. Only about 14 percent of those who fled since 2001 have gone back home. Among journalists still in exile, the vast majority (about 70 percent) are not working in their field due the challenges of starting over professionally in a new country and, often, in a new language.
Elisabeth Witchel is CPJ's journalist assistance coordinator. Karen Phillips is the journalist assistance associate. CPJ's Alaa Majeed and Frank Smyth contributed to this report.
JOURNALISTS IN EXILE

June 1, 2007 – June 1, 2008

TOTAL of those who went into exile

82

TOTAL who have returned from exile

12

TOTAL still in exile

70

THE COUNTRIES FROM WHICH THEY FLED

Iraq

22

Somalia

21

Chad

14

Eritrea

4

Ethiopia

3

Sri Lanka

3

The Gambia

3

Afghanistan

2

Cuba

2

Cameroon

1

China

1

Colombia

1

Iran

1

Kenya

1

Mexico

1

Rwanda

1

Uzbekistan

1

MAIN REASONS FOR GOING INTO EXILE

Threat of violence or death

51

Harassment

20

Threat of imprisonment

11

SEVEN-YEAR STATISTICAL PROFILE




July 2001 – June 2008

Total who went into exile in this period

340

Total currently in exile

292

Total who have returned from exile

48

MAIN REASONS FOR GOING INTO EXILE

Threat of violence or death

157

Likelihood of imprisonment

91

Harassment

92

THE 10 COUNTRIES THAT HAVE FORCED
THE MOST JOURNALISTS INTO EXILE

Zimbabwe

48

Iraq

38

Ethiopia

37

Somalia

24

Eritrea

23

Colombia

18

Uzbekistan

18

Chad

14

Haiti

14

Afghanistan

12

MAJOR HOST COUNTRIES FOR EXILED JOURNALISTS

United States

97

United Kingdom

25

Kenya

23

Sweden

21

Canada

21

Exiled journalists currently in media-related jobs (including academia)

109 (32%)

Journalists who returned from exile currently in media-related jobs
31
(65% )