Skip to content
Análises e dados sobre as condições da imprensa na região. Mike O'Connor descreve a censura imposta pelo cartel no estado mexicano de Zacatecas. Carlos Lauría expõe como membros da Organização dos Estados Americanos fracassaram na defesa da liberdade de imprensa. E John Otis examina o acentuado aumento de mortes no Brasil tendo blogueiros críticos como alvo.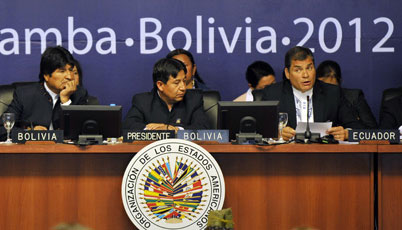 ---
Análise
Repórteres não podem informar ao público que o crime organizado assumiu o controle do estado mexicano
---
Análisis
Os assassinatos de dois blogueiros assinala uma onda de violência letal contra a imprensa
---
---
---
---
Mortes por Ano
You need to upgrade your Flash Player
---
Dados Regionais
7
Jornalistas Assassinados em 2012
44
Jornalistas no Exílio 2007-12
---
149
Jornalistas Assassinados Desde 1992
1
Encarcerados em 1º de dezembro de 2012
---
100
Casos de homicídio de jornalistas não solucionados desde 1992
12
Desaparecidos desde 31 de dezembro de 2012
---
---
---
---
---
Os informes sobre os países neste capítulo foram pesquisados e redigidos por Sara Rafsky, pesquisadora associada do Programa das Américas do CPJ, com informações adicionais fornecidas por Carlos Lauría, Coordenador Sênior do Programa.
---
Slideshow: Ano em Fotos