CPJ travels to Poland and Georgia to meet with exiled journalists and demand release of Nika Gvaramia ahead of pardon
CPJ's Emergencies team was on the ground in Warsaw, Poland, and Tbilisi, Georgia, in June meeting with exiled journalists and calling for the immediate release of journalist Nika Gvaramia, the only Georgian journalist on CPJ's prison census. CPJ recently announced Gvaramia as an awardee for this year's International Press Freedom Awards, and he was granted a presidential pardon days after CPJ's visit.
For this issue of Insider, we spoke with CPJ Emergencies Director Lucy Westcott about the trip and its impact on our work.
When you arrived in Tbilisi, Nika Gvaramia was the only journalist imprisoned in Georgia. He's since been freed. Can you say more about how CPJ assisted in that effort?
While in Tbilisi, CPJ had the incredible opportunity to spend time with Nika Gvaramia's family and lawyer, both to learn more about the circumstances of his detention and to reiterate CPJ's commitment to helping secure his release. In addition to raising his case throughout the conference, and during a mainstage panel about global threats to press freedom, we also spent time with Nika's wife, Sofia, learning more about his work and fervent belief in a free press, his sense of humor, his integrity, and his life as a devoted husband and father.
We were able to travel to the prison site where Nika was being held and to speak with local news outlets about the trumped-up case against him. We held a brief press conference outside the prison, calling for Nika's immediate release. Thirteen days later, he was pardoned by the country's president and freed.
While we cannot be sure what precisely led to his sudden pardoning, our visit to the prison also came after CPJ invited Sofia to the New York HQ in March and spearheaded a joint letter to the Georgian president calling for Gvaramia's release in April.
In Tbilisi, CPJ attended the ZEG Storytelling Festival and participated in the festival's opening panels. Why was it important for CPJ to be there?
The ZEG Storytelling Festival, while not solely a journalism conference, brings together journalists, activists, human rights defenders, academics, nonprofits, and policy makers. Tbilisi has become a distinct media hub as challenges for journalists regionally continue to grow, and a location that many journalists first reach when going into exile.
CPJ used this year's festival to connect with a group of exiled journalists and to learn from them directly about their needs; to provide digital safety clinics to journalists handling sensitive reporting; and to highlight key cases and issues as part of mainstage panels.
This included elevating Gvaramia's case, helping to humanize the case of Evan Gershkovich, and outlining the dangers facing local journalists continuing to report in Russia.
In Poland, you met with exiled journalists originally from Ukraine, Belarus, and Russia, and CPJ has provided support to many exiled journalists in Poland since the start of Russia's full-scale invasion of Ukraine. What was your main takeaway after meeting with these journalists?
For the CPJ Emergencies team, meeting with journalists face-to-face and listening to them speak about the specifics of their circumstances helps us understand what more we can do to keep journalists safe. This trip was no exception. The meetings in Poland, largely with journalists affected by the war in Ukraine, illustrated distinct challenges faced by journalists forced into exile–both in the immediate (e.g., how to set up a bank account or obtain a work permit), and in the longer term (e.g., the challenges of learning a new language, keeping a news organization running in another country, or finding a community in a new environment).
Many journalists forced into exile face mental health struggles, stemming from both the stress of starting life again in another country, in many cases with limited resources, as well as the continued challenge of reporting on the dangers of one's home country. The stories shared by the journalists we met really underscored how meaningfully supporting those in exile requires a nuanced and flexible approach, and the importance of connection and community in mitigating some of the harm and hurt caused by being forced into exile. 
---
CPJ to honor brave international journalists
CPJ has announced the names of the four extraordinary journalists who will receive the organization's 2023 International Press Freedom Awards.
The awardees are Ferdinand Ayité, director of the Togolese investigative outlet L'Alternative; Shahina K.K., senior editor for the Indian magazine Outlook; Nika Gvaramia, founder of the Georgian broadcaster Mtavari Arkhi (Main Channel); and María Teresa Montaño, founder and editor of the Mexican outlet The Observer. To learn more about them, or to learn how you can sponsor or attend this year's press freedom awards, visit our website here.
---
CPJ welcomes new staff to support our 2023 – 2025 strategic plan
CPJ is excited to be joined by two new colleagues–Cassandra Barragan as our new grants officer and Casey Bauer as our new major gifts officer. In their roles, they will provide critical support to the Development team, engaging with partners and supporters as we aim to meet our objectives for our 2023 – 2025 strategic plan.
Prior to joining the Development team, Barragan worked as a grants officer at the National Endowment for Democracy, managing a portfolio of projects in North Africa. She has previous experience at the Jesuit Refugee Service, Bahrain Institute for Rights and Democracy, and International Rescue Committee. Barragan speaks Arabic and some Spanish and is based in Washington, D.C.
Bauer most recently worked with New York Lawyers for the Public Interest, a nonprofit legal organization that fights for health, disability, and environmental justice for New York communities. She also served as the development coordinator at the Center for Reproductive Rights. Prior to relocating to New York, Bauer spent a year teaching English in Ansan, South Korea.
Their expertise will help CPJ in its efforts to grow–and assist more journalists in need. If you have a question for the Development team, we would be happy to connect you with Barragan or Bauer. Our team can be reached at [email protected].
---
Released journalist Aleksandr Lapshin visits CPJ HQ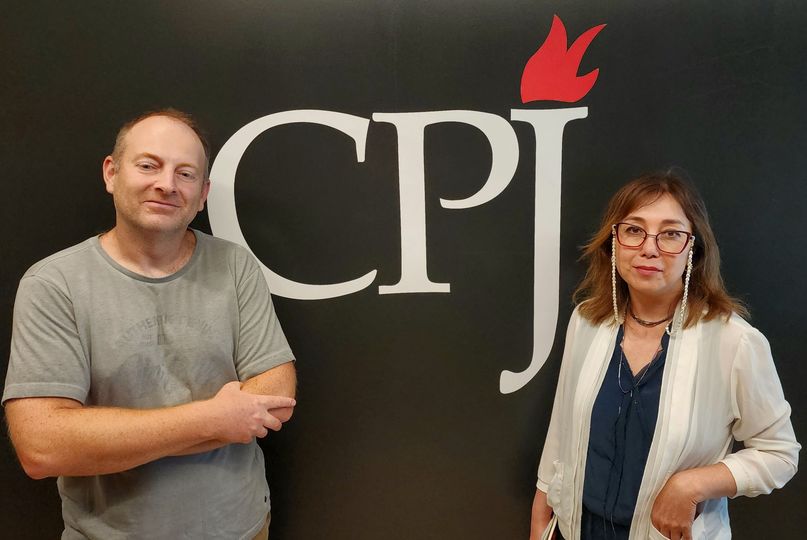 CPJ was visited by Israeli journalist Aleksandr Lapshin in June. Originally from Russia, the popular blogger was detained in Belarus in December 2016 at the request of the Azerbaijani authorities and extradited to Azerbaijan. He was sentenced to three years in jail for visiting Nagorno-Karabakh when it was administered by Armenia. He survived an attempt on his life in an Azerbaijani jail and was released and sent to Israel in September 2017 after CPJ and other human rights groups advocated on his behalf.
Following his visit, Lapshin wrote on Facebook about meeting with CPJ Europe and Central Asia Program Coordinator Gulnoza Said:
"Today, I visited the headquarters of the well-known human rights organization CPJ (Committee to Protect Journalists) in New York. […] The fact is that when I was illegally arrested and placed in an Azerbaijani prison, it was CPJ, represented by Gulnoza Said, who actively defended my rights, condemning the Azerbaijani regime for the grossest violation of the rights of a person and a journalist."

CPJ was pleased to host Lapshin and continues to fight for journalists like him.
---
Must-read
CPJ's Robert Mahoney looks at the lasting legacy of China's "COVID crackdown" on the press, including a look at the many journalists, bloggers, and writers who faced detentions and imprisonment following their reporting from Wuhan at the beginning of the pandemic. Many of those early reports were vital to gaining information about what was truly happening, despite China's efforts to censor its failures. "This approach of denial, obfuscation, and lies proved to be a disaster for the planet," Mahoney writes.

CPJ's Lucy Westcott notes a sharp increase–more than 227%—in exiled journalists we have assisted over the last three years, an increase that reflects a sharp rise in the number of journalists fleeing their home countries in places like Afghanistan, Iran, and Nicaragua. "Supporting journalists in exile—whether through direct financial assistance, advocating for safe refuge, or shining a light on their stories to help the public to understand why they needed to flee—remains a crucial focus of CPJ's work," Westcott writes.
CPJ launched its new report, "Ecuador on edge: Political paralysis and spiking crime pose new threats to press freedom." Documenting a worrying increase in attacks on journalists, including death threats, assaults, and the use of explosive devices, CPJ noted a chilling effect among journalists in the country. Following meetings earlier this year with the government of President Guillermo Lasso, CPJ is recommending his administration work to improve press freedom and "guarantee the safe return of journalists who were forced to flee because of death threats."
---
CPJ in the news
"Georgian president pardons country's only jailed journalist," Voice of America
"One year after their deaths, their work must go on," The Guardian
"Free press advocates slam 'blatantly unconstitutional' conviction of North Carolina reporters," Common Dreams
"Their reports about a woman's death set off a revolt. Iran put them on trial," The New York Times
"An Iowa meteorologist's climate change coverage led to a death threat. He's now resigning," USA Today
"Guatemala sentences renowned journalist José Rubén Zamora to six years in money laundering case," The Associated Press
"Media watchdogs demand Kosovo authorities investigate recent violence against ethnic Albanian journalists," Arab News
"In defense of journalists," The Hill
"Commentary: Is Mexico's president a threat to democracy?" The Los Angeles Times
"Journalists caught in the crossfire of Sudan's conflict," The New Arab