Honoring journalists at CPJ's 2021 awards ceremony
On November 18, during CPJ's 31st annual International Press Freedom Awards ceremony, we honored courageous journalists who put their lives on the line to report the news. We streamed the ceremony online, and held an event in New York for some of our most dedicated supporters, at which the band the Rough Cuts (featuring NBC's Lester Holt on bass!) played. The event raised more than $2 million, thanks in part to a generous match by the John S. & James L. Knight Foundation.
David Muir, anchor of ABC's "World News Tonight," hosted the ceremony, while Darren Walker, president of the Ford Foundation and a member of CPJ's board of directors, was the event's chair. Both took a few minutes to express their support of CPJ, highlight the importance of a free press, and thank the night's awardees.
One of the awardees, Anastasia Mejía Tiriquiz, said "For more than 10 years, I have devoted myself to investigating acts of corruption." The Guatemalan awardee, who was detained and faced legal threats because of her investigations, continued: "Thank you for your support and solidarity. I will continue my work, always committed to fighting against corruption."
CPJ also honored journalists Matías Guente and Aye Chan Naing with our awards, highlighting their bravery in facing extraordinary challenges to report the news. We presented our 2020 award to Iranian journalist Mohammad Mosaed, who was in prison last year and could not accept the honor.
CPJ presented our 2021 Gwen Ifill Press Freedom Award to Jimmy Lai, publisher of Apple Daily in Hong Kong, who is in prison. "He taught me many lessons—obviously, the value to stand up for what you believe in," his son, Sebastien Lai, said. "It's something that he's now leading by example."
CPJ's executive director, Joel Simon, also spoke at the event. Simon announced in June that he is stepping down from his role at the end of the year. "I've given CPJ my all, and I've fought hard in this struggle," Simon told the crowd. "The cause remains vital, and the fight must go on. … In fact, it must be fought with more intensity and more focus than ever."
"We need CPJ," he continued. "I will continue to support this critical and vital organization in my next role, but of course as a civilian. I know that I can count on all of you in this room to rally behind CPJ's next leader. The cause needs every one of you."
---
CPJ welcomes Danny Fenster's release from Myanmar prison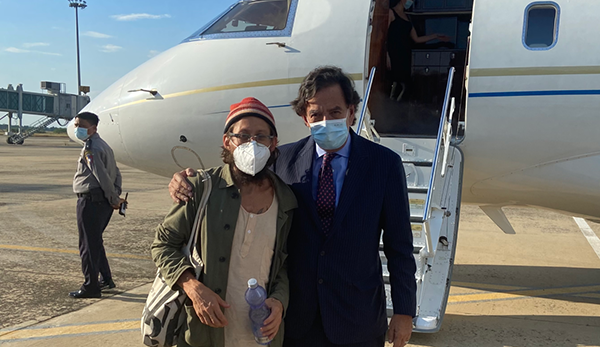 U.S. journalist Danny Fenster was released from prison in Myanmar on November 15, a move that followed months of advocacy by CPJ and other groups. Bill Richardson, former New Mexico governor and U.S. ambassador to the United Nations, negotiated the journalist's release.
Fenster flew out of the country immediately and landed at JFK International Airport in New York the next day. At a press conference, he said, "I spent the last 15 hours on the flight looking at the coverage and seeing people remembering me and pulling together. I have so much gratitude for what everyone's done."
Fenster was convicted on November 12 on multiple charges of incitement, unlawful association, and visa violations. He was sentenced to 11 years in prison. Since he was first arrested in May as he was about to leave the country, CPJ has helped keep his case in the spotlight, calling repeatedly on Myanmar authorities to free all journalists imprisoned there and conducting a mid-year prison census that found at least 32 journalists, including Fenster, were jailed there.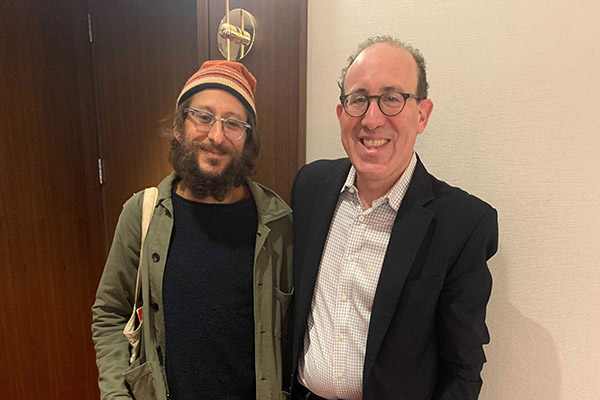 "Not that long ago, Myanmar was a hopeful place for media freedom," CPJ Executive Director Joel Simon said at the press conference. "Today, Myanmar is among the worst jailers of journalists in the world. … I want to take a moment to call for the release of all journalists wrongfully imprisoned in Myanmar."
Toward the end of the press conference, Fenster described the importance of writing and publishing news in Myanmar. "We believe that's really important and brings some outside powers to bear on the country. We think shedding light on it is always helpful," he said. "My role and CPJ's role is to keep the spotlight focused on [the journalists] and that's what we're going to continue to do."
---
One year after Nigerian journalist flees country with CPJ's help, the intimidating calls continue
Nigerian photojournalist Eti-Inyene Godwin Akpan planned to exhibit his photographs from the scene of the October 2020 killings of protesters at Lagos' Lekki Toll Gate on the one-year anniversary of the event. Then he began receiving calls summoning him to the local office of a federal security agency of Nigeria, whose government has denied the killings ever happened. So he postponed the exhibition.
And he called CPJ. Again.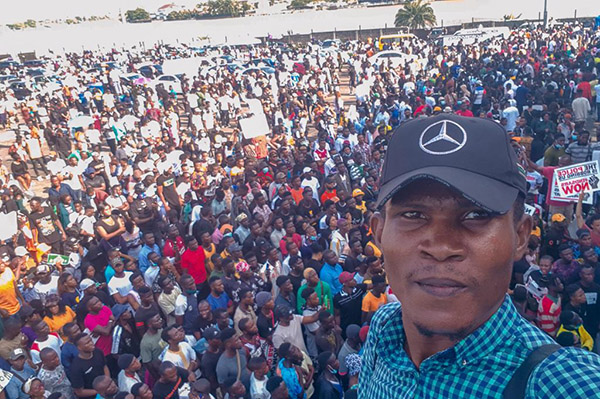 The first time Akpan contacted CPJ was in November 2020, shortly after he published the images of the protest. Then, too, he began receiving intimidating calls by unidentified individuals. His bank account was frozen, he said, and DSS agents arrived at his home.
So he decided to flee Nigeria. And he called CPJ.
Jonathan Rozen, CPJ's senior Africa researcher, got in touch with Ignace Sossou, an investigative journalist in Benin. "I said, there's someone coming through Benin who doesn't speak French and who needs to leave. Can you help facilitate logistics?" Sossou immediately agreed. Then Rozen contacted exiled Togolese journalist Maxime Domegni, who referred him to Ferdinand Ayité, a top-tier journalist in Togo.
The journey took two days. Akpan crossed the border into Benin and got to Cotonou, where he met Sossou, who helped him change his currency and found him a driver he could trust. He was driven to the border, where he crossed into Togo, and met Ayite in Lomé. There, Ayité advised Akpan not to continue on that evening. "He paid for his meal and accommodation," Rozen said, "and the next morning, Ferdinand found a motorcycle driver he could trust and paid him to take Akpan to a border town to catch a bus. The motorcycle driver, instructed by Ferdinand, told the bus driver to make sure Akpan got to Accra safely." Akpan did.
"We are just journalists, and we have no borders. Wherever one of us is threatened, all journalists are concerned," Ayité told CPJ. "Solidarity must be the cardinal value of our profession."
---
Support CPJ on #GivingTuesday
For 40 years, CPJ has defended press freedom around the world. We do this work because we believe that information should flow freely. But we couldn't do any of it without you.
Four decades ago, the only way to donate to CPJ was by check. We still accept checks, but you can also donate online via our secure donation page. We are now even accepting cryptocurrency for #BitcoinTuesday so that this #BagSeason holders of Bitcoin, Ethereum, and other crypto can also help make a difference. To learn more, visit https://cpj.org/crypto.
On #GivingTuesday, we hope you will add your voice to ours. Help CPJ stand up for journalists and journalism by donating to our work. Thank you for all your support.
---
Must-reads
The first Latina to be elected president of the Harvard Crimson, Raquel Coronell Uribe was only six when she and her family fled to the U.S. with CPJ's help. Her parents were both journalists in Colombia, and her father had received death threats. CPJ, she said, "quite literally saved my life."
In a Q&A with CPJ's Alicia Ceccanese, U.S. lawyer Douglas Jacobson discussed what the recent decision by the U.S. Department of Commerce to impose export controls on the Israeli NSO Group would mean. "Will it be crippling?" he asks. "Doubtful."
CPJ joined with our partners to call on Turkish authorities to immediately release Nedim Türfent, a reporter who has been imprisoned since 2016 and has been subjected to inhumane treatment and torture.
---
CPJ in the news
"ABC News' David Muir, others celebrate press freedom at awards show," ABC News
"Jailed American journalist Danny Fenster returns home from Myanmar," Storyful
"Michigan journalist Danny Fenster lands in US: 'I just have so much gratitude'," Detroit Free Press
"Jailed American journalist freed from Myanmar arrives in New York," The Hill
"I fled to Ghana after DSS threatened me for posting Lekki shooting photos online," PUNCH
"Epoch Times reporter jailed in Nigeria," World Nation News
"What a journalist jailed for 20 years reveals about the global assault on independent media," TIME
"Did the Justice Department overreach in raiding James O'Keefe's home?" The Washington Post
"Somalia remains most dangerous for journalists as threats rise globally," The East African