CPJ, partners meet with U.S. Secretary of State Blinken to discuss press freedom
On April 29, CPJ Executive Director Joel Simon and Board Chair Kathleen Carroll, alongside our partner groups, met with U.S. Secretary of State Antony Blinken to discuss our concerns about press freedom globally. CPJ had requested a meeting late last year when we published a white paper in November that outlined the ways the Biden administration could work to restore U.S. leadership in press freedom.
In a statement we published after the meeting, we highlighted how CPJ and our partners all agree that "the Biden administration must set an example for the world, protecting the work of journalists both here and abroad and standing up for their rights wherever they are threatened."
---
CPJ celebrates World Press Freedom Day
Today, on World Press Freedom Day, CPJ honors the thousands of journalists all over the world who have reported the news while facing challenges—including authoritarian governments seeking to restrict the flow of information. We have heard these journalists' stories, often firsthand, and we know the hardships they have encountered just to do their jobs in repressive environments.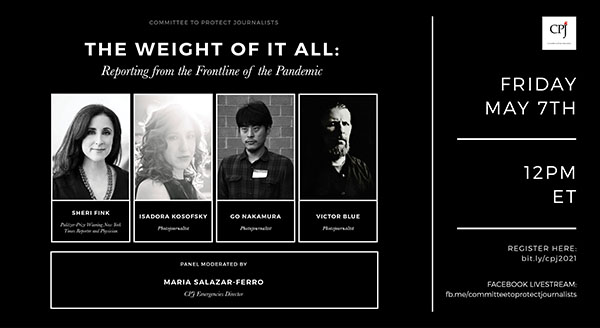 On May 7, join CPJ at a panel discussion, "The Weight of It All: Reporting at the frontlines of the pandemic," moderated by our Emergencies director, María Salazar Ferro, in which journalists will recount and describe their experiences being embedded with patients, families, and health care workers. It should be an interesting event—you can RSVP here.
Check out a full list of World Press Freedom Day events here.
---
Syrian journalists escape death, launch news outlet in Spain
Last year, CPJ announced the success of a months-long initiative to secure safe refuge for journalists stranded in Syria who faced torture or death. It was a difficult and emotionally intense effort, one that we had to keep quiet to protect the journalists and our delicate negotiations. But we were successful. By mid-2020, CPJ and our partners had secured safe passage and refuge for 69 Syrian journalists and their families. Many of them were relocated to Spain.
On April 7, some of those Syrian journalists launched Baynana ("Between Us"), Spain's first refugee-run digital media outlet. Stories are published in both Arabic and Spanish and aim to show "the good face of migrants here in Spain," one of the journalists, Ayham al-Ghareeb, said. The team also aims to provide helpful information to other Arab speakers in Spain, including migrants, on issues like asylum and immigration.
Check out the website here, and follow Baynana on Facebook, Twitter, and Instagram!
---
Must-reads
In April, CPJ joined more than a dozen other groups to call on Moroccan authorities to free Omar Radi, an investigative reporter who has been behind bars since July 2020 on charges of sexual assault, which CPJ believes are retaliatory for his journalism. Read the joint statement here.
CPJ spoke to Anastasia Mejía, a journalist in central Guatemala who spent 37 days in prison after reporting on a protest by members of the Maya K'iche' community, to which she belongs. "They are not going to silence me," she said. "We are the voice, the feeling, and the hope of the people."
Indian freelance journalist Sandhya Ravishankar, who has faced doxing and harassment, including threats of rape and death, described to CPJ in April the environment ahead of the elections inTamil Nadu state. "It is almost like a conflict zone for women journalists in Tamil Nadu," she said.
---
CPJ in the news
"Documentarian, two others killed after abduction while working on anti-poaching film in West Africa," Deadline
"Biden administration believes US journalist Austin Tice is still alive," Middle East Eye
"Absar Alam, shot but not down," Voice PK
"CPJ calls for investigation of harassment of journalists during elections," 24.kg
"A question the media seldom asks: Does the PM care?" The Wire
"The end of Bulgaria's Borissov? Emerging Europe this week," Emerging Europe