Nadesapillai Vithyatharan is a rare survivor, one of the few journalists abducted during Sri Lanka's civil war who lives to tell the story.
In 2009, police abducted Vithyatharan in one of the white vans known for snatching government critics. But Vithyatharan was lucky—there were dozens of witnesses who saw him get picked up, made the right phone calls to the right people, and mobilized the international community quickly, as CPJ documented at the time. Police freed Vithyatharan after two months, when many others who had been abducted during the decade of Mahinda Rajapaksa's government were beaten and dumped by the roadside, if not killed. With Mahinda's brother Gotabaya as defense secretary, the two are credited for ending the civil war with Tamil separatists, but they are also accused of brutal human rights violations, including extrajudicial killings and abductions of journalists.
After five years out of power, the Rajapaksas have returned, with Gotabaya elected as president in November. He appointed Mahinda as prime minister, and many journalists say they are wary that the old dangers will return. While the civil war ended more than a decade ago, a steady campaign of intimidation and attacks on journalists ran throughout Mahinda Rajapaksa's presidency, from 2005 to 2015. While the country and its media are freer and safer today than during the war years– no one has been held to account for the killings, abductions, and harassment, leading some to fear that there will be a fresh round of violence and abuse.
"I don't think with this government there's any hope of transitional justice or reconciliation," Vithyatharan told me when I visited Sri Lanka earlier this year. "It's been five years. The world has given them enough time. Sri Lanka is cheating them now."
The Rajapaksas are hoping to consolidate their power by taking a majority in parliamentary elections, set for June 20. When I visited, prior to the pandemic, journalists told CPJ that they expected the administration's approach to the media to become clear after the parliamentary elections.
Fear and self-censorship
Already, Sri Lanka has seen a rapid militarization of the civil administration. In December, the Telecommunications Regulatory Commission of Sri Lanka, along with nearly 150 institutions, was brought under the Ministry of Defense. In late February, while I was in Sri Lanka, the government officially withdrew from the U.N. rights resolution that called for accountability for alleged excesses carried out by Sri Lankan troops and reparations for victims.
After five months of the new administration, CPJ has documented cases of journalists being harassed, threatened, and intimidated. CPJ is aware of at least two journalists who have gone into exile since the election. The chief investigator responsible for overseeing the cases of journalists who had been murdered fled the country and sought asylum shortly after the election, according to news reports. Eight journalists in Batticaloa city received death threats in the form of flyers with their pictures circulated, according to news reports. Authorities have summoned a number of journalists for questioning, as CPJ has documented.
Arumugam Sabeswaran, a sub-editor for the Tamil daily newspaper Thinakkural, told me at the Jaffna Press Club on a sunny weekday morning that reporting had already visibly changed in the past three months, with fewer details being included in articles. Reporters said sensitive topics included the army, human rights violations, missing peoples, land-grabbing, political corruption, and the Rajapaksa family.
Hana Ibrahim, the editor of the Daily/Weekend Express, said her management had already cautioned her not to be too critical of the Rajapaksas.
"Everyone is scared," she said. "We're not writing what needs to be written. We're not being critical."
The Free Media Movement, a local press freedom advocacy group, saw an increase in incidents reported to them immediately after the presidential election, Thaha Muzammil, the treasurer of the group, told me. In many of the instances, the main culprits were suspected supporters of the ruling Sri Lanka Podujana Peramuna (SLPP) political party.
Kamaranatan Hamsanan, a reporter at Thinakkural, and Ibrahim both told CPJ separately that authorities were brazenly surveilling journalists, using official vehicles. Reporters covering protests are particularly watched, Kumaraswamy Selvakumar, a freelance journalist based in Jaffna, told me. Because of this, some journalists are afraid to do on-the-ground reporting, Sabeswaran said.
Prabakaran Thangarajah, editor of the Tamil daily newspaper Uthayan, told CPJ in his office that he sometimes receives phone calls from the military asking about sources. Other times, he said he receives calls from unknown people who make threats about news that was published; reporters and freelancers for the paper have been threatened by unnamed people to not file a story; and shops are told not to sell the paper.
Milinda Rajapaksha, former spokesperson for Gotabaya Rajapaksa (but no relation) and a politician in the ruling SLPP, denied that the government was intimidating journalists.
Anuradha Herath, international media and international relations spokesperson for Prime Minister Mahinda Rajapaksa, said that the new government would be different than the old Rajapaksa administration because it is no longer war-time.
"Yes, there was a fear culture with the earlier [Mahinda Rajapaksa] government, but there's no reason for that any longer," Herath told CPJ. "We want there to be an openness."
In response to a CPJ question asking whether the government would make press freedom a priority, Herath said the government had not yet taken measures or drawn up plans for addressing press freedom and journalist safety because the government was focused on the economy.
Uditha Jayasinghe, deputy editor for the Daily Financial Times based in Colombo, said she was concerned about receiving substantive information from the government to be able to report on the economy.
"If in the pre-2015 era, politics and war were the main focus, now, the economy is the front-line," she said.
While the president has promised to honor press freedom, he has also promised to pardon military commanders in jail for human rights violations committed during the war.
A state of impunity
The previous government, led by Maithripala Sirisena, was voted in on promises of delivering justice and accountability for abuses during the civil war. And while the government initially supported investigations into journalist killings and abductions, the momentum slowed after the first two years in power.
Last fall, just before the election, the attorney general indicted Lt. Colonels Shammi Karunarathna, Prabodha Siriwardena and five others over columnist and cartoonist Prageeth Eknelygoda's abduction in 2009. In March, I attended a hearing with the special three-judge bench in the High Court. The trial has been postponed due to the pandemic.
Eknelygoda's wife, Sandya, has fought tirelessly for justice for her missing husband for more than a decade. "To get justice, we have to trust the law. But there are certain barriers," she said, sitting in her living room surrounded by large graphic design artwork and renderings of Prageeth and murdered journalist Lasantha Wickrematunge, created by her sons, and framed cartoons Prageeth had drawn.
Sandya said she believed witnesses in the case were being intimidated. In the past three months, she said threats to her and surveillance of her family had increased, and she feared something might happen to her sons, at least one of whom had been followed. She said drivers of Sri Lanka' ubiquitous three-wheeled taxis have been reluctant to take her places.
"We have to fight for justice. No one will put it in a box and give it to me. It's difficult, but we have to fight for it."
Many families of Tamil journalists that went missing or were killed never pursued cases, out of fear they would also be targeted.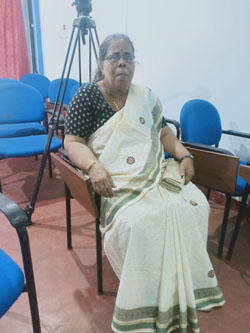 Selvarani Sahadevan's son Nilakshan Sahadevan was pulled out of their home and shot dead. No investigation was ever opened into her son's death, she said; the family only received a medical report. Selvarani believes she knows the identity of her son's killers, but never pursued the case.
"There was no opportunity for an investigation, where would we go? The people that did this were there," said the retired school teacher, draped in a cream-colored sari. "My family would be killed if we reported it … We lived a threatened life."
In late 2019, Selvarani said she got a call from the media ministry under Sirisena, offering her family compensation, which never materialized. She doesn't hold any hope of an investigation now. "I don't know what to say of justice," she said. "Too much time has gone."
Balasaridha Paranirupasingham remembered his brother, Devakumar Paranirupasingham, as a talented and passionate journalist who often covered murder and crime scenes.
Balasaridha sat in his living room with his wife, his aunt, and his mother, with a framed picture of his brother on the wall. The family is aware that Devakumar had received threats and had initially filed a police report after his death, but withdrew it after a few days. Balasaridha said he still believes his family is unsafe. "If I investigate what happened to my brother, I'll have to die for him," he said.
Abiran Nadesan was a young girl when her father, Aiyathurai Nadesan, a part-time journalist and part-time tax officer, dropped her off for tutoring on May 31, 2004. On his way to his office job, he was shot dead with a poison bullet. One month earlier, Nadesan had been taken to an army camp and threatened with arrest if he did not stop writing. He had been reporting on chain murders and had guessed that the next target would be a journalist. He began switching his route to work and was killed 50 meters from his office.
While the family believes they know who was responsible for the killing, they did not give information to the judge after Nadesan's death because they feared they would also be targeted, Abiran said.
Now a grown woman with children of her own, Abiran said her father had refused to stop writing, and recalled that he would always say, "Pen is my weapon."
Rajapaksha, of the ruling SLPP, told CPJ it was unlikely the government would open new investigations into journalists who had been killed or gone missing, saying that the previous Sirisena government had made those promises, and failed to deliver, and it isn't the responsibility of the new government to carry it forward.
"The whole purpose of electing the previous government was to expedite those investigations," Rajapaksha said. "The Rajapaksas were voted out of power. Now, they've been given it back."
"The president has said openly that he's not ready to punish [those who attacked journalists]," Sabeswaran, the sub-editor for the Tamil daily Thinakkural, said. "We need accountability and justice. Without that, we can't move forward."
Yet investigators into open cases of journalist murders and abductions have either fled the country or been transferred, the Young Journalists Association said. All the arrested police or military officers are free on bail, and some have gotten their jobs back, Viranjana Herath, who leads the subcommittee of the safety of journalists and impunity at Free Media Movement, said.
Vithyatharan said the perpetrators of his attack continue to work in the government and army.
"The people who killed the journalists, they're living with us," said Sabeswaran. "We have fear they can still kill. We can't enjoy freedom of press."
Editor's note: The 18th paragraph has been corrected to more accurately reflect Uditha Jayasinghe's comments.