Putting First Amendment values in the spotlight
CPJ has partnered with the Hollywood Foreign Press Association and the Los Angeles Times to produce LA Press Freedom Week, five days of programming that will engage the public and the journalistic community in and around Los Angeles in a conversation about today's challenges to press freedom and how to preserve a vigorous Fourth Estate.
The multi-venue events, to be held September 16 to 20, come as CPJ has expanded our reporting, advocacy, and outreach in the U.S. amid intensifying threats to First Amendment values and pressure on the news media. President Donald Trump continues to wage a self-declared "war" on the media, his Justice Department uses the Espionage Act to try to criminalize acts of journalism, and his border agents harass journalists or subject them to invasive questioning. During LA Press Freedom Week, we plan to continue the national conversation about the importance of a free press to American democracy and the public's right to be informed.
The week's events will feature a marquee panel on press freedom and elections including CPJ's board chair Kathleen Carroll, and another on diversity in the media led by CPJ board member Lester Holt of NBC. A panel on the ways that laws chill reporting globally will feature UN Special Rapporteurs David Kaye and Agnès S. Callamard. Los Angeles journalists will also discuss important legislative reforms in California that lifted a veil of secrecy around police records in a panel hosted by the Los Angeles Times.
There will also be a series of spotlight events on topics including disinformation, misinformation, and press freedom at the U.S. border as well as a screening of "The Panama Papers" documentary. Among them, CPJ's executive director, Joel Simon, will participate in a conversation with Maria Ressa of Rappler on the current state of press freedom. CPJ's advocacy director, Courtney Radsch, will also participate on a panel that addresses the U.S. government's attempts to quash press coverage along the U.S.-Mexico border.
Interested? RSVP for individual events via the LA Press Freedom Week website!
---
Vigils for Christopher Allen in Washington and London
CPJ co-hosted vigils in Washington, D.C., and London on August 26 that marked two years since the killing of British-American freelance journalist Christopher Allen while reporting on a rebel offensive during the civil conflict in South Sudan.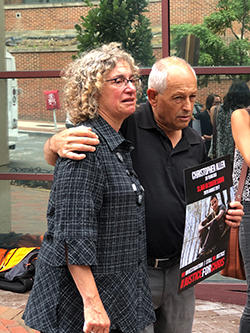 Members of Allen's family and representatives of several press freedom groups assembled at parallel vigils outside South Sudan's embassies in Washington, D.C., and London to call for justice. The journalist's parents, John Allen and Joyce Krajian, participated in Washington, while his cousin Jeremy Bliss joined in London. Later that day, Allen's parents entered the embassy and met with South Sudan's U.S. ambassador, Philip Jada Natana. It was the first time the family has been able to speak to a South Sudanese official, despite having written letters to President Salva Kiir and the former foreign minister, Voice of America reported.
The Allen family and press freedom groups have called for an independent investigation into Allen's death, including into whether he was deliberately targeted. This August, lawyers for the family wrote to the FBI's International Human Rights Unit to request an investigation into alleged war crimes related to Allen's killing and the treatment of his body, followed by a prosecution and reparative action, Bliss wrote in the Columbia Journalism Review.
"For perpetrators of violence against journalists, a lack of consequence amounts to tacit permission," he wrote. "At a time when journalism is more dangerous than ever, such impunity only fuels threats against reporters such as Christopher."
---
The guards were big men with marked, scarred faces. At least they looked like terrible giants next to Azimjon Askarov, who has grown frighteningly thin in prison.
The food is mostly inedible at the 120-man prison outside Kyrgyzstan's capital, Bishkek, where all the inmates face life sentences, many are political prisoners, and four out of five, including Askarov, are ethnic Uzbeks. Askarov's loose clothing, held together with a makeshift belt, was vivid evidence of the harsh prison conditions under which he has lived for nine years now–and may endure for the rest of his days. In July, a Kyrgyz court upheld his life sentence in secret proceedings that neither Askarov nor his lawyers were allowed to attend.
Guards brought Askarov into the room for visits, where he sat down at a desk in front of a glass partition that allowed him to see, but not touch, his wife, son, daughter-in-law, and two grandchildren. He picked up the handset, which would only allow him to speak to them one by one. His family delivered bundles of cooked and raw food, books, and bouquets of flowers, which Azkarov, a painter, adores. They also brought Gulnoza Said, CPJ's program coordinator for Europe and Central Asia.
Though Said intended her visit to be quiet, Askarov "was very loud and direct" and began thanking CPJ for all its efforts to win his freedom, Said said. He urged her to tell the world about poor conditions at the prison, rattling off a raft of Kyrgyz laws that provide rights to inmates–rights to decent food, access to medicine, investigations of complaints, space to walk outside–that he said were being violated.
Azkarov said he begins each day by jumping for exercise and has gradually increased his endurance and can now complete hundreds of jumps. He eats for three days and then fasts for four, taking no food or drink on fasting days. His body is strong, he says. "If they tell you that I died, then they killed me."
His spirit is strong too. He paints flowers and self-portraits during the long hours. "My dream is to go to the Prado when I am free," he said.
Said passed the handset to the family. It was the first time Askarov had seen his youngest grandson. Soon, he became agitated, loudly declaring that he should be able to hug his grandchildren. The guards came in and took him out of sight, where it sounded like they were hitting him. Said began shouting. The guards brought Askarov to another room where he was able to touch and kiss the children through iron bars. Then they cut short what was supposed to be a four-hour visit at only two hours. They would later put Askarov in solitary confinement, until fellow inmates' protests with incessant banging of spoons caused them to relent. About a month later, he was sent to a prison hospital, where doctors documented heart and kidney conditions.
"He is not free, but he is not silent," says Said, who was so shaken by the experience she was sick as soon as she got outside. "He should be free."
---
CPJ expands Indian access to election safety information with Marathi kit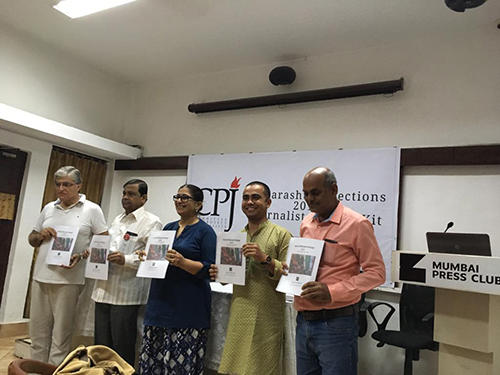 CPJ launched a Marathi version of its Safety Kit for journalists covering elections in Maharashtra at an August event at the Mumbai Press Club and held a lively discussion about safety concerns for journalists in the state and the Maharashtra Journalist Safety bill. Our India correspondent, Kunal Majumder, also presented the kit at a workshop for journalists at the Nagpur Press Club. The new kit expands Indian access to CPJ's election-related safety information, which is also available in English, Hindi, and Telugu.
CPJ Safety Kit for journalists covering the #Maharashtra elections was launched today at @mumbaipressclub. The launch was followed by a discussion on the safety concerns of journalists in the state and the journey of Maharashtra Journalist Safety bill so far. #PressFreedom pic.twitter.com/5AcecjkMLc

— CPJ Asia (@CPJAsia) August 23, 2019
---
Impact Tracker
---
Our Take
Deputy Secretary of State John Sullivan and Acting Assistant Secretary for South and Central Asian Affairs Alice Wells should make clear to Indian officials during diplomatic meetings in India that the communications blackout underway in Kashmir is unacceptable for the world's largest democracy, CPJ's Michael De Dora and Aliya Iftikhar wrote in a CNN opinion column. "India should be a leader in promoting press freedom globally, not suppressing it," they wrote. "Sullivan and Wells must urge Prime Minister Narendra Modi and his government to lift communications blocks in Jammu and Kashmir and allow journalists to work freely."
In the five years since freelancers James Foley and Steven Sotloff were murdered in Syria by the Islamic State, media companies, press freedom groups, and independent reporters have taken many steps to improve reporter safety. But for hundreds of international freelancers and thousands of local journalists, poor pay is a core safety concern, argues CPJ Deputy Executive Director Robert Mahoney in the Houston Chronicle. News outlets may be strapped, but better pay is a moral imperative. "We as citizens need news from war and disaster zones, but we need to pay for it and support those news organizations that take journalist safety seriously."
---
CPJ in the news
"Are Bernie Sanders' attacks on the media fair – or Trumpian?" The Guardian
"U.S. condemns Cuba for 'outrageous' jailing of independent journalist," Breitbart
"CNN's Ward says intimidation effort made on Russia story," Associated Press
"Journalists need more help than ever coping with work trauma," Columbia Journalism Review
"Mexican journalist found dead at home, twelfth killed this year," Al-Jazeera
"Still without protection, journalists are Mexico's walking dead," InSight Crime
"The criminalization of journalism? Letter from Australia," Commonweal
"Internet cut as world's largest democracy wields influence over Kashmir," Cheddar
"Pakistan-run Kashmir faces human rights crisis," MENAFN
"Incommunicado: The blacked out Dawn of "New Kashmir," Dailyhunt
"Hong Kong police used so much tear gas journalists coughed blood," Breitbart
"Anger and introspection follow assaults by HK protesters," China Digital Times
"Iran sentences journalist and activist Marzieh Amiri to 10 years & 148 lashes," Democracy Now
"Israel tech 'facilitating press freedom abuses around the world,'" Middle East Monitor
"The case for reforming the Sudanese Access to Information Act," Global Voices
"L'ONG Américaine CPJ dénonce le blocage des médias électroniques en Algérie," Maroc Diplomatique
"Turkey court lifts order to block news website Bianet, lawyer says," Middle East Eye
"Google, Mozilla to protect Kazakh users from government," Leadership
"Free-speech groups slam cybercrime bill," The BVI Beacon
"Tanzanian court charges investigative journalist with financial crimes," Reuters
"The need for unity in Ethiopia," Dissident Voice