CPJ awardee Zaffar Abbas: The Pakistani government has decided 'to kill journalism'
Pressure campaigns by press freedom groups are a vital line of defense against a rapidly deteriorating environment for independent media in Pakistan under Prime Minister Imran Khan, said Zaffar Abbas, the editor of Dawn and CPJ's 2019 Gwen Ifill Press Freedom Award winner, during a July call with CPJ supporters.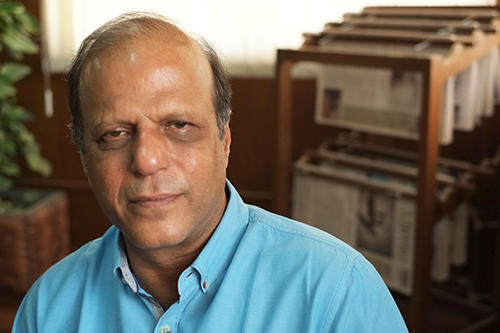 Khan has proven intolerant of criticism, CPJ has found, and has sought to muzzle the press with outlet shutdowns and other kinds of pressure. These tactics were previously employed by the Pakistani military, but typically not supported by elected leaders. Now, with the military and civilian leadership "on the same page," the independent media is under siege, Abbas said. "What they have decided to do is kill journalism in this country."
But Pakistan's leaders remain "seriously worried about their international reputation," he said. Especially now, when the U.S. president is also hostile to a critical press, it's helpful that CPJ and other press freedom organizations draw public attention to attacks on the Pakistani media. "They cannot be as open and blatant as at times they are," Abbas said. "If these statements of concern by these organizations stopped, it would be a doomsday scenario for us."
On July 16, CPJ announced it will honor Abbas with the 2019 Gwen Ifill Press Freedom Award, which recognizes extraordinary and sustained achievement in the cause of press freedom. Under Abbas' editorship, Dawn has consistently stood up to government pressure, and he has personally faced reprisals for his work, including several beatings. In 2015, he was elected chairman of Editors for Safety, a network of editors in Pakistan who work together to protect journalists who come under attack.
CPJ also named the 2019 winners of its International Press Freedom Award, which honors courageous journalists from around the world. They are Patrícia Campos Mello, a reporter and columnist at Brazil's daily Folha de S. Paulo; Neha Dixit, a freelance investigative journalist in India who covers human rights; Lucía Pineda Ubau, news director, and Miguel Mora, founder and editor, of Nicaraguan broadcaster 100% Noticias; and Maxence Melo Mubyazi, a champion of online freedom of expression in Tanzania, who co-founded and is the managing director of Jamii Forums, an online discussion site and source of breaking news.
---
CPJ testifies in Congress about press freedom restrictions in Cuba
CPJ Program Director Carlos Martínez de la Serna testified about press freedom in Cuba at a July 11 hearing of the House Subcommittee on the Western Hemisphere, Civilian Security, and Trade.
State control over the media and freedom of expression has loosened somewhat, and increased access to the internet and cellphones has opened up new avenues for expression and journalism, Martínez told members of Congress. However, Cuba remains one of the most repressive environments for the press in the Western hemisphere, as CPJ has reported.
"Independent and critical Cuban journalists constantly face the possibility of detention, having their homes or devices searched, their reporting equipment confiscated, and even criminal prosecution on anti-state charges," he said. Moreover, technology has "expanded the set of tools of Cuban officials to monitor, surveil, and censor journalists, media workers, and private citizens." Indeed, the government appears to be moving toward an aggressive program of technical monitoring and censorship.
Martínez urged U.S. leaders to speak out, publicly and privately, in defense of Cuba's beleaguered journalists. He encouraged Congress to support initiatives to expand affordable and uncensored internet access in Cuba and to open up lines of communication between the two countries. The U.S. should also understand that Cuban journalists who apply for asylum or refugee status may have a well-founded fear of persecution, he said.
---
Stepping up journalists' digital safety know-how
CPJ's Emergencies Response Team released in July an updated Digital Safety Kit to provide journalists with the latest information on how best to protect themselves and their sources through secured digital accounts, devices, and online communications. The kit also provides practical advice to help journalists navigate digital threats like phishing attacks and specific concerns related to crossing borders, when authorities may seek to inspect devices.
Available in English, French, Spanish, and Russian, journalists and media organizations may freely use and share the text under the terms of our Creative Commons license. News of the kit was well-received on social media, garnering hundreds of likes and retweets, and was distributed to partners, who welcomed the resource and shared it through their networks.
Announcement: CPJ launches a new, updated Digital Safety Kit for journalists looking to better protect themselves, their sources, and their info. The kit combines 6 bite-sized safety notes on different topics in an accessible format that is easy to digest. https://t.co/kknnsiEcWb

— Committee to Protect Journalists (@pressfreedom) July 30, 2019
Separately, CPJ went to Cúcuta, Colombia, in July with a partner organization to educate Venezuelan journalists on digital safety. Journalists working in Venezuela have been facing rampant harassment both online and offline, and CPJ has been advising individual journalists and media outlets on the ground on how to strengthen digital security practices. The three-day meeting in Cúcuta, a safe location that is relatively easy for Venezualan journalists to reach, was designed to build expertise in a small group of journalists that they can then share with colleagues inside Venezuela.
---
At London conference, CPJ demands that states protect journalists
CPJ and 32 other organizations called on governments participating in the Media Freedom Conference, which was hosted by the U.K. and Canada in London in early July, to commit to ensuring the protection and safety of all journalists and media workers. Several countries whose officials attended the conference—which brought together 100 government delegations, 60 ministers, and representatives of over 30 press freedom organizations—currently have journalists in prison and unsolved murders.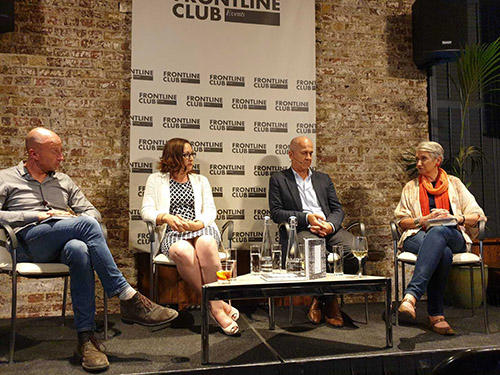 At the conference, CPJ hosted a booth that displayed a world map showing hotspots for attacks on the press and provided safety and campaign information. Advocacy Director Courtney Radsch participated in two panel discussions: "Innovation to End Journalist Murders" and "Countering Disinformation in the Media." Prior to the conference, she also delivered the 25th annual Olsen Lecture at St. Bride's Church before a memorial to fallen journalists, during which she asserted that it is the people who pay the greatest price when leaders discredit journalists by branding them "enemies of the people." CPJ also organized an event around The Last Column, a book of slain journalists' final works, moderated by Jon Williams, the managing director of RTÉ News and a CPJ board member.
---
Impact Tracker
---
Our Take
Censorship in Pakistan has gone into overdrive. The government has blocked news broadcasts, forced journalists off social media, banned opposition leaders from television, and run fake viral campaigns threatening journalists. In a Washington Post op-ed on the eve of Prime Minister Imran Khan's July 23 visit to Washington, CPJ Asia Program Coordinator Steven Butler urged American officials meeting with him to remember that a free press has an important part to play in keeping the government and the military honest.
In an open letter to U.K. Foreign Secretary Jeremy Hunt and Culture Secretary Jeremy Wright, CPJ and representatives of other international organizations urged new legislation to stop the abuse of defamation law in the U.K. to intimidate and silence journalists. "We urge you to address this issue as a matter of priority," the group wrote. "It is important that the government makes clear that the UK remains a country that welcomes and celebrates the role and value of independent public interest reporting."
---
The Red Hen restaurant raises more than $7,000 for CPJ on Facebook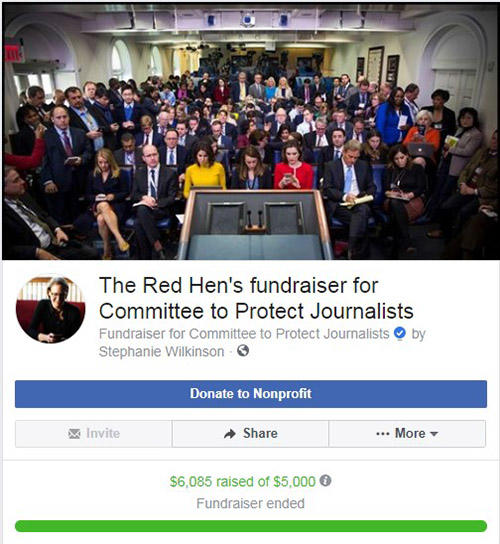 During the three-week run up to July 4, fans of The Red Hen in Lexington, Virginia, donated $6,085 to CPJ through a Facebook fundraiser, exceeding the restaurant's $5,000 goal. The Ren Hen kicked another $1,000 to the total, the maximum match it pledged on its fundraiser page.
"Please consider donating today," wrote Stephanie Wilkenson, owner and co-founder of The Red Hen. "Please also consider subscribing or renewing your subscription to your local newspaper. We need them more than ever."
Do you want to hold a Facebook fundraiser for CPJ? Get started here.
---
CPJ in the news
"A free press can never be taken for granted, even under democratic rule," The Philadelphia Inquirer
"To reporters, Trump-Putin banter about getting 'rid' of journalists no laughing matter," Voice of America
"Trump tells Imran he is treated worse than Pak PM by US media," Lastly
"Neo-Nazi SWATters target dozens of journalists," Krebs on Security
"US citizen reportedly released from Syrian government detention," FOX News
"Online, workplace harassment add to dangers faced by female journalists," Voice of America
"Man accused of stalking 'FOX 8 News In the Morning' anchor," Cleveland.com
"Imran Khan's govt imposed 'complete ban' on media coverage of opposition leaders: PML-N," Business Standard
"Pakistani journalists hold protests to denounce censorship," Associated Press
"Gambian soldier names ex-president in reporter's 2004 murder," Al Jazeera
"Tanzania's anti-corruption government is stifling the 'Swahili Wikileaks,'" Quartz Africa
"Tanzania says does not know whether missing journalist is dead or alive," Reuters
"Erick Kabendera: Prominent journalist still being held days after 'outrageous' arrest in Tanzania," Independent
"How Nigeria uses the law to repress free speech: The case of journalist Jones Abiri," Global Voices Advox
"Impunity, crime and budget cuts threaten the press in Mexico," Fronteras
"Attackers break into home of investigative journalist, kill her dogs and steal her reporting records," Newsweek
"Libel trial opens of Maria Ressa, Philippine journalist critical of President Duterte," TIME
---